Johnny Bananas' Partner on 'The Challenge: Final Reckoning' Almost Went Home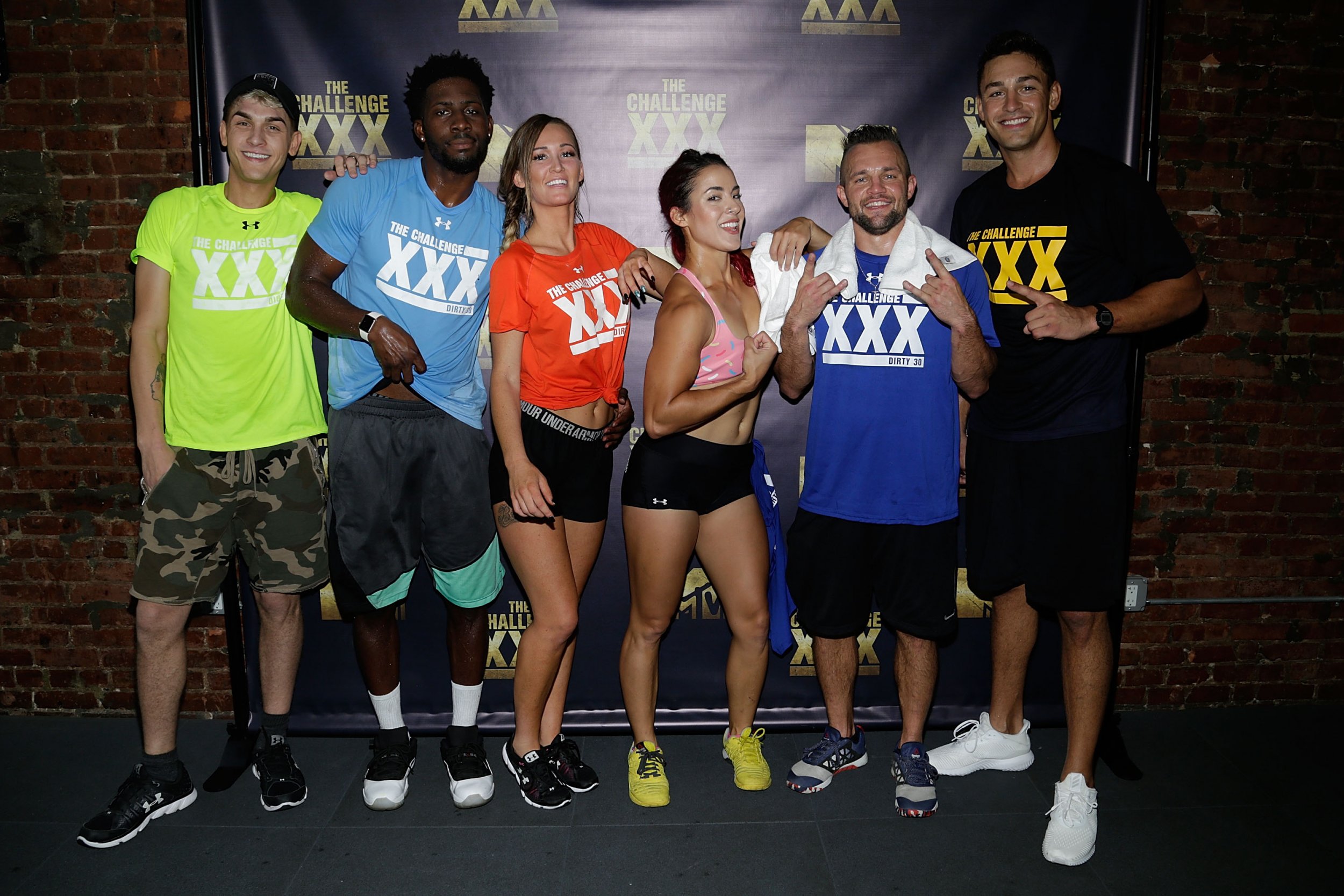 Tony Raines, who betrayed MTV veteran Johnny "Bananas" Devenanzio in Season 31, is his paired with him on The Challenge: Final Reckoning.
This is Tony's sixth season of The Challenge since his first appearance in Battle of the Bloodlines in 2015. The 30-year-old's first win came in this year's season of Champs vs. Stars.
Tony's vote was the one that sent Johnny into elimination against Devin Walker on Vendettas. Johnny lost and went home. Now, the two must work together in Season 32, and Tony admitted to Newsweek that he considered "calling it a day" when he saw Johnny was his partner, but he realized it was a partnership that could work well for both sice they're top competitors.
Tony spoke about sending Johnny home on Vendettas and working with him in Final Reckoning in an edited Q&A with Newsweek.
First, let's discuss your move that made you and Johnny enemies. Was it the hardest decision you've made on a Challenge so far? You had to know it would affect your game in the future, even though it was a good move for you at the time.
I think that it was the hardest decision I ever made on a Challenge, for sure. Just the stigma that comes with Johnny, his name, it really carries weight and a lot of people are scared to make a move against a veteran champion like that. People have had opportunities in the past, and they didn't capitalize on it because they were scared … of the wrath that would come if it didn't work out in their favor.
… I can't sit here and tell you that my knees weren't wobbling a little bit before his name came out of my mouth, but it paid off and it's a decision I would go back and make a thousand times again if I had to.
Even knowing you wouldn't win the season?
No, I don't regret it, knowing I didn't win. It was up to me to win that final.
You're coming into the house with a win from Champs vs. Stars. How does that change your strategy this season? Are you feeling more confident?
I felt really confident after Vendettas. I wasn't too hard on myself because coming into that season, I trained to make it to a final, and I achieved that goal. Of course, I wanted to win, but I got the experience of a final. I know what I need to do and added that to my repertoire to win.
I still got my sights set on the big regular season win, so I just wanted to come into Final Reckoning building off of my win on Champs vs. Stars, using that confidence to push me through Final Reckoning, get to that end and win one of those regular season challenges and become undeniably a champ in everyone's eyes.
What was your reaction to finding out the theme of the season and that Johnny was your partner so soon after you sent him into the elimination?
I'm sitting in a car, with the production assistant, with a blanket over my head, so nobody sees me. They're keeping me pretty quiet, telling me, "Duck down, don't look." I took a few little peeks and I'd seen that they're all coming up to the field and everybody's got different colored jerseys on. I'm looking down at my color jersey and I'm trying to peek up to see who might have my color on.
When she finally tells me it's go time, as I'm getting closer, I see Johnny has the same color jersey on as me. To be honest, I was in disbelief. I said, "No, they're not doing this to me." I started to walk back off and contemplate just going home, calling it a day. I hadn't spoken a word to him since the Vendettas reunion.
… After the first initial shock of "Holy s**t, I gotta work with this guy," it kind of [became], "Okay, let's put our differences aside for the sake of this $1 million."
And putting you as Johnny's partner means he can't do anything to affect your game without affecting his, right?
Right. Before I knew the [season's] theme, I figured, the war's on, he's coming for me, I'm coming for him.
He's worked with vendettas in the past to further his position in the game and win, and as I've done in the past, I'm going to take a page out of his book. I'm going to put my pride aside and work together with him to see how far we can make it in this game.
There was a sigh of relief there knowing that I didn't have to come in that house and battle Johnny. It was going to be me and Johnny battling everybody else.
I spoke with Cara Maria last week, and she said that the hate between a team can be stronger than $1 million. I know you're speaking about working together for that money, but is that something that you see affecting your game also? There is that hate between you two now.
There's always going to be that underlying animosity between me and him, that underlying suspicion of, "What does he have up his sleeves?" We've all learned and we've all been told and we've seen that Johnny's not to be trusted as far as you can throw him.
With this show, you never know what [host] T.J. [Lavin] is going to throw at you. When they said $1 million is up for grabs for one winner, it really gets you thinking, "If I get to the end and I win this thing, is this going to be a Rivals III thing?"
You have to work together. The hate's there, but it's not like he hurt one of my family members or anything like that. So, I can't sit there and say that that hate I have for him or that hate he has for me outweighs $1 million.
Going into the house, was your plan to try to stay clear of any drama? You've had a history of drama, and I can't imagine that's easy to avoid with this season's theme.
This show is 80 percent drama, 20 percent competition. In the past, it's been very natural for me to get caught up in the house drama and it's something I've had trouble avoiding. Somehow, I always find myself in the middle of things or starting things unintentionally.
After Dirty XXX [in 2017], I've learned to hold my tongue when I need to because I [can't] stir this drama and stay focused on the game, [like] veterans like Johnny can. So it's best for me to keep a low profile, avoid the drama, keep my head focused on the game. So far, that has worked out great for me.
There are times that I do need to speak up and there are times that I do need to defend myself or my teammate, and when that time comes, I won't shy away from it.
The Challenge: Final Reckoning airs Tuesdays at 9 p.m. ET on MTV.