'The Challenge: Final Reckoning' Spoilers: The Teams in the Redemption House Reveal a Secret Hookup
The teams in the redemption house faced off in a Four Horsemen of the Apocalypse elimination round in Armageddon in Tuesday's episode of The Challenge: Final Reckoning, but first, they revealed one big secret to those in the main house.
"Information is key," host T.J. Lavin told the teams in the redemption house in the season premiere. "If you pay attention here, you can learn a lot about what's going on in the game." Because of the cameras, those in the redemption house can watch what's going on in the main house on a television, which means they're privy to things some people may want to keep quiet—like a hookup.
At Armageddon, Jozea Flores interrupted T.J. before he could announce the players participating in the next elimination round. "The library is now open," he said. "Read."
"A read is when you tell someone [something] about themselves that maybe they don't want to hear," Shane Landrum explained. "I do it all the time and people just call it sass."
Faith called out Kyle, giving him "credit" for being with Cara Maria Sorbello on Vendettas last season and herself and Ashley Mitchell this season. Ashley avoided looking in Cara's direction. "This is a nightmare," she said about her secret getting out.
Ashley Mitchell had joined the game as a mercenary alongside partner Hunter Barfield. After beating Faith Stowers and Angela Babicz, they took their spots in the main house—and Ashley spent the night with Kyle Christie, with whom Faith had been involved. She kept that a secret from everyone, including her partner.
"Hunter gets very jealous. I don't think he has feelings for me, but he's just very possessive," Ashley previously explained to Newsweek. "I thought, 'Oh my God, I don't want to hear him bitching at me for however long we're going to be here.'"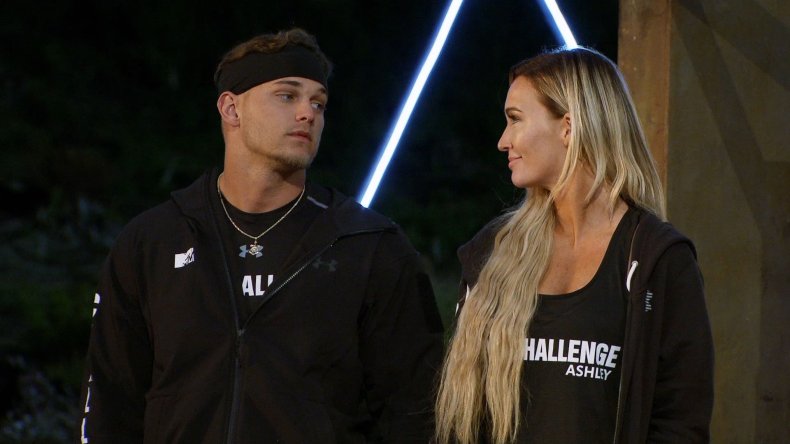 Later in the episode, Hunter told Zach Nichols his problem wasn't Ashley sleeping with Kyle, but, "if you lie to me about one thing, what makes me think you won't like to me about anything?" He didn't trust his partner anymore. "I don't give second chances to people who lie to me," he said. "I have no idea how I'm going to get over this to win." (Despite that, he and Ashley did win the week's challenge, which involved one teammate eating South African delicacies, including sheep intestines.)
Ashley and Kyle's hookup was the most dramatic secret revealed, though Natalie Negrotti and Angela both called out people in the main house. Natalie turned on Kam Williams. "You say I'm fake, I'm playing the same game," she said. "I came this season to play an honest, real game, so don't take that from me."
Angela thanked Johnny "Bananas" Devenanzio for defending her. Amanda Garcia had asked Johnny if he thought Angela would give him the time of day outside of a Challenge house, suggesting Angela was using him for her game. Johnny suggested the same of her and Joss Mooney's relationship. "They hate her 'cause they ain't her," Johnny said in a confessional video, pointing out he pursued Angela.
Paulie Calafiore and Natalie returned to the redemption house after losing to Jozea and Da'Vonne Rogers in the elimination competition. Another team will join them in the next episode, and those four players may have more secrets to spill next time they enter Armageddon.
The teams in the main game competed in a purge challenge; the last place team goes straight to the redemption house. There were only two players who hadn't eaten enough plates of food to be "safe" when the episode ended: Cara Maria (for her and Marie Roda) and Kam (for her and Kayleigh Morris).
The Challenge: Final Reckoning airs Tuesdays at 9 p.m. ET on MTV.