'The Challenge: Final Reckoning' Spoilers: Cracks Are Forming in Teams and Alliances
Because the competitors are partnered up with their enemies on The Challenge: Final Reckoning, it's not surprising some of them are having a tough time getting along. There was even trouble forming in at least one alliance in the house by the end of Tuesday's episode.
The Lavender Ladies consist of Shane Landrum, Ashley Mitchell, Amanda Garcia and Sylvia Elsrode, with Marie Roda sometimes part of the group. Amanda can't stand Cara Maria Sorbello and wants her out of the game, and she made several rude comments, including calling her a "f***ing ugly girl" and against her horse, about her in episode 11.
Marie came to Cara Maria's defense, explaining, "nobody f***s with my vendetta except for me" and she only had her partner's back. Cara Maria thought Marie was starting to understand her place with the Lavender Ladies: at the bottom.
Amanda's fight with Cara Maria also put her at odds with her partner, Zach Nichols. Zach is on Cara Maria's side and when Amanda tried to argue the other girl came at her, he told her to shut up. "The problem with Amanda is she's so evil she doesn't regret saying these things," he said in a confessional video. "Her true colors are showing tonight and it is bad. It's bad for our game. It's bad for her just in life."
It got worse for the partners during the week's challenge, Sky Bridge. The partners had to repair a rope bridge 1000 feet in the air. Amanda thought one of the knots was too loose and she couldn't do it, so she dropped, disqualifying her team. "If I would rather jump off a cliff than be Zach's partner, that has to tell you something," she said.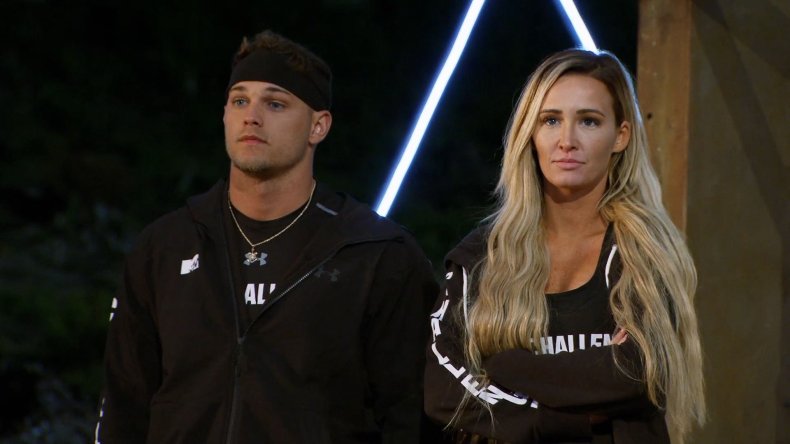 Ashley and Hunter Barfield's partnership started falling apart as soon as he found out she lied to him about sleeping with Kyle Christie. "If you lie to me about one thing, what makes me think you won't lie to me about anything?" Hunter asked after Faith Stowers revealed the hookup before the redemption house's elimination round in episode 10.
"I don't give second chances to people who lie to me," he continued, and he reiterated that in this Final Reckoning episode. The two were unable to work together on the challenge. Ashley gave up and climbed off the ropes, disqualifying them.
The winners of the Sky Bridge challenge set up the potential for another alliance to fall apart. Johnny "Bananas" Devenanzio and Tony Raines were the only ones to successfully repair the bridge, giving them the power vote (their selection counts twice) and immunity from elimination. Zach was sure Tony would have his back, but Amanda pointed out Tony sent Johnny Bananas into elimination on Vendettasearlier this year and Johnny was his mentor.
The Challenge: Final Reckoning airs Tuesdays at 9 p.m. ET on MTV.