Challenges and Bans of 'The Handmaid's Tale' Aren't Really Just About Sex or Profanity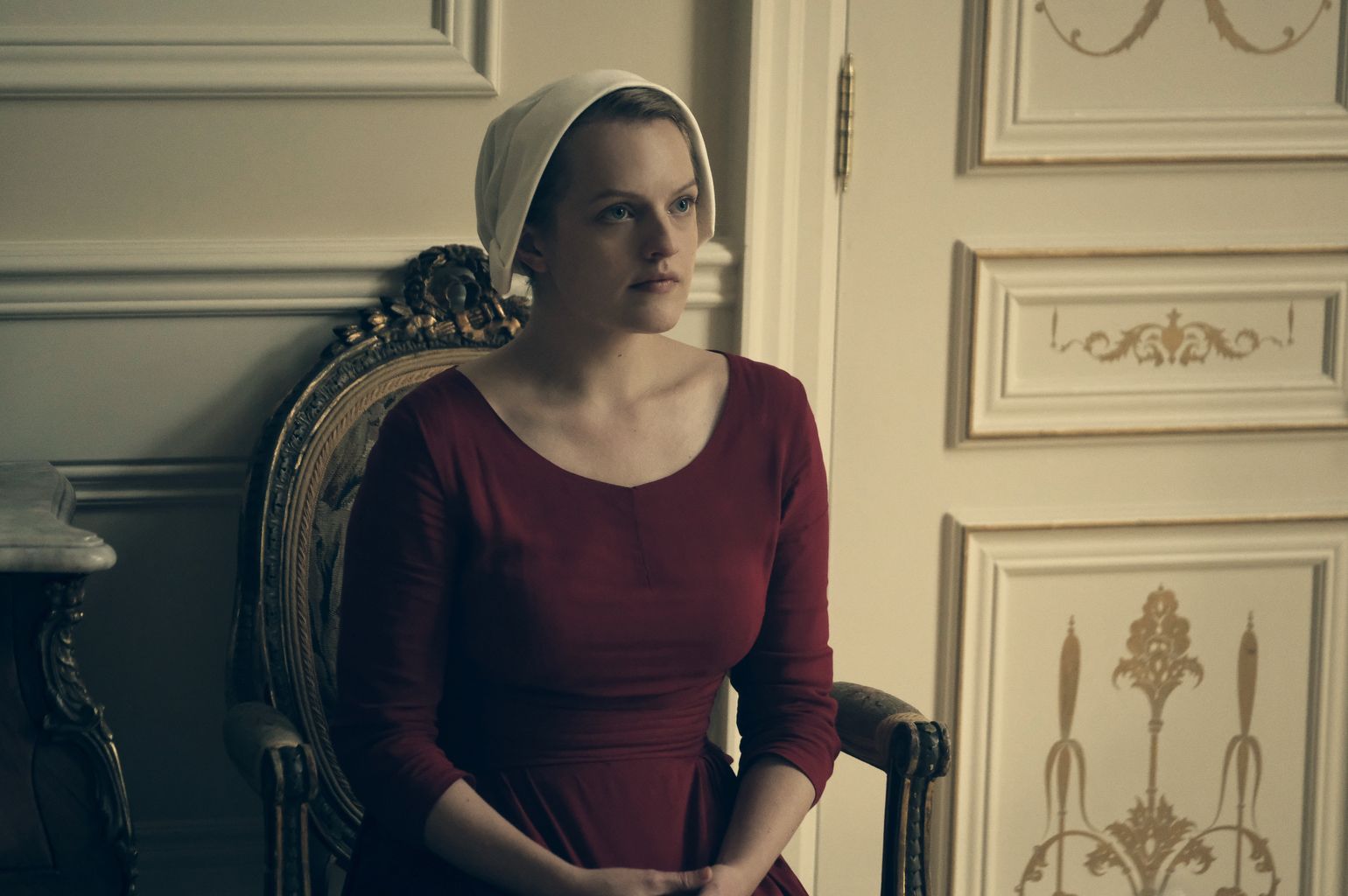 In one of the many powerful scenes in Margaret Atwood's The Handmaid's Tale, the narrator lies in bed one night and recalls a time she was at a park with her mother and people were burning books. Then she realized the books were magazines, some with pictures of naked women on them. A woman asked the girl if she'd like to throw one onto the fire. "Good riddance to bad rubbish," she said, handing over a magazine.
"I threw the magazine into the flames," the narrator remembers. "It riffled open in the wind of its burning; big flakes of paper came loose, sailed into the air, still on fire, parts of women's bodies, turning to black ash, in the air, before my eyes."
The scene, about 40 pages into the Canadian author's dystopian novel, fills in some of the ominous precursors to the demise of the United States and the foreshadowing of its replacement with a totalitarian theocracy. In the Republic of Gilead, women are not allowed to have jobs or money, their reproductive health is under the state's control and they are absolutely forbidden from reading and writing. The protagonist—stripped of her previous name and given the temporary name Offred (to reflect her current belonging to a Commander named Fred)—is among a minority of women who remain fertile. As a handmaid, she is assigned to various Commanders and their wives to try to conceive a child for them. If she fails at too many such assignments or breaks the rules, she could be sent to "the Colonies" to clean up nuclear waste or she could be killed. She's nervous that even a pillow in the room where she sleeps, embroidered with the word "Faith," could land her in trouble for reading.
It's difficult to escape the irony of the fact that The Handmaid's Tale, like Ray Bradbury's Fahrenheit 451, has itself become the target of several book bans and challenges since it was published in 1985. Atwood's novel was ranked at number 37 on the American Library Association's 1990-1999 list of the 100 most frequently challenged books. It made the list again the following decade, though it dropped down to number 88.
The Handmaid's Tale—which won Canada's Governor General's Award for English language fiction and the British Arthur C. Clarke Award and was nominated for the Booker Prize—has always been popular, but it garnered renewed attention in the wake of the 2016 presidential election. Sales had gone up 200 percent since election day, publicist Russell Perreault told NPR in early February, and Anchor Books had printed 125,000 new copies of the novel just in the first weeks of 2017. Hulu turned the story into an original series starring Elisabeth Moss, Samira Wiley and Alexis Bledel, which had its highly-anticipated premiere on Wednesday. With The Handmaid's Tale back in the spotlight, and the country in transition, it's worth taking a look back at past bans and challenges and the reasons behind them.
The novel has faced steady challenges, mostly in high schools, since it was published, says James LaRue, director of the ALA's Office for Intellectual Freedom. He reads to Newsweek a list of examples of the language that's been used to object to it: "Profanity; lurid passages about sex; statements defamatory to minorities, god, women and the disabled; violence; hopelessness; age-inappropriate; graphic sex; vulgar; offensive to Christians; violently graphic and morally corrupt."
"Often what we've seen at the Office for Intellectual Freedom is that the complaint is that this is bad language, but [in] The Handmaid's Tale the language is not nearly as bad as we find in many other novels" that aren't frequently challenged, LaRue says. "So there's something else that's going on there. And I think that the surges that happen of complaints at these schools are really around discomfort with message," he adds. "People don't want to see message so they complain about something else. They say well this is about sex. Well no it's about more than sex, it's about the harvesting of women's bodies."
Joan Bertin, executive director at the National Coalition Against Censorship, has also seen challenges and bans of The Handmaid's Tale come up fairly regularly during her 20 years at the organization, and agrees that the reasons stated are not always the real or only ones. "The most common reasons for challenges are sexual content of some kind and profanity," she says. But "we also know that those are sometimes a ruse for other reasons… that people think are less acceptable," she adds. "It's easier to say sexual content, adult themes, as opposed to the fundamentalism issues. The notion of this totalitarian society in what had been the U.S., all of that you could imagine could be unsettling to some individuals."
Three of many instances in which The Handmaid's Tale was banned or challenged
Banned and unbanned in the Judson, Texas School District: When a parent complained that The Handmaid's Tale was "sexually explicit and offensive to Christians," superintendent Ed Lyman overruled the recommendation of a committee of teachers, students and parents and banned the book from an Advanced Placement English curriculum. That committee appealed the decision to the school board, which then heard 30 people speak against and mostly for the book at a board meeting in March 2006. One parent who wanted to remove the book read an excerpt aloud and said he was "appalled by this trash book. When garbage goes in, garbage comes out. This is trash and it will corrupt the American youth," the San Antonio Express-Newsreported at the time.Craig Gagne, then a senior at Judson High School, disagreed. "If we do ban The Handmaid's Tale because of sexual content, then why not ban Huckleberry Finn for racism? Why not ban The Crucible for witchcraft? Why not ban The Things They Carried for violence and why not ban the Bible and argue separation of church and state?" he argued. "All the books I just mentioned are part of the 11th-grade Judson High School English curriculum. I read and appreciated all of these books and would like future classes to have the same privilege."

The board voted five to two in favor of reinstating the book.

Challenged as a requirement for Page High School International Baccalaureate class and as optional book for Advanced Placement reading courses at Grimsley High School, Guilford County, N.C. : The book was challenged for being "sexually explicit, violently graphic and morally corrupt," according to the ALA's annual roundup for Banned Books Week in 2013 and 2014, but was not ultimately removed from Page High School's International Baccalaureate class. In Guilford, parents complained to members of the Board of Education that Atwood's novel and Kurt Vonnegut's Cat's Cradle both "denigrate Christianity" and "tear down traditional values," and circulated a petition to try to convince the district to change the curriculum. "We applaud the board for resisting this pressure," the NCAC wrote in a letter to the board. "We applaud the decision of the district to stand by its policies and the professional decisions of its instructional committee in the face of public and media scrutiny."
Challenged at Lawrence Park Collegiate Institute, Toronto: Robert Edwards filed a formal complaint with the Toronto District School Board over The Handmaid's Tale when his son was studying it in his 12th grade English class, saying he found the "sex, brutal situations, murder, prostitution" unacceptable, according to The Toronto Star. In a letter he wrote to the principal, he said the book "is rife with brutality towards and mistreatment of women (and men at times), sexual scenes, and bleak depression… I can't really understand what it is my son is supposed to be learning from this fictional drivel."I have a major problem with a curriculum book that cannot be fully read out loud in class, in front of an assembly, directly to a teacher, a parent, or, for that matter, contains attitudes and words that cannot be used by students in class discussion or hallway conversation," he argued.

The Canwest News Service reported that this was the first time the novel was challenged in Atwood's native Canada. A review panel decided the book should remain in the curriculum, but the board's director of education was to have final say.
'Power of the Word'
The NCAC's goal is to prevent what they call viewpoint discrimination, or the censorship of certain materials because one or more constituents don't like or agree with the ideas presented (rather than because of an assessment of its educational or literary value). To that end, the NCAC offers to assist local parents, teachers and students when a book has been banned or challenged and often writes directly to the school board, superintendent or whoever is handling the controversy in a given case. Parents can request an alternate assignment for their own children, she says, and most schools will offer one as long as it doesn't interfere with other students' learning. But they cannot insist that other children be denied the opportunity to read that book. This country has a "bedrock rule that public officials can't forbid expression of idea because [people] don't like the idea."
LaRue draws that logic back to the themes of the book. Those who challenge books sometimes feel that it is "saying something that is deeply morally offensive to a viewpoint that I share so it should be suppressed. And I believe that that is un-American," he says. "In fact I believe that is exactly what Handmaid's Tale is about," he adds. "What happens when you say people no longer have the agency to believe what they want and they must have an external moral order forced on them? Then you get a society like the one in Handmaids' Tale. And so it falls solidly into the sphere of dystopian novels."
Parents have tried to sue to ban books but have never succeeded, Bertin says. "They've tried claiming that the book violates their religious beliefs and that teaching it in the school violates the First Amendment, you know, separation of church and state. The courts have uniformly rejected that claim," she explains. "Literature about a topic, even history about a topic, is not same as requiring belief in topic."
Still, while the legal approach "has been tried and it's failed, it will be tried again I'm quite sure," Bertin says. However, she also emphasizes that most often, challenges and bans are not publicized let alone taken to court. A recent survey by the NCAC with the National Council of Teachers of English found that only seven percent of challenges get reported in the local press, Bertin says. "We think there's a big underground phenomenon here." LaRue also points to three studies conducted in recent years—by the Oregon State Library, the Missouri School of Journalism and the Texas ACLU—which found that three to 18 percent of challenges are reported.
There has already been one challenge to The Handmaid's Tale in 2017, LaRue says, though his office has been asked to keep the details confidential in this case. (His office receives roughly eight times as many confidential reports as it does public reports, he explains.) Both he and Bertin anticipate more challenges and bans to come. When popular but frequently challenged books like John Green's The Fault in Our Stars or Stephen Chbosky's The Perks of Being a Wallflower have been made into films in the past, "there was a huge wave of new challenges," Bertin says. "I wouldn't be at all surprised if we were to see more" in the wake of the Hulu show. "I also wouldn't be surprised given concern about dystopian literature in this political moment that it becomes controversial again. Maybe in some communities, parents will perceive that as political statement. And it may or may not be." Ultimately, however, the book "is a good vehicle around which to have discussion."
LaRue goes one step further to argue that the fact that The Handmaid's Tale is controversial is an indicator of its quality and significance. Attempts to suppress literature are often directed at "those who are most articulate among us and most insightful," he says. "The perverse side of this is that people really believe in the power of the word."