Paul Ryan Faces Uphill Battle Cleaning Up the House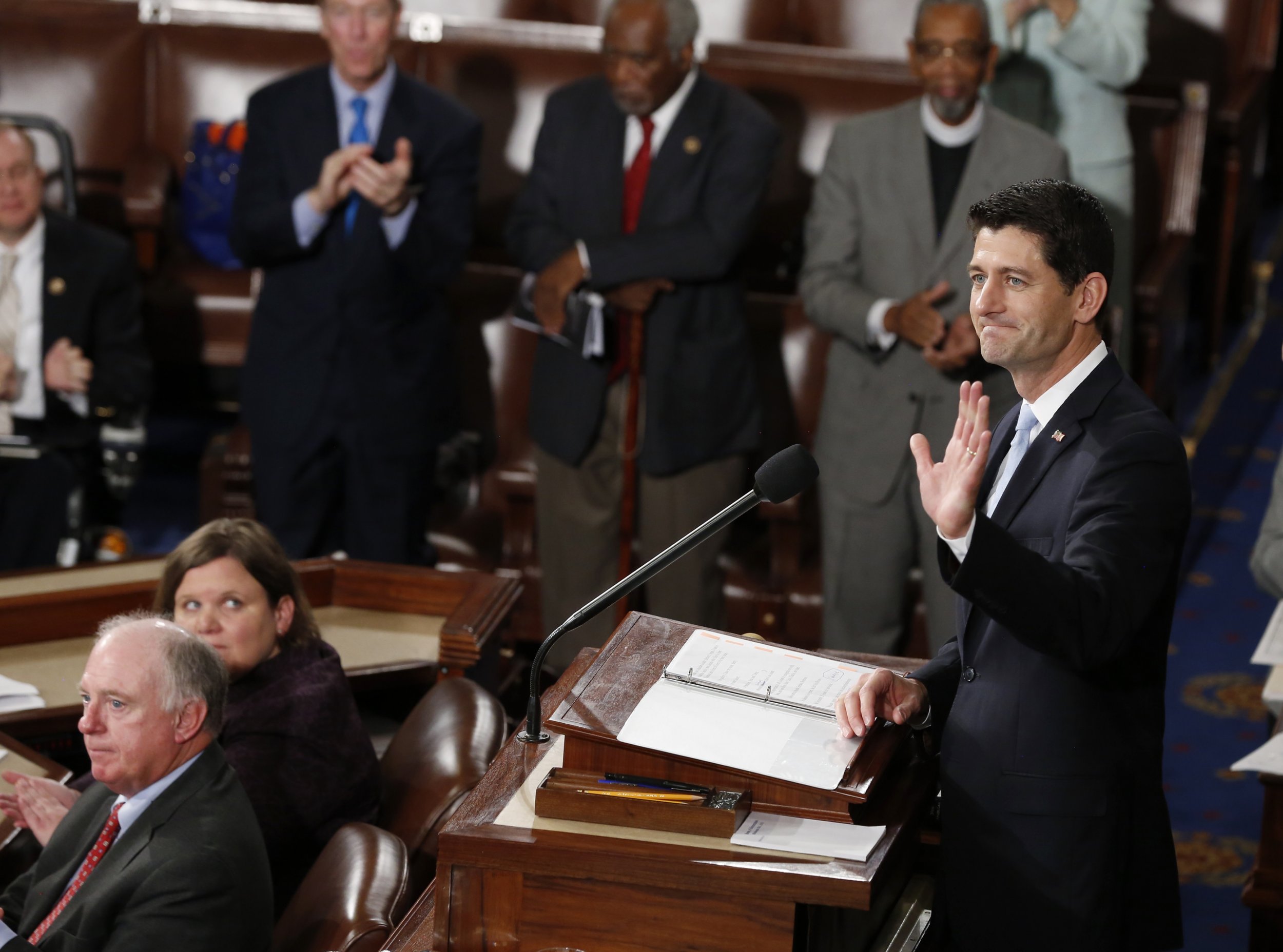 For a rare moment Thursday, the House of Representatives echoed with bipartisan cheer, pledges of unity and a promise that the "People's House" will once more work for the people of the United States.
"Today, in this House, the page has turned. A new chapter has begun," Democratic leader Nancy Pelosi told the chamber as she passed the speaker's gavel to its new owner, the 45th speaker of the House, Republican Paul Ryan. The 45-year-old, nine-term member from Janesville, Wisconsin, was sworn in Thursday morning after winning 236 of 432 House votes. Pelosi received 184; Florida Republican Daniel Webster, a favorite of Tea Party members, received 9; and three other men received one apiece, including former Secretary of State Colin Powell, who is not even an elected representative.
Accepting the gavel from Pelosi, Ryan acknowledged that years of bickering and brinkmanship have taken a toll on the institution. "Let's be frank: The House is broken," he told his colleagues. "We're not solving problems. We're adding to them. And I'm not interested in laying blame. We are not settling scores. We are wiping the slate clean."
He'll have his work cut out for him. Ryan has promised some rule changes to make House decision-making less top-down and promised Thursday that the committees will be responsible for drafting major pieces of legislation. "In other words, we need to return to regular order," Ryan said. "I know this sounds like process. It's actually a matter of principle."
But Ryan has also promised to abide by what's known as the Hastert Rule, which bars a Republican speaker from allowing a vote on legislation that's not supported by a majority of the GOP majority. Pelosi noted in a press conference Wednesday that under those terms, the House would not have been allowed to pass the budget deal brokered this week, which raises the debt ceiling and sets topline government spending numbers for the next two years. "This constraint that you described is very damaging to America's working families. It means the minority of the minority of the minority can rule the House," she told reporters after the House approved the deal Wednesday with 100 percent of Democrats but a minority of Republican votes. "I would hope that his members would allow him to be speaker" and "let the house work its will."
Ryan's pledge, in other words, means he's going to confront many of the same problems that tied his predecessor, Ohio Republican John Boehner, in knots—forcing him to choose between loyalty to his caucus and compromise with the Senate and a Democratic White House. In a matter of weeks, Ryan will face tests over how he handles efforts to reauthorize government trade financing agency the Export-Import Bank, extending federal highway funding and a government spending bill due in early December.
Ahead of Ryan's election, Boehner bid an emotional farewell to the chamber after five tumultuous years at the helm of the House, white handkerchief in hand as he dabbed away his signature tears. He served as speaker ever since Republicans won control of the chamber in 2010. But Boehner announced last month that he was stepping down amidst revolt from right-wing Republicans, mainly centered in a group of members known as the House Freedom Caucus. After a month of upheaval, the party finally unified around Ryan as its next leader. However, the foundations of the division—over how and when to compromise in a divided government—remain.
Ryan gave a nod to the challenges Thursday but insisted they're surmountable. "The cynics will scoff. They'll say it's not possible" to get the House working again, he said. "We're going to try."
Both Boehner and Ryan were greeted with uproarious cheers from both sides of the aisle as they entered the chamber. Ryan appealed to his colleagues to maintain that spirit of bipartisanship going forward. "If you ever pray, let's pray for each other, Republicans for Democrats and Democrats for Republicans."
"And I don't mean pray for a conversion," he added, to laughter. "Pray for a deeper understanding," Ryan said. "Wherever you come from, whatever you believe, we are all in the same boat."