Champagne Laced With Ecstasy Recalled After Customer Dies
A luxury brand of champagne is being recalled across the European Union after a German man died and 11 others fell ill from the bottle, which was found to be contaminated with a liquid form of the hard drug ecstasy—also known as MDMA.
A celebratory dinner at a restaurant in Weiden, Germany, in February led to the death of Harald Georg Z, 52, and serious illness among the seven dinner guests who shared a bottle of Moët & Chandon Ice Impérial, according to German news site Bild.
German police are investigating a possible case of negligent homicide.
The Netherlands Food and Consumer Product Safety Authority (NVWA) confirmed that 3-liter bottles of Moët & Chandon Ice Impérial were traced to ecstasy poisoning in one death and seven cases of illness in Germany, as well as four cases of illness in the Netherlands.
A bottle of the champagne brand sells for over 400 euros, or over $440 USD, according to The Times of London.
The NVWA alerted consumers that the contents of a contaminated bottle were distinct from a safe bottle, characterized by a reddish-brown color that darkens over time, a lack of fizzing and an anise scent. The group warned drinkers never to taste or even touch liquid from a suspicious bottle, as a small sip could be fatal and even physical contact could make a person ill. The affected champagne had a lot number of LAJ7QAB6780004, the group added.
The NVWA said it was informed of the tampered bottles by their manufacturer, Moët Hennessy.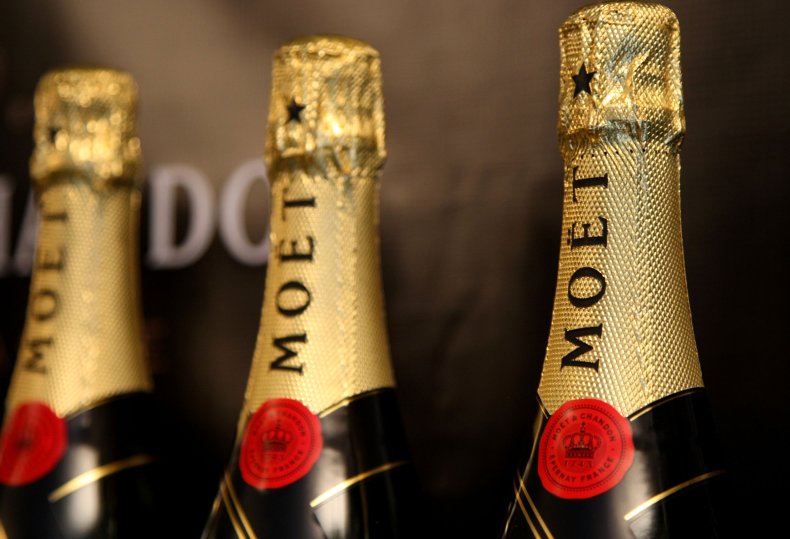 Drinkers exhibited the symptoms of an ecstasy overdose, including seizures and foaming at the mouth. Harald Georg Z collapsed after one sip of the champagne and died on his way to the hospital, Bild reported.
According to authorities, the bottle that killed the German man contained as much as 100 grams of ecstasy. Recreational users generally consider the average pill containing 75 to 100 milligrams to be "safe"—meaning that the deadly bottle contained approximately a thousand times the typical recreational dosage.
In both the German and Dutch cases, the contaminated bottles were purchased through an unknown website and were sealed when they reached the affected parties. The NVWA could not confirm how ecstasy ended up inside and could not rule out the possibility that more hazardous bottles of the same brand were in circulation.
Newsweek reached out to Moët Hennessy for comment.