Champagne's Hottest New Art Exhibit Is Hidden Nearly 100 Feet Underground
At nearly 100 feet underground in one of the deepest points in Ruinart's hand-carved chalk quarries, there's thousands of these crayères, as they're called in French, snaking under Reims, a 45-minute train ride from Paris in the Champagne region of France. Over 800 years ago, in Gallo-Roman times, these were chalk mines, the source of material for the city's rampart walls. As Reims changed hands, the crayères changed purposes, serving as wheat silos, smuggling routes and, for nearly 300 years now, champagne cellars for the oldest established maison, Ruinart.
"This place, the crayères, is full of energy; you really feel inside the Earth—connected to it—since this was all built by an ocean," said Maya Mouawad, half of the environmental artist duo Mouawad Laurier, in a press conference at the winery in September. "This was really interesting to us, and we wanted to imitate the light motion under the ocean."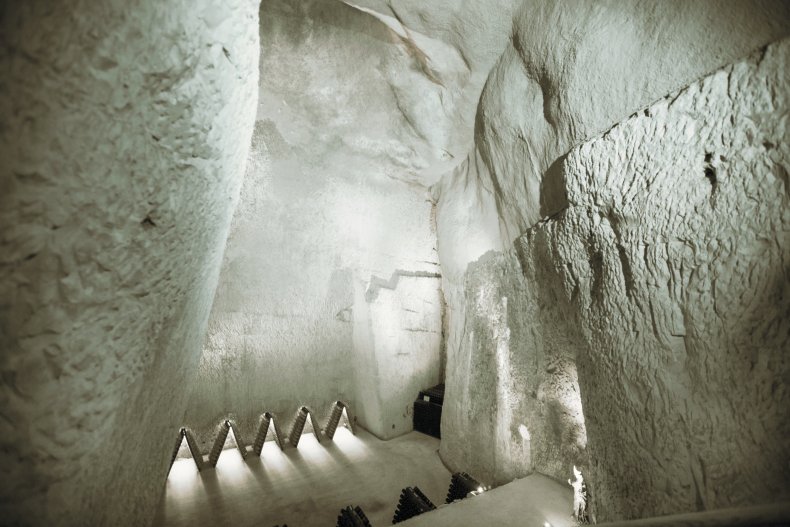 For Ruinart's latest art exhibition, "Retour aux sources" (which means, "back to the sources"), Mouawad journeyed with her partner, Cyril Laurier, to Murano, Italy, to source handcrafted glass lamps for the immersive installation that puts on a sound-and-light show in the depths of the chalk cellars. The blown-glass lanterns rise and fall to music and sound bites in the cathedral-like space above the "roots," a jungle gym-inspired structure that feeds off artificial intelligence and data from the vineyard, wine production and climate. The digitally driven art piece and its "roots" change with the seasons, so the show is constantly evolving, just like the roots of a vine.
Robots in Champagne aren't new. Riddling machines, or gyropalettes, replicate the motions of a skilled remueur, or riddler, who can twist up to 40,000 bottles a day, averaging a total of seven or eight cycles a year; a gyropalette can hit up to 45 a year. Two years ago, when Chinese artist Liu Bolin (a.k.a., "The Invisible Man," since he's known for playing on the concept of camouflage), visited the region, he noticed wineries were always hiding their machines. For his collaboration with Ruinart, he decided to show the balance between humans and machines, placing pieces like the disgorgement production line and its workers at the center of his artwork.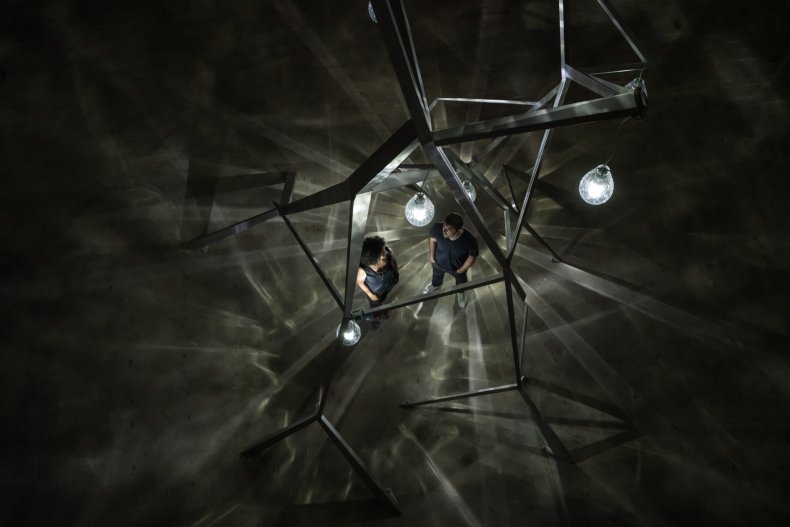 Ruinart's art collection started in 1896 with an "advertisement," an art nouveau poster by Czech artist Alphonse Mucha, and now the maison hosts an artist annually, taking the final product on the road the following year to some of the world's major art fairs. But it's only this past summer that the celebrated champagne house started debuting more permanent pieces in its chalk cellars.
Brazilian mixed-media artist Vik Muniz spent a good chunk of his residency last fall with the cellar master, Frédéric Panaïotis, in the Sillery vineyard—one of the northernmost in Europe. "If you see the morphology of these plants, they're suffering—they are a picture of trauma, but they're beautiful," he said. "I'm interested in a tree that's a storyteller, that gives you its biography. And a guy like Frédéric can look at a vine and see what years were bad by the way it was pruned."
He wanted to create something that could live down in the chalk cellars. He dreamed up a 16-foot-high piece dubbed Flow Bottles, composed of 1,400 hand-stacked bottles Dom Ruinart, each outfitted with an LED system that projects neon green moving "shadows" of spectators as they're passing through this portion of the cellar. "A lot of the experience in the crayère is passive, so I thought something interactive would be kind of cool," he said. "I'm a mosaic artist, so this is a kind of digital mosaic."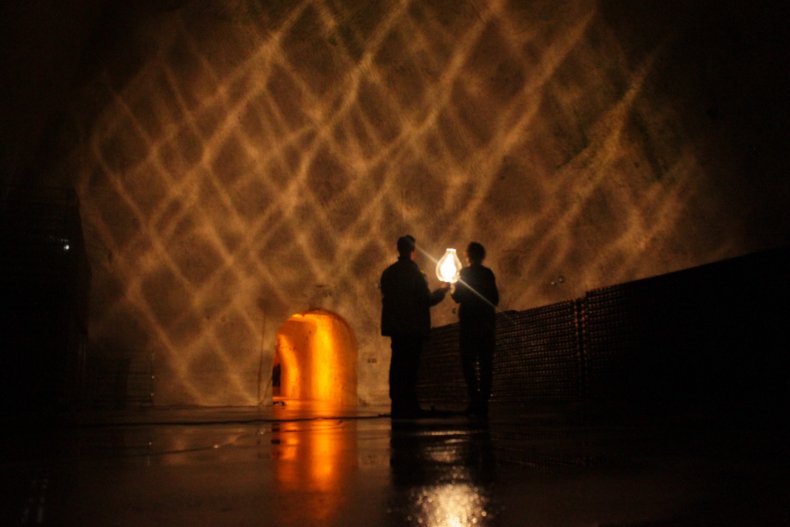 Over the next decade, as part of the countdown to its 300th anniversary, Ruinart is taking an artistic approach to publicize the effects of climate change and environmental issues visible in the surrounding vines. "Retour aux sources," which debuted during harvest in September, marked the first in the annually rotating series, which revolves around sustainability.
Harvest is typically mid-October, but since 2003, Ruinart has crafted five Champagne vintages from grapes picked in August. Panaïotis calls it a "golden era," since they can make vintages almost annually—when a vintage is typically reserved for the very best crop. In summer 2019, however, the region experienced two back-to-back heatwaves—a first in Champagne's history. More than 10 percent of grapes were torched, which "was new to us, the berries were just dead," Panaïotis said in a press conference.
"The new cuvée reflects these changes in the weather through the grapes," he explained. "We have been seeing the effects of climate change since the late '90s, early 2000s, and now we have to cope with it."
--
From her base in Paris, journalist Lane Nieset covers travel, lifestyle, wine, and food for publications such as National Geographic Travel, T: The New York Times Style Magazine, Travel + Leisure, Vogue.com and Food & Wine.