UEFA Champions League 2019: When Does It Start, Dates, TV Channels, Live Stream
Just over three months since Liverpool secured a sixth European crown in Madrid, the Champions League makes its return.
European soccer's showpiece competition kicks off on Tuesday, with the usual suspects looking to lift the trophy.
Liverpool is aiming to become only the second team, after Real Madrid, to win the tournament in consecutive editions since it was rebranded as the Champions League 28 years ago.
Barcelona, meanwhile, will be desperate to make amends for last season's calamitous semifinal exit at the hands of the Reds, while Real Madrid hopes to add a 14th European crown to its trophy cabinet.
Juventus continues the quest for an elusive first Champions League trophy since 1996 and a first for Serie A in a decade.
Here's everything you need to know ahead of the upcoming Champions League season.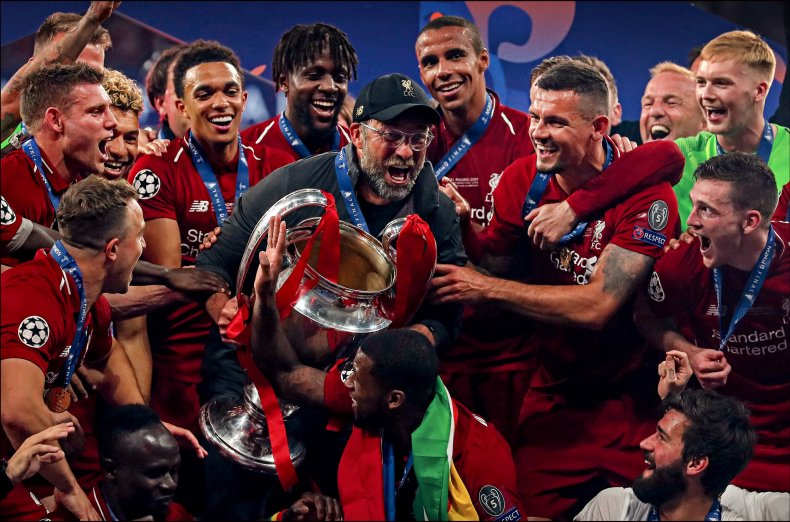 When does the Champions League start?
The 2019-20 Champions League begins on Tuesday, September 17 when Inter Milan hosts Slavia Prague at 6:55 p.m. local time (12:55 p.m. ET).
Olympique Lyon takes on Zenit at the same time, before another six games kick off at 3 p.m. ET. The second block of games includes Liverpool's trip to Naples and Barcelona's road game against Dortmund.
On Wednesday, Tottenham Hotspur takes on Olympiacos in Athens in the early game, while Belgian side Club Brugge welcomes Galatasaray at the same time.
The remaining six games feature Paris Saint-Germain vs Real Madrid and Atletico Madrid taking on Juventus, among others.
TV coverage
FOX Sports no longer holds the right for the Champions League, which are now shared between B/R Live, TNT and Univision.
TNT will televise two games per day, while every game will be available on B/R Live.
Live stream
Aside from B/R Live, live streams will also be available via fuboTV.
Format
The group stage consists of 32 teams, split into four groups of eight. Teams in the same group play each other twice, with the top two of each group progressing to the round of 16 and the third-best teams dropping into the Europa League.
In the draw for the round of 16, the eight group winners are drawn against the eight group runners-up, with the latter playing the first leg at home.
Teams from the same country can't play each other until the quarterfinals.
Which teams are in the Champions League?
Each of the Premier League, La Liga, Serie A and Bundesliga has four teams in the Champions League. That means Liverpool, Manchester City, Chelsea and Tottenham Hotspur represent the Premier League, while Bayern Munich, Borussia Dortmund, RB Leipzig and Bayer Leverkusen fly the German flag.
Serie A is represented by Juventus, Napoli, Inter Milan and Atalanta, while Barcelona, Real Madrid, Atletico Madrid and Valencia make up La Liga's contingent.
Paris Saint-Germain, Lille and Lyon represent Ligue 1, while Club Brugge and Genk and Zenit St. Petersburg and Lokomotiv Moscow fly Belgium's and Russia's flags respectively.
The remaining teams are Galatasaray, Dinamo Zagreb, Olympiacos, Red Star Belgrade, Ajax, Shakhtar Donetsk, Red Bull Salzburg, Slavia Prague and Benfica.
Matchday 1 TV schedule (All times ET)
Tuesday, September 17
Olympique Lyon vs Zenit St. Petersburg—12.55 p.m., B/R Live, Galavision
Inter Milan vs Slavia Prague—12.55 p.m., B/R Live, TNT, UniMas, TUDN
Napoli vs Liverpool—3 p.m., B/R Live, TNT, Galavision
Borussia Dortmund vs Barcelona—3 p.m., B/R Live, UniMas, TUDN
Chelsea vs Valencia—3 p.m., B/R Live, TUDNxtra
Ajax vs Lille—3 p.m., B/R Live, TUDNxtra
Benfica vs RB Leipzig—3 p.m., B/R Live, TUDNxtra
Salzburg vs Genk—3 p.m., B/R Live, TUDNxtra
Wednesday, September 18
Olympiacos vs Tottenham Hotspur—12:55 p.m., B/R Live, TNT, UniMas, TUDN
Club Brugge vs Galatasary—12:55 p.m., B/R Live, Galavision
PSG vs Real Madrid—3 p.m., B/R Live, TNT, UniMas, TUDN
Bayern vs Red Star Belgrade—3 p.m., B/R Live, TUDNxtra
Shakhtar Donetsk vs Manchester City—3 p.m., B/R Live, TUDNxtra
Dinamo Zagreb vs Atalanta—3 p.m., B/R Live, TUDNxtra
Atletico Madrid vs Juventus—3 p.m., B/R Live, Galavision
Bayer Leverkusen vs Lokomotiv Moscow—3 p.m., B/R Live, TUDNxtra