Championship Sunday Legacy Quest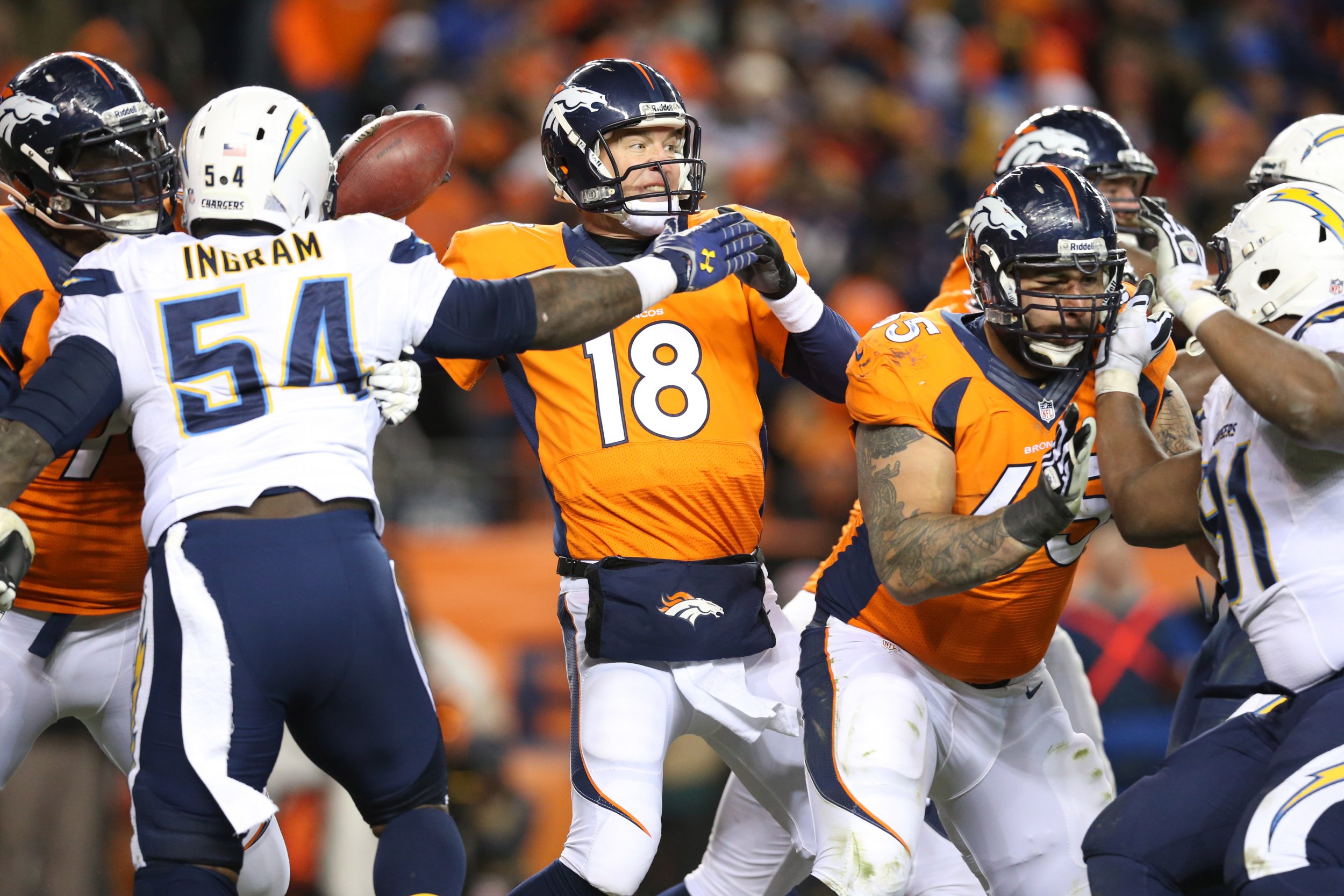 The AFC and NFC Championship games take place on Sunday, with the winners of each contest earning an all-expenses-paid trip to the state that ranks dead last in fiscal condition, according to a recent study, during what is traditionally the coldest week of the year.
Congratulations -- and what do the losers receive?
The Denver Broncos will host the New England Patriots at 3 p.m. ET for the AFC crown, followed by the Seattle Seahawks hosting the San Francisco 49ers at 6:35 p.m. ET for the NFC title. But who cares which team wins? All anyone appears to want to discuss is which individuals' legacies will be most enriched --or sullied-- by the day's outcomes. The Denver Post even ran a headline last week above a photo of quarterback Peyton Manning, who is only on the verge of winning a record-fifth NFL MVP award, that read, "A Legacy Under a Cloud."
To assist you as you watch the games, we've compiled a Legacy Quest scouting report. A guide to whose reputations are most on the line, and the degrees of potential fabulousness or ignominy that await. Do you want to be Dwight Clark when the ESPN Films crew visits a quarter-century from now, or do you want to be Jackie Smith?
Pete Carroll, Coach, Seahawks
Risk Factor: Fabulous upside.
"Coach Pete" could become the first man to lead teams to a college football national championship and a Super Bowl victory without having to coach the Dallas Cowboys (Jimmy Johnson and Barry Switzer both did so). To do so, however, the man with the "Win Forever" motto must defeat the coach who hung the greatest upset in college football history --Stanford was a 41-point underdog to Carroll's USC in 2007-- on him.
Jim Harbaugh, Coach, 49ers
Risk Factor: Even
The uber-intense coach recently turned 50 and, to be honest, a Tough Mudder competition between he and Carroll would be more entertaining. Harbaugh could take the Niners to their second consecutive Super Bowl in his first three seasons, which is tremendous, but a second defeat there would invite Marv Levy comparisons.
Bill Belichick, Coach, Patriots
Risk Factor: Everest-level upside.
The Pats are the least talented of the four remaining teams. Their leading receiver is a five-foot-ten, former 7th-round pick named Julian Edelman, and two of their top receivers of recent vintage are now wearing orange uniforms: one, Wes Welker, because he now plays for the Broncos and the other, Aaron Hernandez, because he is awaiting trial on homicide charges. Don't be shocked if Belichick deactivates Tom Brady for this game just to demonstrate what his mind is capable of.
John Fox, Coach, Broncos
Risk Factor: Who's John Fox?
Russell Wilson, Quarterback, Seahawks
Risk Factor: Huge upside.
Wilson is five-foot-eleven and only in his second season in the NFL. The former Wisconsin Badger is playing with house money.
Colin Kaepernick, Quarterback, 49ers
Risk Factor: Even
Like his coach, Kaepernick is in his third season in San Francisco. He has already shepherded these Niners to playoff wins in the polar vortex of Green Bay and the NASCAR vortex of Charlotte. If the Niners return to the Super Bowl, someone will undoubtedly remind him that Joe Montana and Steve Young never lost a Super Bowl --much less two-- nor did they have tattoos.
Tom Brady, Quarterback, Patriots
Risk Factor: Mild Downside
He's won more postseason games (18) than any passer in NFL history, almost all of which were unaided by the "Tuck Rule." However, Brady has lost two Super Bowls to Peyton's kid brother and his most recent AFC Championship road game, in 2007, to Manning himself. And while he has led New England to three Vince Lombardi Trophies (only quarterbacks Terry Bradshaw and Joe Montana have won more), his last one came nine years and one Brazilian supermodel ago.
Peyton Manning, Quarterback, Broncos
Risk Factor: "OMAHA!"
Manning is performing at a level of mastery that few beyond Michael Jordan and Times Square's "Naked Singing Cowboy" have ever approached. Had the Broncos lost a week ago, then he might have hear the sniping, e.g., "Even Tim Tebow won a playoff game here." Your television will be all Peyton all day on Sunday, with Peyton TD passes interrupted only by Peyton car and pizza ads. His legacy is secure, and he'll likely be playing his final game of the season at his brother's home stadium … as pundits note that Eli did exactly when he led the Giants to a Super Bowl triumph two years ago.