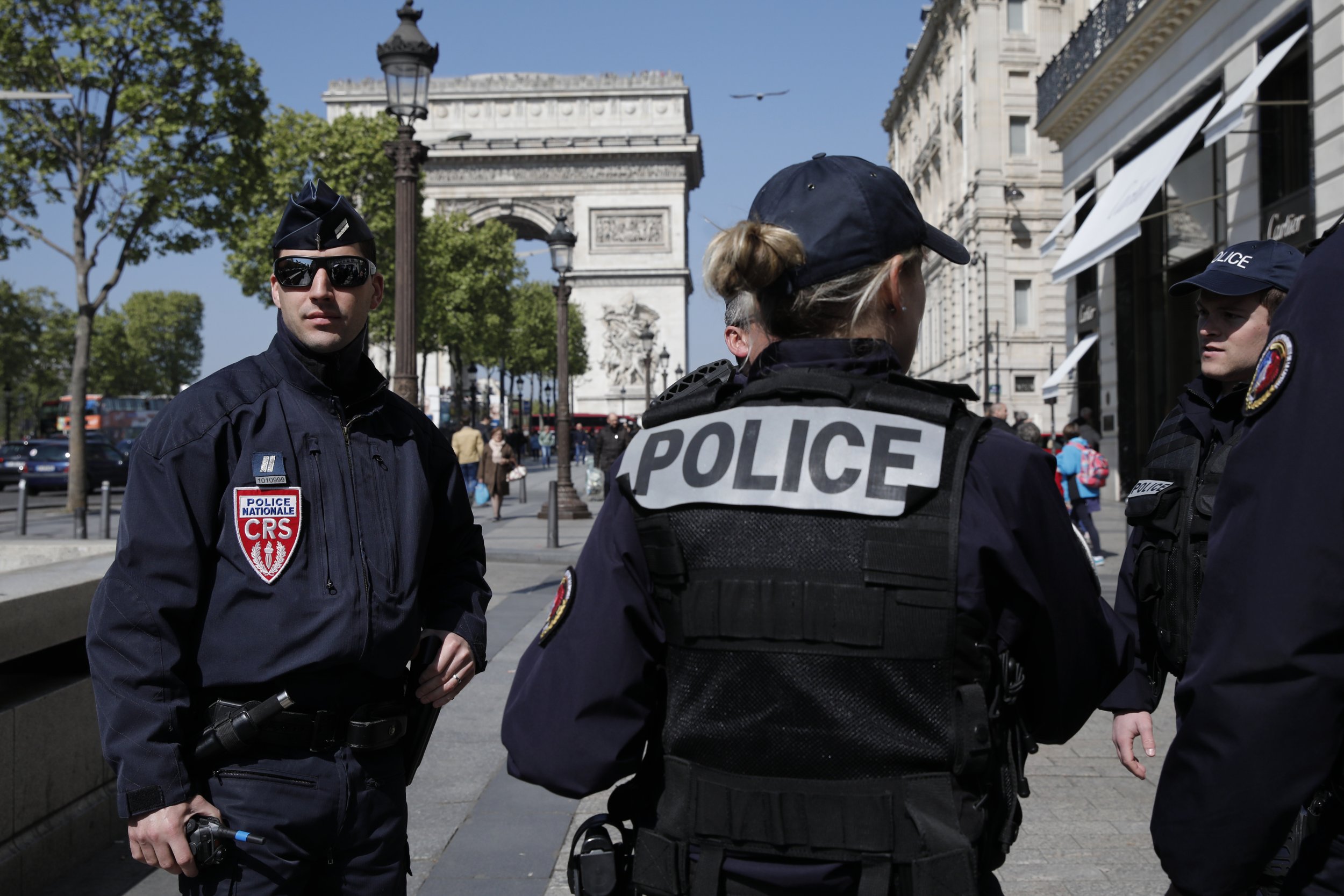 In France, the death of even one police officer in the line of duty, as happened on the Champs-Élysées in Paris on Thursday, is rare. Unlike in the United States, where there are more than 100 such fatalities in a typical year, fewer than a dozen French police officers are killed annually, and sometimes the number is as low as a half-dozen.
In 2015, the year for which the most recent French government data are available, six police officers were killed in the line of duty, according to an October 2016 report by the National Institute of Higher Studies of Security and Justice. In 2014, 11 officers were killed, and the total for the year before that was 10. The numbers dating to 2010 are slightly lower.
Related: One police officer killed, two wounded in Champs-Élysées shooting
"It's unusual," François Heisbourg, chairman of the International Institute for Strategic Studies (IISS) Council, who has advised the French government on security for decades, says of French police fatalities. "It will tend to be either a heist which turns out badly or an act of terror like the one yesterday." He attributes the low number in part to firearms not being "that easy to get to in France."
Many officer fatalities in recent years have involved incidents that the French government classified as terrorism. In January 2015, when 17 people were killed in attacks in and near Paris, three of the victims were police officers. Last June, the Islamic State group (ISIS) claimed responsibility for the fatal stabbing of a police commander and his partner, also an officer, inside their home in a Paris suburb. That killing "was a targeted operation," Heisbourg says. "They had been detected, identified and targeted."
The same was likely the case on Thursday, when an assailant killed one officer and wounded two more, Heisbourg adds, because "any number of people could have been shot on the Champs-Élysées, but the guy chose to fire on a policeman." ISIS has claimed responsibility for the attack.
"Police officers who have been the victim of terrorist attacks are few in number in France, but these acts tend to be repeated over time," says Marie Clais, the author of the French government's 2016 report on officer fatalities. She notes that police and security forces were also attacked, though not fatally, at Paris Orly Airport in April 2015, during the Bastille Day truck ramming in Nice last July and outside of the Louvre in Paris in February.
A 2015 report published by the French government said law enforcement representatives experience nearly twice as much physical and verbal abuse as people in other professions that interact with the public. According to the report, 4.7 percent of police and military officers said they had experienced physical violence over the previous year, and 20.4 percent said they had experienced verbal abuse.
French politicians have used such incidents to try to push their agendas. Shortly after the January 2015 Paris attacks, conservative politicians proposed a law that would ease restrictions on when police are allowed to use firearms. "In recent years, [police] have faced increasingly dangerous offenders who do not hesitate to use genuine weapons of war," the proposal stated. It went on to describe the current era as "a period of unprecedented terrorist threat."
In April 2015, speaking before France's National Assembly in support of that proposed law, Eric Ciotti, then a leader in France's since-dissolved Union for a Popular Movement party, said, "The uniform no longer protects. On the contrary, it is a target that exposes those who wear it." Marion Maréchal-Le Pen, a member of the National Front party who is a niece of French presidential candidate Marine Le Pen, also spoke in favor of the proposed law. The proposal did not move forward.
While the number of officer fatalities is low, the number of officers injured in France is far greater—12,388 in 2015 and 12,450 in 2014, according to the French government. Such figures are more consistent with those in the United States, where there are, on average, 15,375 assaults on officers resulting in injuries per year, according to the National Law Enforcement Officers Memorial Fund, which maintains the national monument to fallen officers in Washington, D.C.
But when it comes to fatalities, the difference between the two countries is profound. In 2016, 135 police officers in the U.S. died in the line of duty, Memorial Fund numbers show. Of those, 64 were from gunfire and 21 involved ambush-style attacks, including the incidents in Dallas and Baton Rouge, Louisiana. As of Friday morning, 40 officers have been killed in the U.S. in 2017, a 21 percent increase compared with this point last year. (The U.S. has roughly 765,000 sworn officers, while in France there are 220,000 officers with national forces and more in local jurisdictions.)
During his presidential campaign, Donald Trump repeatedly condemned violence against American law enforcement. "The attacks on our police, and the terrorism in our cities, threaten our very way of life," he said during his nomination acceptance speech at the Republican National Convention last July. "I have a message to every last person threatening the peace on our streets and the safety of our police: When I take the oath of office next year, I will restore law and order to our country."
With the first round of voting in the French presidential election days away, that country's candidates are echoing Trump's comments. "I have a feeling of sadness for our security forces who are paying a heavy price," Marine Le Pen said in remarks hours after the attack. She later added, "Our police officers are attacked because they are symbols of the state." Throughout her campaign, she has called for the hiring of 15,000 additional officers.
After Thursday's attack, one of Le Pen's presidential opponents, Emmanuel Macron, reiterated his call for 10,000 more officers to be hired over the next five years, and he tweeted a tribute to "these men and women who are at risk every day of their lives for our safety."
A third candidate, François Fillon, has also called for the addition of 10,000 officers. "Police, gendarmes and soldiers find me always beside them to defend their missions, their means and their honor," he tweeted on Friday.
Heisbourg, the IISS Council chairman, says the attack has provided the French election with a central theme. "This has put terrorism as the focal point in the campaign," he says. "This is new, this is a change, and we don't know what that means."