A Chance to Break a One-Party State | Opinion
For the past 13 years, Republicans have operated the state of Wisconsin like a snow-bound, cheddar-cheese dictatorship. By entrenching their preposterous state legislative majorities with bare-knuckle gerrymandering and using the state supreme court to reinforce their ill-gotten political gains, the Wisconsin GOP has been able to maintain its grip on state politics and policy despite the presence of now two-term Democratic Gov. Tony Evers. And it might all be coming to a sudden end in April in an election for the state supreme court's swing seat.
Nowhere is the GOP's lurch toward what political scientists call "competitive authoritarianism" clearer than in Wisconsin. In competitive authoritarian regimes like Hungary, power appears to be up for grabs on election day, but other features of the system make it impossible for the opposition to win and wield power. Gerrymandering—drawing district lines to systematically benefit one party over others—is one easy way to ensure that majorities are unable to change their representatives. And gerrymandering happens to still be perfectly legal in the United States, thanks to the hard-right U.S. Supreme Court's 2019 failure to outlaw it.
After taking power in the 2010 red wave, Wisconsin Republicans gerrymandered their way into virtually unbreakable state legislative majorities that frequently left Republicans with close to two-thirds of the seats despite single-digit margins in the popular vote. In the Democratic wave year of 2018, for example, Republicans took 63 of 99 seats in the State Assembly despite losing the popular vote 53 percent to 45 percent.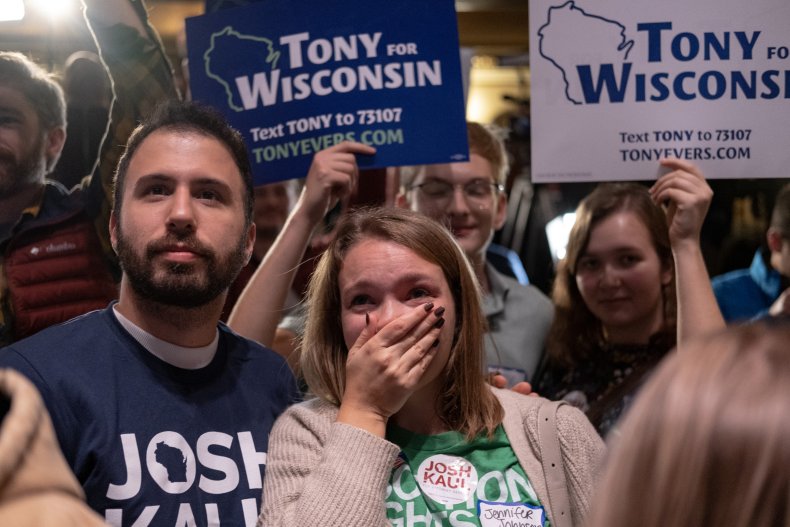 Voters elected a Democratic governor in 2018, Tony Evers, who should have been able to block the GOP state legislature's attempts to gerrymander themselves into perpetual rule again after the post-2020 redistricting. But the U.S. Supreme Court—another institution illegitimately populated by unpopular Republicans appointees—rejected a compromise map and the state supreme court, controlled by Republicans 4-3, imposed another hard-right gerrymander on the state. Republicans fell just short of gaining supermajorities in 2022 that would have allowed them to override the governor's veto.
The state's circular pattern of authority whereby all paths to potential change eventually lead back to an institution controlled by hardline conservatives, is closer to dictatorships like Iran than it is to any defensible conception of democratic rule. And the directly elected state supreme court is, at this point, the only way to dislodge Republicans from their seemingly unassailable perch atop the Wisconsin hierarchy.
The U.S. Supreme Court's June 2022 decision to overturn Roe v. Wade might ultimately be what unravels the GOP's grip on Wisconsin. Dobbs made a strict, 173-year-old statewide abortion ban the law of the land again, and towering Republican majorities in the state legislature mean that it will stay that way unless overturned in court. A September 2022 poll from gold-standard Wisconsin pollster Marquette Law School found that 68 percent of respondents believe abortion should be legal in all or most cases, and anger about the state's antiquated abortion ban propelled Evers to a 3.4-point re-election victory in an otherwise bad environment for Democrats.
That momentum looks like it has carried over to a critical state supreme court election. In the Feb. 21 non-partisan primary, liberal candidates won 54 percent of the vote. Conservative Daniel Kelly, a former state supreme court justice who lost his seat decisively in 2020, will face liberal Janet Protasiewicz in the April 4 runoff, with control of the court hanging in the balance. While the primary results are no guarantee of victory for liberals, abortion rights have been a galvanizing issue post-Dobbs in these kinds of elections.
A liberal court could unwind more than a decade of far-right policymaking in Wisconsin, starting with the state's abortion ban, which is being challenged and will eventually land in front of the state supreme court. It would almost certainly reverse the 2022 decision to impose GOP-drawn legislative maps, giving Democrats a shot at controlling the state legislature for the first time in over a decade. The court could also toss out the state's rigged map for the U.S. House, which now sends six Republicans and two Democrats to Washington, and torch some of the state's voter suppression laws, including restrictive voter ID laws that have had the effect of deterring tens of thousands of citizens from voting. Also at risk is the infamous Act 10 of 2011, which outlawed collective bargaining for certain public sector municipal employees (while of course creating a carveout for cops).
Beyond specific policies, a Protasiewicz win would serve as a reckoning for years of GOP overreach, and as a warning to national Republicans. Voters may not care much about procedural hardball moves like gerrymandering, but they do pay attention when long-established rights like abortion are taken away by rogue institutions. When right-wing ideologues lay waste to social consensus, people might start looking around and asking what possibly could have led to such a travesty in the first place. And knowing that voters can actually toss them out might convince Republicans to stop treating narrow electoral victories as an invitation to make radical social and economic policies that lack anything approaching majority support.
David Faris is an Associate Professor of Political Science at Roosevelt University and the author of It's Time to Fight Dirty: How Democrats Can Build a Lasting Majority in American Politics. His writing has appeared in The Week, The Washington Post, The New Republic, Washington Monthly and more. You can find him on Twitter @davidmfaris.
The views expressed in this article are the writer's own.