Chance The Rapper Denies Involvement In 'Fyre Fest-Like' Event Sent To 'Chicago Elite'
Chance The Rapper's name has been tied to a seemingly fake event, which some are comparing to Fyre Fest. An email was sent to select members of 'Chicago's Elite' advertising an exclusive club and prestigious party for Chance in the Caribbean.
The rapper posted a tweet, which showed the suspicious email, and denied his involvement. "Don't do it," he wrote back on Wednesday.
Many may remember a similarity in the history of Fyre Fest. Founded by Billy McFarland, the fest targeted America's elite millenials to experience a luxury music festival in the Bahamas. The fest turned out to be a disaster, which overpromised and underdelivered on a number of fronts, including a lack of food and accommodation and no arranged travel to get the festival attendees back home when they realized the fest was a scam.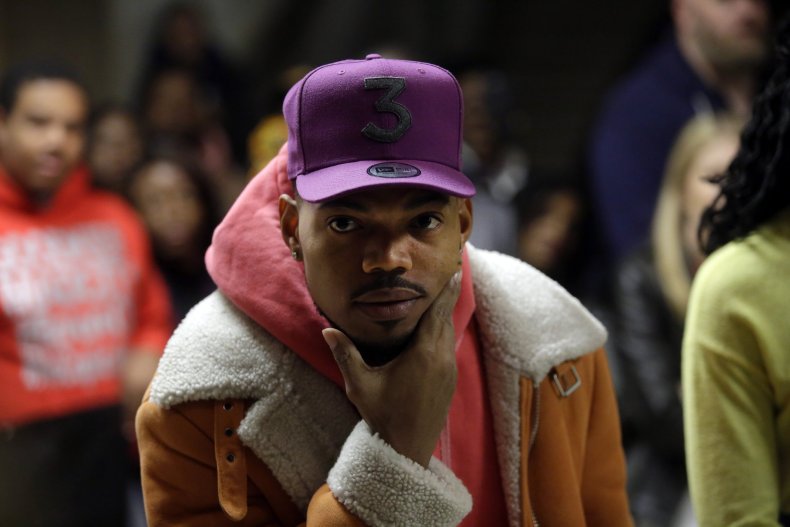 McFarland also started his entrepreneurship career with a millenial-based credit card, Magnises, that allowed New York's young elite to belong to an exclusive club for events and social benefits.
Similarly, the Chicago-based email is signed from a group called HK Social Club, and was shared by writer and artist manager Benjamin Levine. He told Newsweek the email was sent to an artist he manages, Rich Jones. The sender of the email said their name was Anastasia Mercedes Torres. A Facebook page for Torres is available, and advertises a variety of exclusive events. The bio says Torres is the founder of the "Hip Hop Stock Exchange."
The profile also advertises money opportunities for aspiring artists and tour funding in a series of posts, featuring said images of Torres, and a gmail account to contact for funding. The email address in the postings is the same that sent the invite, Levine confirmed to Newsweek.
The most recent event posted on Torres's page features an "international party" themed "Grand Luxury Seduction." According to Torres, Mark Wahlberg, Janelle Monáe, Nas, Anthony Anderson, Faith Evans and Mary J Blige are on the guest list. The event is said to take place on February 13 in Santo Domingo. The only comment on the recent post claims the party could be "Fyre Fest II."
After the backlash from Fyre Fest, McFarland went to prison for defrauding both investors and ticket holders of the Fyre Festival. He went to prison in October, and is scheduled to serve six years behind bars. Before going to jail, though, when McFarland was out on bail, he participated in sending a series of email scams, which advertised tickets for events like the Met Gala and the Victoria's Secret Fashion Show, two events that are not ticketed. According to McFarland's former Fyre staff, who spoke in the Hulu documentary FYRE, this wasn't the first time McFarland sold tickets for profit that he didn't have.
This article has been updated to include added information from Levine.