Who is Kristen Corley? Chance the Rapper Proposes to Longtime Girlfriend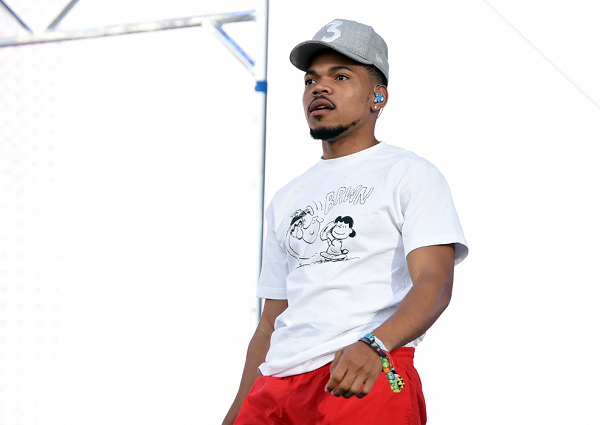 Chance the Rapper will soon be a married man.
The 25-year-old rapper proposed to his longtime girlfriend Kristen Corley at a Fourth of July backyard party on Wednesday. Chance's brother, Taylor Bennett, shared a photo of the smiling couple moments after a shirtless Chance got on one knee and popped the question. Corley's sparkling diamond engagement ring is also on display in the photo. "Proposed In The Hunnids! @chancetherapper You A Real One! 7-4-18 #BlockBoys," Bennet captioned the photo.
Chance, born Chancelor Jonathan Bennett, also confirmed news of his engagement later on Twitter, writing, "She said yes."
The Chicagoans relationship history extends back to 2013 when they first started dating, according to People magazine. The couple welcomed their first child, a daughter named Kensli Bennett, in September 2015. Chance announced his baby girl's birth on Instagram thanking all of "those who helped us during this pregnancy."
The couple has had their fair share of ups and downs though. They separated back in 2016 after Corley filed a petition requesting for the court to declare Chance as their daughter's father, Chicago Tribune reported. Corely also asked the courts to set child support retroactive to Kensli Bennett's birth as well as Corley's pregnancy expenses. She additionally asked to be named the "sole caretaker" of the child.
The motion was dropped in January 2017 after Corley and Chance reconciled and started living together. Shortly after the petition was withdrawn, Chance shared the first full image of his daughter on Instagram and gave Corley a shout out.
"Nothing I'm doing currently would be possible without this girl right here. She's so kind and loving and brilliant and beautiful. And I wouldn't have her without her mother, so thank you for creating and raising the greatest gift I've ever received. Cannot wait to get back to this," he wrote.
Just a month later, Chance thanked Corley and Kensli Bennet while accepting the Grammy for Best New Artist in February 2017. "I wanna thank God for my mother and my father who've supported me since I was young. For Kirsten and Kensli, for all of Chicago," Chance said.