Chandler Halderson's murder trial has been delayed after he tested positive for COVID-19.
The diagnosis was delivered by attorneys on Tuesday and came after all inmates at the Dane County Jail were tested by the National Guard due to surging cases. The trial is expected to resume on January 18 at the earliest, although it will hinge on when Halderson's recovery.
Halderson is accused of killing his parents, Bart and Krista Halderson, then dismembering their bodies. Prosecutors said the killings were driven by lies told by Chandler that were discovered by Bart. Newsweek reported that the lies included that he had a job waiting for him at SpaceX after he graduated from the Madison Area Technical College, which he was lying about attending.
The defense argued that their client is innocent and had no idea of the killings before the bodies were found. However, local news station Channel 3000 reported that Halderson's shoes had blood on them when he was arrested, with the DNA matching his father's.
During the trial, the station also reported that the coroner determined that Bart Halderson's death was caused by three gunshot wounds aimed at his torso. The dismemberment of his body came after he had died, according to Dane County Deputy Medical Examiner Dr. Cori Breslauer. The cause of death for Krista Halderson has not been disclosed, although she was also dismembered.
The trial has featured testimony from a neighbor of the Haldersons. Steven Greiber was a retired detective who reported smelling a foul odor when near their home.
"It kind of became real strong, kind of like a pungent smell," he said on the stand, "to the point that I actually walked down my driveway half the distance and kind of looked up and down the street to see if anybody was doing anything like grilling, or something else was going on, and I didn't see anything at that point."
Halderson is charged with first-degree intentional homicide, mutilating and hiding a corpse, and giving false information to authorities. With the coronavirus-induced delay, it is unclear how much longer the trial is expected to last.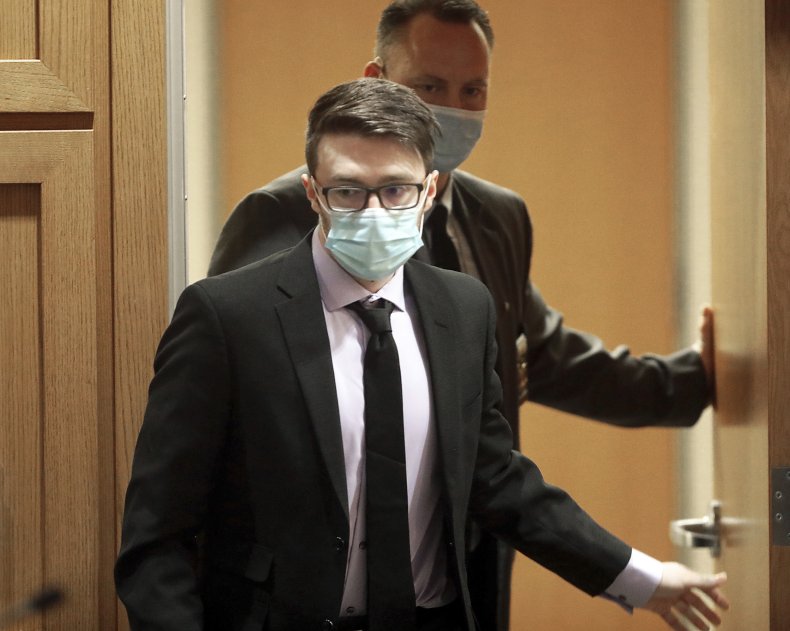 Bart Halderson's remains were found in rural Dane County on July 8, the day Chandler Halderson was arrested. Authorities said he was shot once before his body was dismembered.
Six days later, investigators found Krista Halderson's remains along the Wisconsin River in Sauk County.
The Associated Press contributed to this report.