Is Chanel Designer Karl Lagerfeld Spread Too Thin?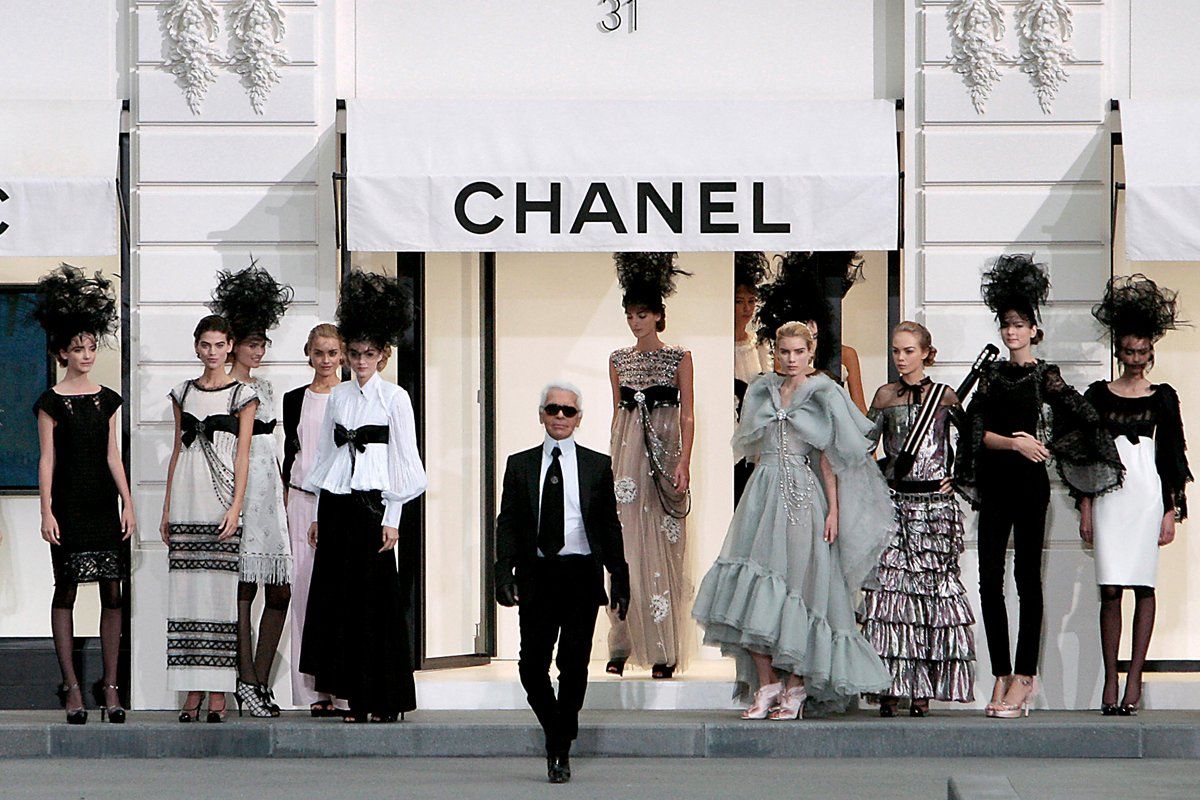 Karl Lagerfeld is overrated.
Such a statement rings like heresy within a fashion universe where the highly acclaimed designer struts upon his lofty stage as the creative director of Chanel—but it's true.
This pronouncement is not meant to imply that the German-born Lagerfeld isn't supremely talented and culturally influential. Through his work at Chanel, it's clear he is all those things. But fashion aficionados idolize Lagerfeld not merely for the great skill with which he has maintained the Chanel image. He has been feted for the quantity of his catholic pursuits—though not necessarily the quality of them. At one time he divided his services among three brands: Chanel, Chloé, and Fendi, where he continues to work. He has launched half a dozen versions of an eponymous collection—each to great anticipation—and even though most have been disappointing, he persists. On Jan. 25, he debuted the latest iteration, "KARL by Karl Lagerfeld," on Net-a-Porter.com.
He has been celebrated as a voracious photographer and applauded for accumulating a teetering stack of iPods. He has published books and collaborated on books, thus being deemed, if not an intellectual, at least a man of letters. He has developed a magnetic and highly memorable personal style that blends Madame de Pompadour hair with a Mick Jagger strut. He has been flat out called "a genius," a "Renaissance man," and "the Kaiser."
To be fair, the fashion industry tends to go weak and breathless at the slightest provocation. Perhaps Tom Ford comes closest to equaling Lagerfeld for the excitement his mere presence stirs. Ford has caused ebullient madness during department-store promotions for his cosmetics line. He, too, has shown a willingness to try his hand in other fields, like a Michael Jordan wanting to indulge a dream to play baseball. And unlike the basketball legend's mortifying stint in the dugout, Ford showed his skills quite nicely with A Single Man, his first outing as a director. With Ford, however, there always seems to be someone ready to suggest that he isn't so much a great designer as a brilliant marketer and stylist—someone for whom the sum of his work is greater than the individual parts. Whether or not that is true is moot. The point is that Ford's work is critically considered. His success during his years at Gucci did not lead to assumptions about his brilliance elsewhere.
Meanwhile, a designer such as Miuccia Prada, the subject of an upcoming exhibition at the Metropolitan Museum of Art, has wide-ranging interests, from architecture to film, but her fans relate to her like grad students hovering around a particularly favored professor.
Lagerfeld, then, is a peculiarity within a peculiar industry. Indiscriminate praise drips off him in thick, opaque globs. Performing a kind of fashion sludge test just might provide insight into the workings of a tightly wound business fueled by money, personality, artistry, and sleight of hand.
Lagerfeld has been at Chanel since 1983, arriving more than a decade after its founder's death, at a time when the brand had faded into a dusty purveyor of perfume. Lagerfeld resurrected the house to such a degree that now the upcoming Academy Award red carpet will not be complete without a starlet or two wafting along its camera-lined expanse in a custom Chanel confection of tulle and embroidery. And he has won the affections of fashion's greatest power broker, Vogue editor Anna Wintour. She regularly turns to Chanel for her business wardrobe, but more than that, her signature sunglasses are Chanel and she wore a white haute-couture Chanel suit when she attended the state dinner for China at the White House in 2011.
For every classic Chanel handbag or fanciful riff on the little black dress inciting lust in the hearts of style-savvy women, there have been equally mortifying examples of pandering and buffoonery: a tweed jacket transformed into a circus costume, menswear that would make a drag queen flinch, handbags that reek of self-conscious status climbing.
But without risk, there is little reward. Lagerfeld took vocabulary established by Gabrielle "Coco" Chanel—the nubby bouclé jackets, easy cardigans, multiple strands of pearls, camellias—and used it to speak in a brasher, more contemporary manner. Lagerfeld expanded Mademoiselle's philosophy of good taste and comfort to connect the brand to everything from urbane hip-hop to glorious haute couture, from ignoble logos to brash consumerism. He did all of this to great financial and critical success.
What Lagerfeld did not do is add to the vocabulary itself. If a great designer is judged by a silhouette he has popularized, a sensibility he has nurtured, or an aesthetic that is unmistakably his own, then Lagerfeld has failed.
He has spent a lifetime designing for Fendi—ever since its days as a family-owned, Italian furrier. He was hired to exploit the diversity of fur, and he did that by dyeing it, painting it, shaving and otherwise contorting it. But if there is a singular item for which Fendi has been known for more than a decade, it is the baguette handbag, which can still be found selling for four figures on eBay. But Lagerfeld did not design it. Silvia Venturini Fendi did.
Alber Elbaz at Lanvin created a unique fusion of power and sensuality that can be summed up with a single image of a provocatively draped jersey or satin dress. Giorgio Armani transformed power dressing. And Gianni Versace was known for carving out a distinctive path between sex appeal and vulgarity. But Lagerfeld has simply broadened a road built by Chanel herself. He has been, says Amy Shea, "a fabulous steward" of the Chanel identity.
Shea, a partner in New York's Brand Keys, is an expert on branding and an unabashed admirer of Chanel. On the gray January afternoon that we spoke, the only reason she was not wearing anything bearing that coveted label was out of a sense of overprotectiveness: "I was going to put on my little ballet flats, but it was going to rain."
Through her work, Shea has watched the culture increasingly muddle the line between a great brand and a captivating personality. Brands stand for something. A personality is fodder for TMZ. The confusion helps explain why the fashion industry often dubs charismatic designers, such as Isaac Mizrahi, a success long before they've turned a profit. It explains why otherwise savvy investors fling money at industry "darlings" such as Zac Posen even as they're still finding their footing in the business. Indeed, it helps to explain celebrity fashion lines by the likes of Kanye West who, even after presenting his collection, couldn't articulate his point of view.
Lagerfeld is the personality who guides the Chanel brand. But the designer has never shifted Chanel away from the all-consuming presence of Coco, not in the way that Ford established himself as the hypersexual essence of Gucci or the way in which Sarah Burton is moving Alexander McQueen away from the emotionally freighted yearnings of the individual and toward a more dispassionate corporate entity.
"The brand is not attached to Lagerfeld," Shea says, "Lagerfeld is attached to the brand."
The result is that no matter how much Lagerfeld has done to burnish Chanel, he needs Chanel more than it needs him. "The conversation at the boutique level is the story of [Coco] Chanel: the secret pockets for love letters, the maroon interior of a bag that reminded her of the uniform she wore when she lived in the orphanage," noted Barbara Grant, who spent a decade at Chanel and served as director of its Boston store. "That's what people are buying into."
Arriving at a Chanel show, one most certainly has an idea of what to expect from Lagerfeld. The collection will look like Chanel with all the expected signposts. A riff is not a reinvention. A jazz musician may do his own improvisation on "Take the A Train," but it remains Billy Strayhorn's song.
When given free rein with his own collection, Lagerfeld struggles to tell an aesthetic story. He has launched many iterations of a signature line, and each one has been greeted with breathless ardor among fashion fans. Indeed, his pop-up collection for H&M in 2004 swiftly sold out. But the expansive collection he debuted in 2006 swiftly tanked. Last year's collection for Macy's looked like Chanel on the cheap.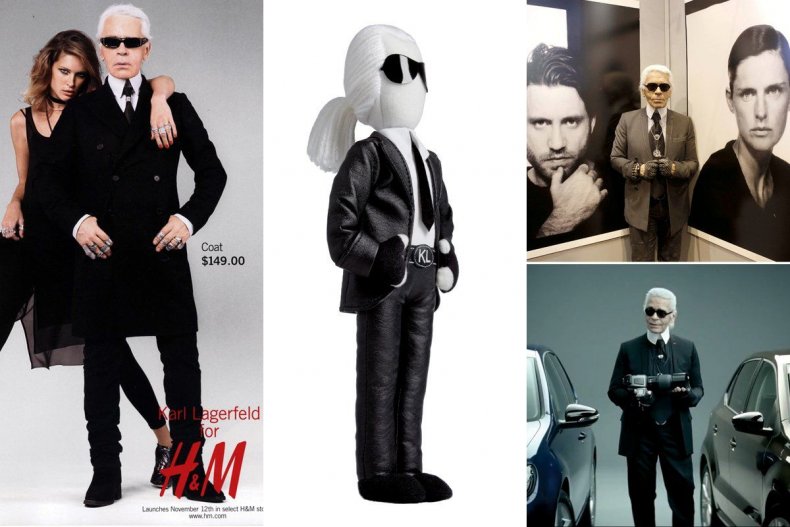 For a historian who takes the long view of fashion, Patricia Mears, deputy director of the Museum at the Fashion Institute of Technology, has little interest in Lagerfeld's work—even though the Couture Council, which financially supports the museum, honored him in 2010. "It's not really fashion forward. It's very derivative. It's a mishmash of trends ... He draws what he thinks is interesting. There's no continuum. It can be kind of scattershot," she says.
In marketing his new line, KARL, the online luxury site Net-a-Porter is betting that shoppers will be drawn not so much to Lagerfeld the artist but to Lagerfeld the man. "The bulk of our customers know him as a personality," says Alison Loehnis, managing director of Net-a-Porter. "He's an overarching cultural persona." Net-a-Porter began a marketing blitz for KARL some two months out. Technicians prepped the site for an onslaught of feverish first-day customers. The line opened with all kinds of pop-ups, apps, and other modern retail gewgaws.
For this new collection, Lagerfeld offers a murky mix of New York hipster, Euro-trash, and dandy. "It's very Karl," Loehnis says. "What we mean by that is it's monochromatic, mostly black and white. It has a certain thread of street. It's cool. It's ageless but with a young spirit. It's very rock inspired. It looks like him: skinny jeans, fingerless gloves," she says. "It has his thumbprint on it."
Actually, it sounds an awful lot like a celebrity collection, the kind that is not so much designed as edited in the image of its namesake. It sounds like the kind of collections that come from Jennifer Lopez, Rachel Zoe, and Beyoncé. The point of these lines isn't to expand on fashion's creative sphere but to help consumers dress like the icons they admire.
For all the snooty ickiness with which the industry tolerates celebrity designers, Lagerfeld is the celebrity that the fashion industry has spawned. His is a different sort of promotion than that of designers who have posed in their own advertising campaigns—naked or otherwise. They are hawking a product, albeit personally and provocatively. Lagerfeld is the merchandise. His KARL collection includes a $25 canvas bag embellished with his profile, a $120 T-shirt emblazoned with his face, and a $95 poplin collar mimicking the kind that has become his signature. His capsule collection for Macy's also included T-shirts and tank tops adorned with his face. Lagerfeld is a rock star—and these are the souvenirs for his fans.
In the last decade, Lagerfeld's reputation seems only to have expanded even as he has shrunk. He always cut a striking figure, but after an 80-pound weight loss, his public persona became even more self-consciously nurtured. He embraced a costume of skinny Diesel jeans, tight-fitting Dior Homme suits, and fingerless gloves. He released a CD called My Favorite Songs. There was a documentary, Lagerfeld Confidential, and the Coca-Cola bottles he designed.
And his interest in photography not only blossomed but also found acclaim. In 2006 he had his first U.S. exhibition of photographs at Pace/MacGill Gallery. And in 2007, he received the Trustee Award from the International Center of Photography, which lauded his influence on the field of photography. But does that mean he's an exceptional lens man?
"I think of him as being this amazing student of life," says Sue Hostetler, an ICP trustee and editor in chief of Art Basel Miami Beach Magazine. "Has a specific photo had an impact on the photo world like an [Henri] Cartier-Bresson? No. You're not going to open up a magazine and see an individual image of his that will blow you away ... [But] it's a very personal and passionate eye that he has. I visually see him in his work."
Hostetler's analysis suggests that it may be impossible to separate the man from his work. If so, that decries the long-held philosophy—embraced by actors, musicians, writers—that a truly fine creative product should speak for itself; it should be able to stand on its own without a personality propping it up.
But that's not how it works in fashion. The industry, after all, traffics in inflated personalities, creation myths, Cinderella fantasies, and makeover magic. Nothing is as it seems. Fashion stokes the image of magazine editors as well-dressed, benevolent dictators. It elevates scrawny young women of questionable talents into social "it" girls. And it promotes designers as Pygmalions with a bolt of silk.
And Karl Lagerfeld—the genius, virtuoso, wizard in every field—is fashion's most elaborate invention: a myth that has swallowed up the man.