Is Change Really in the Air for Pakistan's Transgender Community? | Opinion
Transgender folk, also known as khawaja sira in Pakistan, have always faced systemic injustice along with social prejudice and discrimination by society. After years of struggle, finally, some community members have started receiving long-overdue respect. Pakistan's empowered transgender people are creating a difference within their oppressed community, but will their efforts make a lasting impact?
Pakistan's transgender Christians are a minority within a minority. Christians and other religious minorities often have to encounter systemic discrimination in Pakistan due to the country's Muslim-majority reality, with laws at times mostly favoring the majority populace only.
Pastor Ghazala Shafique co-founded the First Church of Eunuchs along with other Christian members of Karachi's transgender community. One of the primary reasons this church, first of its kind especially in the Islamic Republic of Pakistan, came into being lies in the pejorative attitude of non-transgender Christian churches who have shunned transgender folk from attending church service and celebrations alike. It is indeed triple jeopardy to be transgender, Christian and poor in the Islamic Republic because influence and power primarily go to heterosexual Sunni Muslim dynasties where transgender people do not have any influence. Instead they are treated with mockery or pity.
Owing to the efforts of Shafique and a few empowered transgender believers in Christ, now there is a place where the transgender community can go to pray, sing hymns and raise their voices in praise of God like never before. The church is not the only religious space the transgender community secured.
Recently, a transgender-only madrassa (Islamic religious school) became a viral newsworthy topic overnight because it was a first for such a madrassa to appear on Pakistan's Islamic education landscape. Up till now, madrassas were seen as spaces exclusive to strict adherents of Islam, often unwelcoming the Pakistani transgender community, who work in or are forced into working as dancers or prostitutes.
An empowered transgender person leading change, Rani Khan, gives daily Koran lessons to her transgender students. Despite her life full of miseries, such as being forced into begging at the age of 13, she decided to study the Koran at home and attended religious schools, before opening the new two-room madrassa.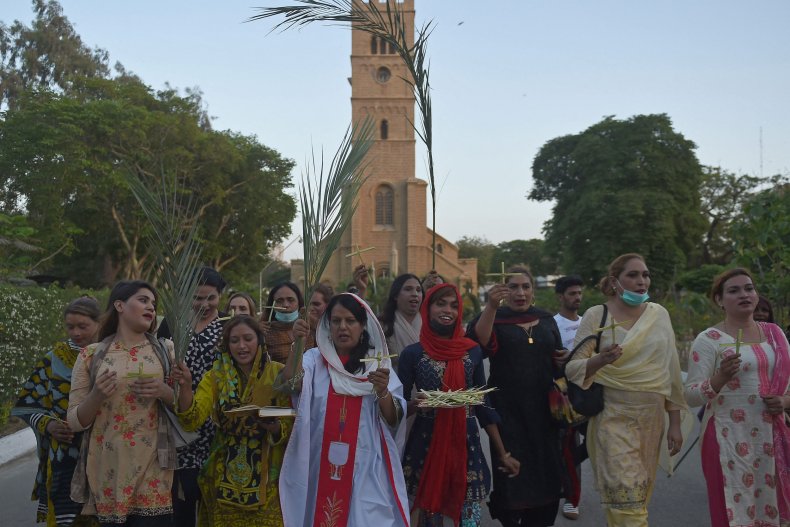 Two other empowered transgender women are leading change with their work—YouTube stars Sonia Naz and Jannat Ali. Naz runs the YouTube channel Moorat TV and Ali shares her content on Journey with Jannat. Both are getting the much-deserved praise from not just their community but from people from different parts of Pakistani society, be it from Pakistan's first female drum player who was recently a guest at Ali's show, or from Pakistani mimicry artist Basit Ali who has been quite vocal in his support for Naz.
Both Ali and Naz interview transgender guests whose struggles are usually not brought to the forefront. YouTube is bringing their stories to Pakistanis like never before. Ali also features influential non-transgender personalities on her show, such as renowned television scriptwriter Faseeh Bari Khan.
Their valor makes me ponder how it takes guts of steel to use a public platform while living in the very country whose societal norms prohibit strongly against reformation.
On May 28, Pakistani media became abuzz with the news of a transgender woman named Shyraa Roy who was crowned Miss Trans Pakistan 2021. She is the first transgender to claim the title. The ceremony was held in Pakistan's cultural capital Lahore.
This is another remarkable feat in the crown of Pakistan's resilient transgender community, but to settle with the status quo only means settling with far too less. It is imperative that a wide-ranging process and program of reformation is undertaken, where a transgender individual can become the head of state and head of government in Pakistan. The journey toward such reforms should begin with the election and introduction of transgender MPs in Pakistan's parliament as well as the introduction of transgender senators in Pakistan's Senate.
From their first exclusive church to a beauty pageant, change is in the air for Pakistan's transgender folk, but still a lot more has to be done to ensure that the community feels like equal citizens, whether through the legislative process or a gradual change in societal attitudes.
Sarmad Iqbal is a Pakistani blogger, columnist and citizen journalist. Follow him on Twitter: @sarmadiqbal7.
The views expressed in this article are the writer's own.