Changing How We Speak About Entrepreneurship Will Open The Door to Underrepresented Communities | Opinion
After a considerable amount of deliberation concerning what, as a high school senior, I thought to be the most difficult and important decision of my life, I chose to come to Carolina to study biomedical engineering. The new joint department, which boasted a partnership with NC State University, had yet to really prove itself. Despite the unchartered territory that the department faced, the determination of its faculty to build a reputable program whose students would go on to make a tangible impact in healthcare was infectious. I took the gamble on a non- accredited program and enrolled in UNC.
I did not, however, come to Carolina because I was interested in entrepreneurship. Until my junior year of college, I saw entrepreneurship as a synonym for business; studying business was a euphemism for wanting to make a lot of money; and making a lot of money, while not undesirable, fell low on my list of career aspirations. Entrepreneurs were tall men in tailored suits and glossy dress shoes, sitting in skyscrapers brooding over bottom lines and budgets: they were all the things I was not.
My biomedical engineering curriculum, with its core themes of medical device design and market implementation, gave me a new perspective. It framed entrepreneurship in a way that made it seem both attainable and applicable given my goals, skills, and interests. Entrepreneurship became the avenue by which any biomedical product that I might invent would come to fruition and actually end up in the hands of a doctor that treated real patients. That realization fueled my application to a prestigious mentorship program at UNC for future entrepreneurs, to which I now credit my post-grad plans of working in a biotech startup and my dreams of one day starting my own.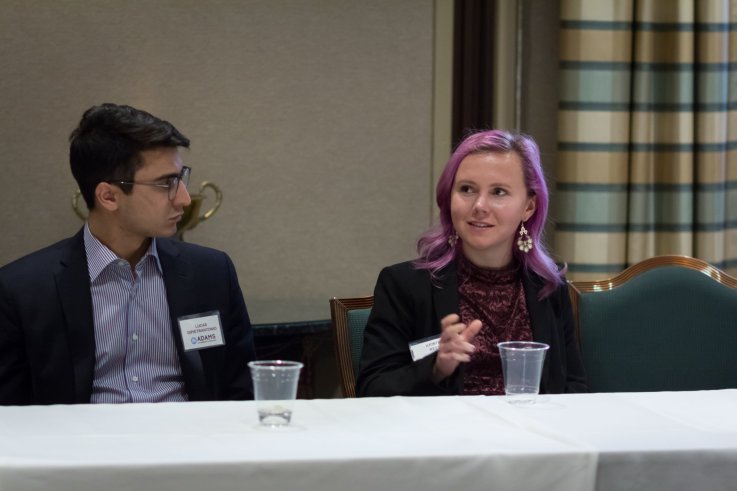 Despite this epiphany, I found in the program that my initial impressions of entrepreneurship lingered within my newfound community of entrepreneurs. I was fortunate to meet a number of inspiring, supportive peers and mentors, but I was also often confronted routinely with the bro-y, white male-centric presentation of the startup community; it was subsequently reflected in the program's network. It paled in comparison to the diversity of students in my department, in which almost half of my classmates are women. While that proportion is certainly skewed by UNC's high female student population, biomedical engineering today reports one of the smallest gender gaps of the engineering sectors, despite the historic male dominance in STEM as a whole. In contrast, only 7% of the startup founders that have garnered over $20 million in venture capital since 2009 identify as women. I think the difference in female participation in biomedical engineering and entrepreneurship comes from a difference in language. I've watched my professors sell the BME program to prospective students countless times by describing the clinician and patient interaction built into our design courses. Each time I am reminded of the reason why most BME majors I've talked to choose this degree and career path: to help people. Biomedical engineering is articulated as a field where one's empathy and compassion are just as important as the ability to solve problems analytically. When the language used to describe biomedical engineering is relatable to women, more women show up in the applicant pool, and the field is more gender diverse as a result.
I charge the leaders of collegiate entrepreneurship programs—those that are academic or otherwise—to ask themselves if the ways in which their programs are advertised are able to strike a chord with the communities that are traditionally underrepresented in entrepreneurship. If the gatekeepers to opportunity present opportunity with a language that women, people of color, queer folks, and other minorities have been systemically taught to dissociate themselves from, they will struggle to see themselves taking advantage of said opportunity. They will not answer the door when opportunity comes knocking because they will assume the knock was meant for someone else.
And how might we craft such a language? Easy: find your translators. Ask people from underrepresented communities what phrasing you should use to reach their respective audiences. Ask them what phrasing does not appeal to their respective communities and why. We need to include people from these underrepresented groups in the conversation about how we present entrepreneurship so that when opportunity comes knocking, they'll know the invitation was meant for them.
Kristy Reed is a senior Biomedical Engineering Major and Studio Art Minor at the University of North Carolina at Chapel Hill. Post graduation she will be working in a startup in one of VFA's emerging cities.
Changing How We Speak About Entrepreneurship Will Open The Door to Underrepresented Communities | Opinion | Opinion