'Changing My Sign Off to Yeehaw': Video Ranking Email Sign-Offs Goes Viral
A man put his own spin on a popular TikTok trend and ranked different professional email sign-offs in a video viewed more than one million times.
Shane Ramsay posted the now-viral video to his TikTok account, @shaneramsay, where he shared and ranked six different ways people have concluded their emails. He used an audio clip where the performances of dancers were ranked from the reality show Dance Moms. Commenters seized the opportunity to share their own email sign-offs, while also writing about some of the best ones they've seen themselves.
Indeed's editorial team reported that email is a primary form of communication in the workplace. The piece noted that having a well-constructed email sign-off—the last line of the email and the signature—is necessary to leave a good impression.
"I would genuinely love to know if this is a controversial ranking," Ramsay's video caption read.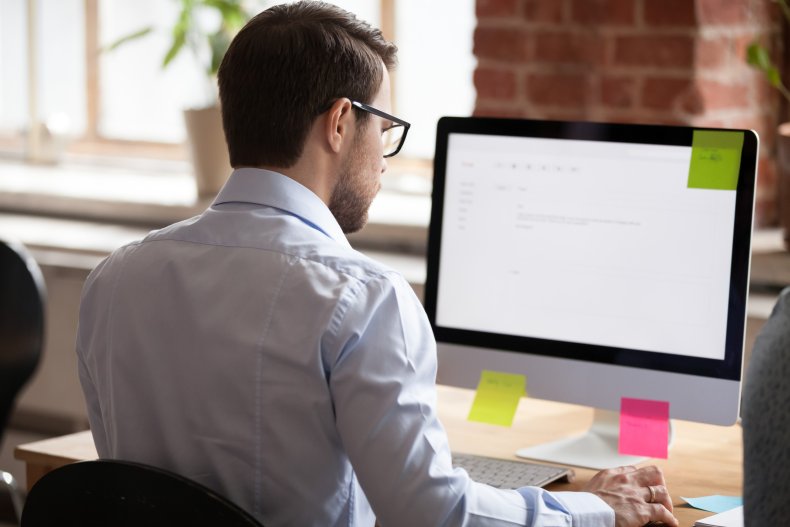 The email sign-off "Sincerely" was at the bottom of the list.
"You were good, I'm waiting for you to be great," the audio states.
The next sign-offs ranked from lowest to highest included, "Talk soon!," "Best," "Thanks" and "Cheers."
The email sign-off that bested the others was Ramsay's own, "Yeehaw."
Ramsay told Newsweek in a message that there are common email sign-offs people in the corporate world uses and wanted to rank them while throwing an unexpected sign-off into the mix.
"An email closing is the last thing your audience reads after finishing your message and can be the motivating factor in how quickly they respond—or whether they respond at all," the piece on Indeed stated.
It noted people will receive a positive response when using friendly and polite language.
The piece also provided a list of professional email closings, which include, "Warm wishes," "Respectfully" and "Kind regards."
"Displaying a polished appearance through your email ending will help solidify a positive impression and ensure recipients understand you take pride in how you present yourself in professional situations," the piece read.
Viewers flooded the comments section to share their own sign-offs and some of the interesting ones they've seen in emails they've received.
"Brb changing my sign off to yeehaw," the verified TikTok for TED Talks wrote.
Viewer @chill.94, a math teacher, commented that they received an email from a student whose sign-off before their name was "mathematically."
"'Medium Regards' is my go to," @asamantharae shared.
TikTok user @notjustplainjane wrote they received an email that signed off with, "Your fan."
"I sign everything 'best' bc it's short for 'I am the best,'" @evieeddie3 wrote.
One viewer with the same spirit as Ramsay said they plan to incorporate the video's top-ranked sign-off into their own emails.
"I always start my emails with 'Howdy' so I'll now be signing off with a hearty 'Yeehaw,'" @aly.did.it wrote.
Ramsay said one of the best things to come out of the video was reading through the comments and seeing what other people use to sign off with, as well as the sign-offs they've gotten in emails.
In addition to this video, other TikToks on the app have poked fun at the corporate world.
"I love how corporate-focused creators can find a way to turn any trend on TikTok into a situation that's relatable for their audience," Ramsay said. "I'm always impressed by people's cleverness on this app."