What Took so Long? New York City Becomes First Major City to Legislate Diaper-Changing Stations in Men's Rooms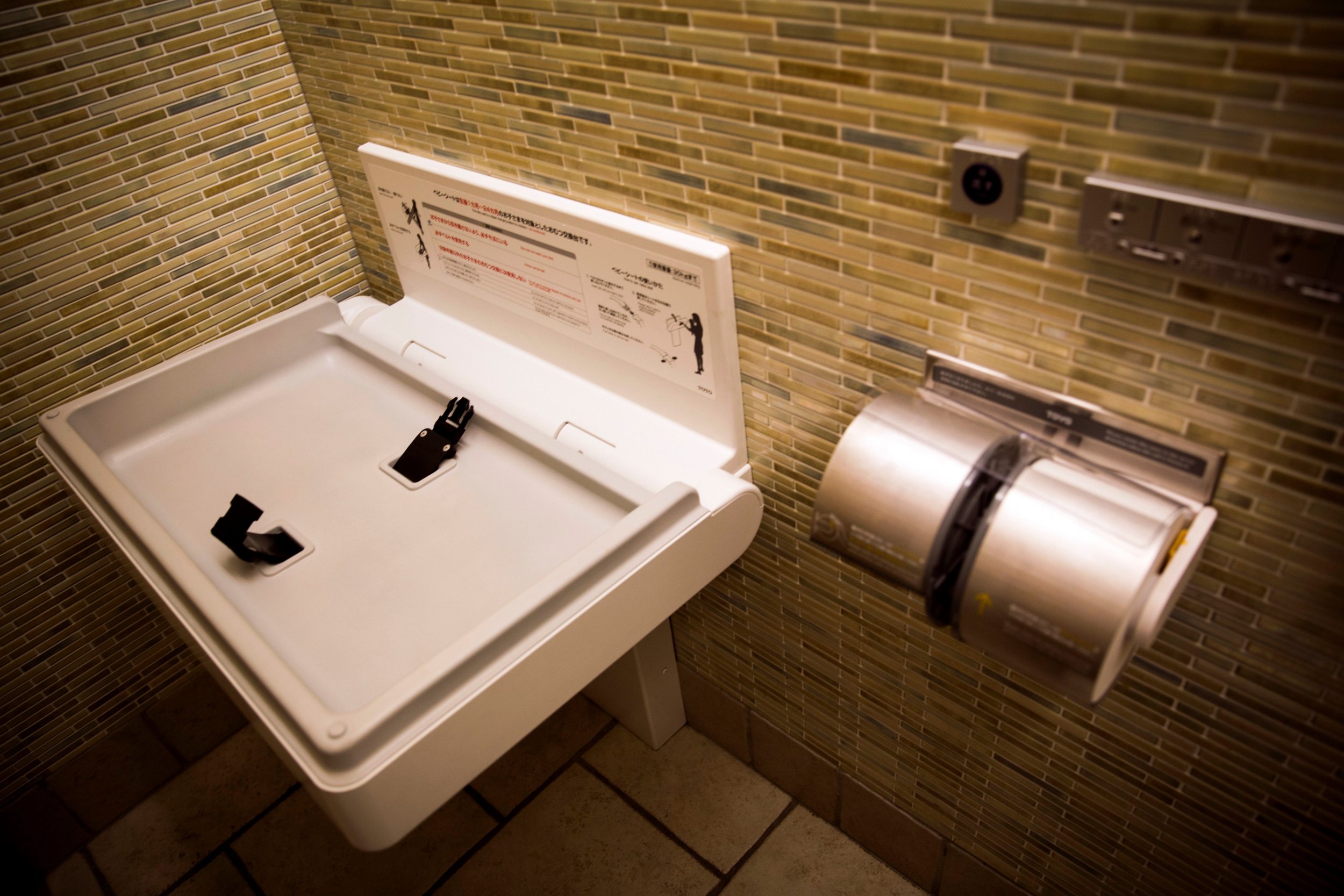 New York City this week became the first major city to dismantle a long-standing and socially reinforced stereotype that fathers aren't on the firing line, doing diaper duty with moms.
Mayor Bill de Blasio signed into law on Tuesday a bill that requires all newly built or heavily renovated public bathrooms to include diaper-changing stations—for both men and women. New York becomes the first major city to enact such legislation.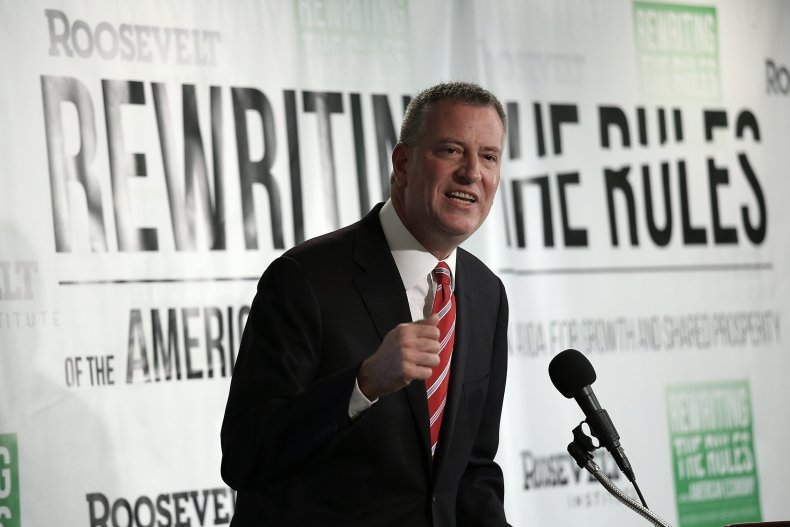 The news popped up on several parenting blogs back in December when the City Council passed the bill and sent it to de Blasio's desk to sign, to much fanfare across social media.
"About. Damn. Time," DaddyMindTricks tweeted when the bill passed City Hall.
In fact, the bill got no pushback from anyone in City Council or any city businesses, the bill's co-sponsor Councilman Rafael Espinal told Newsweek. All the plaudits begs the question: What took so long?
Although once aloof when it came to bearing the responsibility for child-rearing, men have increasingly bellied up to the nursery bar over the past several decades. Still, American society continues to reinforce the gender-based stereotype that they are not primary caregivers.
In June 2017, the Pew Research Center found that dads consider parenting just as central to their identity as moms do. In 2015, dads spent three times as much time with their kids than they did in 1965.
"Breaking news, everyone: It's the 21st century, and men change diapers now, OK?" de Blasio said at the bill signing.
And yet, the New York Daily News led their coverage of the bill's signing with the patronizing stereotype: "Dads won't have an excuse to be number two in line for diaper duty anymore."
New York may be the first city to implement such a bill, but it's not the first to try. In 2014, California Governor Jerry Brown vetoed a similar bill that would have required some businesses to install diaper-changing stations in men's rooms.
"This may be a good business practice, but not one that I am inclined to legislate," Brown explained in his veto messages, according to the Los Angeles Times.
In 2016, President Barack Obama signed the Bathrooms Accessible in Every Situation Act, or the BABIES act, which mandated all federally owned buildings to have changing stations in both men's and women's restrooms.
Florida may be up next. A similar bill that would offer tax-exempt credits to restaurants that install changing tables in men's and women's rooms has also been met with positive feedback. The bill, proposed by Florida State Senator Lauren Book, a mother of twin 10-month-olds, said she's hopeful it's on its way to becoming a law.
"I joked in committee I'd be willing to give extra tax credits if they did it only in the men's rooms," Book told Newsweek.
Book said she shares de Blasio's perspective that similar bills, known as "potty parity," serve to strengthen families and strip away old stereotypes.
"We are in a time and in a place that men and women are both raising children, single fathers certainly are raising children, and we need to be stepping it up and have that parity as well," she said.
De Blasio said the dearth of changing tables in men's rooms reinforces the notion that men don't shoulder some of the dirty-diaper burden and leaves mothers solely responsible for the duty when out in public spaces—unless parents opt to change their children outside.
"[T]hink of what's been the reality in this city and all over this country up to now," de Blasio said. "Literally the way our society has organized things—it's a message to men to not do their fair share. If you can't find a changing station anywhere that you can use, it literally just bakes in those gender stereotypes and inhibits men from doing what they need to do more and more, which is step up."
The New York bill was proposed by Espinal, a Brooklyn city councilman who is also an unwed man with no kids and is better known as the "Nightlife Mayor" than for his position on family matters.
Espinal, who helped create the official Office of Nightlife, told Newsweek he didn't realize how great the need for more diaper stations was until he saw a man trying to change his baby's diaper in a public bathroom sink.
"I walk into a public restroom, and I witness a dad changing his baby's diaper on top of a wet sink [that] hundreds of people have used to wash their hands," he said.
That planted the seed for the changing table bill in his mind. Initially, Espinal saw this as a safety and hygiene issue, not one of gender equanimity.
"I submitted the bill, and it wasn't until after that I realized this would actually bring gender parity when it comes to parenting," he said. "People started to realize the impact it would have on gender equity."
Espinal said the financial cost to businesses is nominal, while its benefit is immeasurable. Changing stations cost only about $155 to $185, he said. (The Florida bill would offer a tax credit for two diaper stations up to $300 each or the cost of the station, whichever is less.)
This is not to say men are remotely close to splitting the childcare workload. On average, dads in 2015 spent seven hours a week on childcare—up from 2.5 hours in 1965—while moms spent 15 hours on childcare, according to Pew. Dads put in nine hours on household chores compared to 18 hours for moms.
Fathers are spending slightly more time out of the office, the study found. They worked 43 hours a week, three hours fewer than in 1965, while moms work 25 hours a week, up substantially from the nine they worked in 1965.
The study also found that "despite changing gender roles, many still perceive mothers as better equipped than fathers to care for children."
Ultimately, when it comes to childcare, diaper changing is relatively low on the good-parenting hierarchy, Book and Espinal said. There's playing with the kids, letting them hear your voice and wiping spit off of seemingly every single surface.
De Blasio hopes this bill will be a sign of progress to come.
"Regardless of the gender of the parents, they should be able to use that changing station so all parents can share in diaper duty," he said. "We will endeavor to make this the fairest big city in America."
"Here's an important step toward it," he continued. "Respecting the equality of all parents, respecting all genders, making sure everyone can contribute."