'Roxanne Roxanne' Star Chanté Adams Plays Hip-Hop's First Leading Lady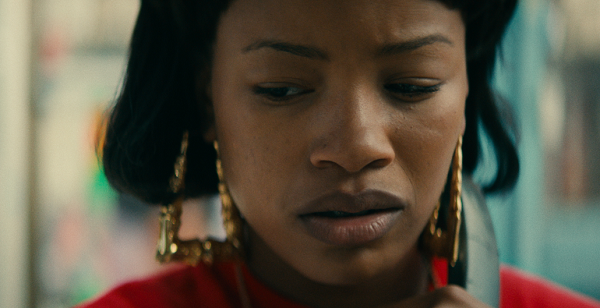 Imagine it's 1984. You're 14 years old and you live in New York's gritty Queensbridge projects during the height of the crack epidemic. Because your mother is struggling with alcoholism and mentally checked out long ago, you have the responsibility of raising your three little sisters.
Then, suddenly, you're thrust into the spotlight. A song you playfully recorded in a friend's apartment has taken off and is getting maximum airplay. Everyone wants to see you perform and get your autograph. Yet in the midst of your skyrocketing fame, you still have family and life's misfortunes weighing you down.
Could you handle the pressure of keeping it all together? Hip-hop's first female MC certainly did.
Roxanne Shanté, born Lolita Shanté Gooden, burst onto the scene when rap was just starting to be considered a musical art form. Her first single, "Roxanne's Revenge," was a response to UTFO's hit "Roxanne, Roxanne," and it transformed Shanté from a teen battle rapper in the 'hood to the first leading lady of hip-hop.
Shanté's rise to the top wasn't easy—for every milestone she achieved, there was a harrowing instance of adversity waiting around the corner—but she prevailed. And her story is now the focus of Netflix's newest original movie, Roxanne Roxanne, premiering Friday.
Actress Chanté Adams, making her film debut as Roxanne Shanté, spoke to Newsweek about her breakout role and shared what she believed everyone could learn from Shanté's story.
How familiar were you with Roxanne Shanté's music before taking this role?
I wasn't born until 10 years after the time period the movie takes place, so I wasn't familiar with her music. I knew the song "Roxanne Roxanne" just because my older siblings, who are die-hard hip-hop fans, used to play it, but I didn't know her story. I had no idea that she had this interesting life until I read the script and met with her.
Was she around during filming, or did you meet her beforehand?
I was cast eight days before we started shooting, so it was kind of late in the process, and I didn't have a lot of time. We met for about 30 minutes before we started shooting. Having her there—which I fully appreciated—it was just nerve-racking because you want to make sure that you get it right and that the person watching you is proud of your work. But I was so happy that she was there. Anytime I had questions or anything, if I was unsure about something, I could always ask her because I had the source right there.
What was most interesting to you about her story?
I think it's that all of this stuff happened to her: from having a mother who ended up becoming an alcoholic, having to raise her younger siblings, to later getting involved with a man who was physically abusive. Those are all things that many women can relate to. But the fact that she was going through all of this while only 14, 15 years old—she was such a young teenager. And that was what was so interesting about her story to me, especially playing her and trying to balance these adult roles she's taken on with the experience of a child.
Considering her age, that she was so young when she got her first taste of fame, and all the other things happening in her life, do you think viewers will have a sense of empathy and understanding of Roxanne Shanté that maybe wasn't there before?
Yeah, absolutely. I think with every part of this story, at least one person is going to be able to relate to her or know someone who has been through at least one of [Shanté's] situations because she goes through so much at one time. I definitely think audiences will be empathetic towards her and towards her character. She was just a woman—a girl—out here trying to do her best, trying to help the people she loved, and she was doing it the best way she knew how.
This is your first role, and trying out for it was your first audition. It's not every day that someone books their first job on the very first try.
It was crazy. I had just graduated from Carnegie Mellon University. Three weeks later I moved to New York, and maybe two weeks after that I got an email from the casting director asking me to come in and audition. I just wanted to do a good job, that was my main goal. I practiced really hard, researched the internet for anything I could find on Shanté, and practiced her voice and did my best. I was really proud of myself after I came out of the audition. And then I let it go. I didn't think anything of it until I got the email to come back for a second time, and I was like, "Oh, I got my first callback. Well that's cool, too. I'll do it." And I was proud of myself for getting the callback. But again, I never thought about possibly getting the role. When it did happen, it was just crazy. I was on set six weeks after I graduated college.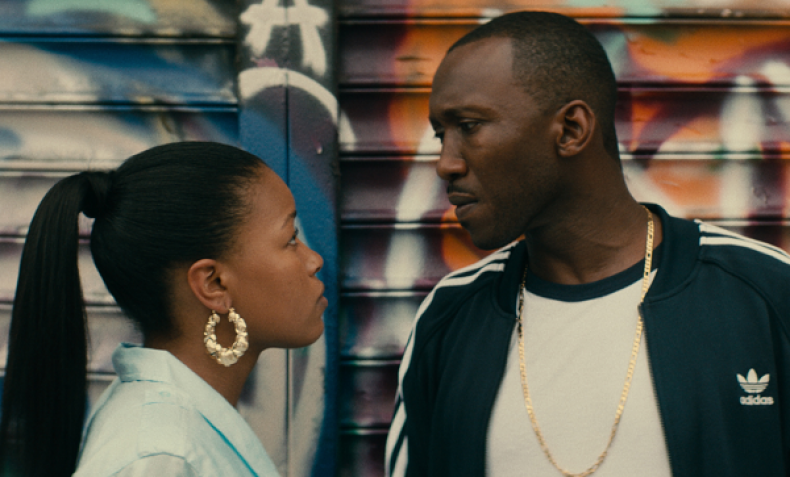 You're working with Oscar winner Mahershala Ali and with Nia Long, who has been in the industry since the early '90s. Were you overwhelmed to be working alongside such big stars?
It was nerve-racking at first, but then I got to know them as people, and they're just such great human beings. I really could not ask for better co-stars. I grew up watching Nia, and she was definitely one of my idols. I freaked out when I found out she was going to play my mother: "Me? Nia Long is gonna work with me?" She's like my big sister now. She's my mentor in the industry. She just took me under her wing, and I appreciated that. Nia would stay behind after she was done just to help me out.
I went to theater school and have a degree in acting, so film was a little foreign to me. Both Nia and Mahershala were understanding of that and were so patient with me, took baby steps with me and really just showed me the ropes. I sooo appreciate them for that. I learned so much just by watching Mahershala, watching his process before shooting a scene, watching how he interacted with the director. What I saw him do, I took with me for the next project I worked on.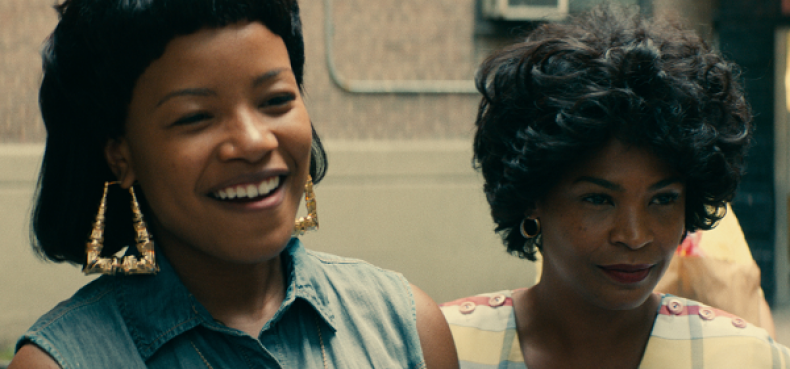 What do you think women in hip-hop can take away from watching this movie and Roxanne's story?
I think that a lot of females don't know their rap history or [Shanté's] story—particularly this generation that's making music right now. They don't know who paved the way for them, and Roxanne has definitely been that person. I was at a screening of the movie and I met Pepa from Salt-N-Pepa, and she was telling me how Shanté was one of her idols. And it made me think about women in hip-hop today who say that Salt-N-Pepa are their idols. I think this story is important for that reason: It offers artists the chance to learn about their idols' idols and to learn about the first commercially successful female rapper and what she was going through at that time.
The things that Shanté was facing back in the '80s, a lot of women are still going through that today. I think it's important for them to see this movie and recognize that they aren't alone and know there's a woman who's been through this and came out on top. It's important for them to see who she is today and realize that this is a woman who went through a whirlwind and she can sit here to tell her story to everyone. And she tells it proudly, too. She's one of the most proud women I've ever met. They refer to her as one of the aunties of hip-hop, and that's what she is. She loves all the female hip-hop artists who have come after her. She embraces them, and she loves her status as a hip-hop artist.
Describe the movie in three words.
"I. Am. Woman." I don't think a man could have endured what Shanté has endured and come out looking as good as Shanté. Women have a type of strength I think no other beings on this planet have. So, yeah: "I am woman." There's just so much power behind that, and it can be interpreted a lot of different ways.