Trump Greeted With Chants of 'Nobel' at Michigan Rally After North Korea Peace Talks
President Donald Trump was met with chants of "Nobel! Nobel! Nobel!" at a Michigan rally Saturday night by supporters demanding he be rewarded with the Nobel Peace Prize for bringing North Korea to the negotiating table.
"That's very nice, thank you. That's very nice," Trump replied to the chants at a campaign rally in Washington Township.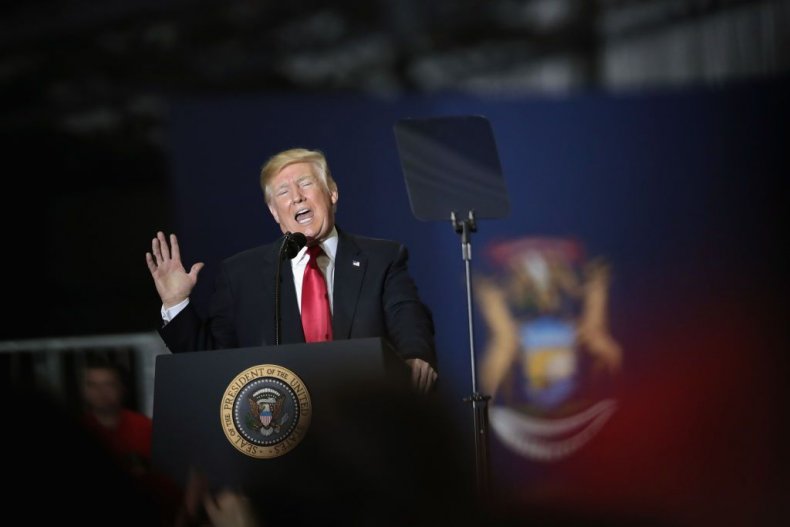 "I just want to get the job done," he added.
Trump's remarks came the days after North Korean President Kim Jong Un crossed the bridge into the demilitarized zone with South Korea in an historic meeting with South Korean President Moon Jae-in.
The two leaders pledged to denuclearize the Korean peninsula and bring to an end the Korean War. Trump said Saturday that he was likely to meet Kim in the coming weeks. It would mark the first ever meeting between a leader of North Korea and a sitting U.S. president.
Australian Prime Minister Malcolm Turnbull said Saturday Trump "absolutely" deserved credit for helping to bring about the peace talks. The president has threatened and berated North Korea following a series of missile tests by the rogue state, and the U.S. has successfully lobbied for tighter international sanctions.
President Barack Obama was controversially awarded a Nobel Peace Prize only months into his first term in office. Former Nobel secretary Geir Lundestad has expressed regret for the decision to award Obama with the prize, saying that it failed to achieve what he had hoped it would.
Trump has used his rallies to lash out at opponents and rile up his base, and Saturday was no different, as Trump struck out at a familiar list of targets.
The president skipped the annual White House Correspondents' dinner to attend the event, and at a fundraising pitch ahead of the rally said he had come up with something better than being stuck in a room "with a bunch of fake news liberals who hate me."
In remarks quoted by the Associated Press he said he would rather spend the evening "with my favorite deplorables."
He called supporters to vote Democrats out of office, remarking at the rally, "the Democrats don't care about our military. They don't, and they don't care about our borders, and I don't think they care much about crime. ... Nancy Pelosi and her gang, they've got to be voted out of office."