Is My Flight Canceled? Chaos at U.S. Airports as Temperatures Plunge to Record Lows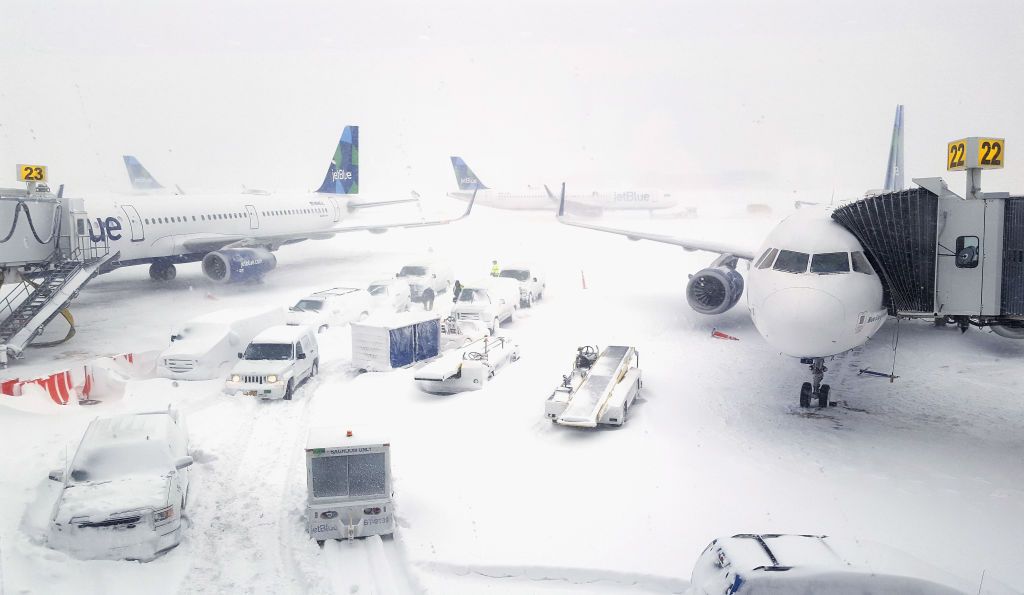 Airports in the U.S. have descended into chaos as they struggle to contain flight backlog caused by record breaking low temperatures in the U.S. and Canada.
Temperatures plunged on Saturday. Mount Washington, New Hampshire, recorded a temperature of -37C (-35F) on Saturday morning, with a wind chill of -69C (-93F) - making it the second-coldest place on Earth with Armstrong, Ontario.
The coldest temperature was recorded at -39C (-38F) in Eureka, Nunavut, in Canada and Jakutsk, Russia.
The cold has affected U.S. airports, with the Associated Press reporting more than 3,420 flights within, into or out of the United States were still delayed Saturday night, with New York's JFK particularly impacted and South Carolina's Charleston forced to close.
Flight tracking site FlightRadar24 reported that multiple international flights were diverted from JFK to other U.S. airports because of the weather. Aeroflot flight SU122 decided to go back to Moscow instead of continuing to JFK because of the weather, and flights from Vienna and Frankfurt also turned back over the UK and Ireland due to the problems at JFK.
A China Southern aircraft's right wing grazed the tail of a Kuwait Airways vessel on the tarmac of the aiport Saturday, but no injuries were caused, reported NBC.
On Twitter, passengers shared stories of being stranded on tarmac for hours, and facing long waits at baggage reclaim.
The Port Authority, which runs New York's airports, said it was "working diligently with the FAA, airlines and individual terminal operators to limit the arrival of flights into JFK Airport until there are adequate gates available to handle the backlog of flights, due to recovery of flights schedules after Thursday's storm."
More than 280 flight delays were reported at Boston's Logan International Airport on Saturday, with 37 flights cancelled altogether.
The low temperatures follow a storm dubbed the "bomb cyclone," which has blamed for 19 deaths across the U.S. Thursday's storm blasted the East Coast with freezing temperatures, heavy snowfall and icy winds.
Forecasters says below-normal temperatures are likely to continue into early next week, forecasting freezing rain from Kansas to Tennessee, and that ice could complicate road transport.