'Chapelwaite' on Epix: Adrien Brody Pulled a Live Worm From His Nose for New Horror Show
Adrien Brody really suffered for his art on the set of new Stephen King adaptation Chapelwaite as he had got up close and personal with a bathtub full of live worms.
The new show, which starts on Epix on Sunday August 22, is a retelling of King's story Jerusalem's Lot. Oscar winner Adrien Brody leads the cast as Captain Charles Boone and he's joined by Emily Hampshire who plays writer Rebecca Morgan.
The pair spoke to Newsweek to discuss their upcoming 10-part horror series.
The Pressure of Adapting a Stephen King Story
Dozens of Stephen King's stories have been adapted for the small and big screen, with varying degrees of success. Chapelwaite marks the first time that the short story Jerusalem's Lot has been taken on, which means there's no previous work to compare it to.
"I love Stephen King's work," Brody tells Newsweek. "It doesn't add pressure, part of the allure of this is that they were adapting Jerusalem's Lot."
On the contrary, Brody says he didn't feel the pressure of King's work, he instead was thankful for the source material to help inform his character—returning sea captain Charles Boone. "So many of his books have been adapted successfully and in such an interesting way. He just creates a deeply textured visual world in his writing. So for me to have that to reference, the writings of Charles Boone, and even though Chapelwaite veers from the original in many ways, it kind of felt like I had something authentic to grasp on to."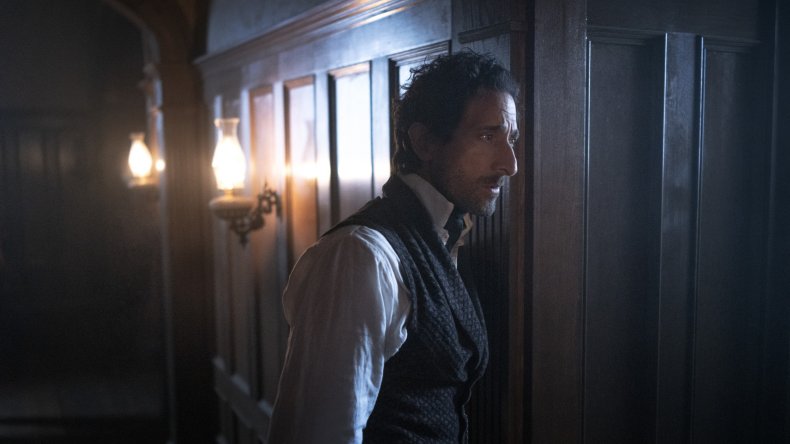 Chapelwaite opens with the at-sea funeral of Charles' wife, and the mother of his children. They return to the village of Preacher's Corner, Maine, to live in their family house called Chapelwaite. The locals fear the house and the family because every Boone man who's lived there has gone mad and often met a grizzly end.
Emily Hampshire (Schitt's Creek) plays struggling writer Rebecca Morgan who doesn't share the locals' fears. Instead she goes straight towards the action and aims to become part of the ominous household, a notion which Hampshire was confused by. "Oh my god. I had those questions on set with the Filardi brothers [showrunners Jason and Peter]. I'm like 'she knows that's the bad place to go' and she's like 'let's go there.' I would run in the opposite direction."
Hampshire agrees that she would mimic her character's behavior and go undercover as a governess to gain access, but she tells Newsweek where she'd draw the line. "When it started getting bloody and wormy, I'd be out."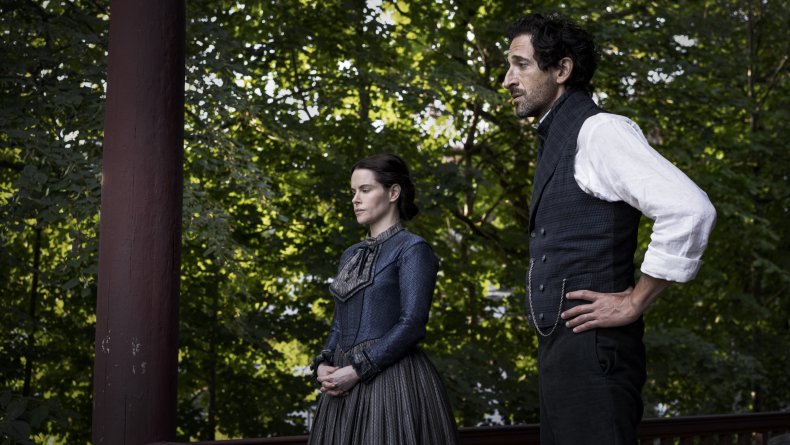 'Chapelwaite': "Bloody and Wormy"
Charles Boone starts to worry about the effects that Chapelwaite House is having on him as he starts to hear sounds in the walls and hallucinate some unsettling things.
While taking a bath in Episode 1 ("Blood Calls Blood") he looks down to see the the water has been replaced by soil and worms. Although it turns out to be his imagination, it was still a scene that Brody had to endure in real life.
He says: "Those were real worms, I had a bath full of worms and that was odd. It was less disturbing than the worms in my nostril, which was my suggestion."
When faced with the choice of pretending to have a worm up his nose, or actually doing it, Brody had a clear preference. "They had the option of doing it with visual effects, but we had worms and a worm wrangler on set, and I thought for what I had to feel to convey this, I had to see what that would be like. It was very strange to say the least.
"I just recounted the fact that I had eaten a worm on another film, so I guess worms and I have met in the past." Brody previously had to eat bugs to survive after a crash in the 2010 movie Wrecked.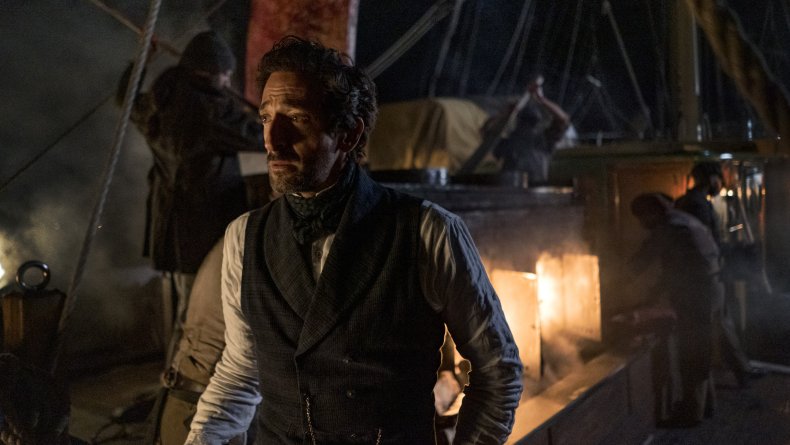 Shooting 'Chapelwaite' in the Depths of 2020
Though it's coming out now, Chapelwaite was yet another project that had its production start date delayed due to the COVID-19 pandemic. Shot in Halifax, Nova Scotia from July 2020, Brody and Hampshire shared their lasting memories from the set.
Hampshire says she'll forever remember making Chapelwaite for the moment in history it was shot in. "What's weird now is that I see Chapelwaite like a nostalgia to the first wave of COVID. Which is crazy to say but it was a time when it was all new and we were innocent about it, now we're kind of jaded," she says.
Brody echoes the positive memories he feels from the set of the Stephen King adaptation. At a time when much of the world was struggling, he thinks it gave the whole cast and crew a sense of perspective.
"It was a triumph that we were able to carry on with production. We didn't have any delays due to a [COVID] violation or someone getting ill, there was a lot of care and concern about following the protocols on set," he says.
Brody continues: "I feel like I had a heightened awareness of our good fortune to be working for an extended period because so many other things were put on hold and so many people lost their livelihoods, and many people are still struggling as a result.
"We had a lot to accomplish and we prevailed. I'm very proud of the work that everyone's done and I'm excited to share it."
Chapelwaite starts on Epix on Sunday August 22, and every episode of the 10-part season will air weekly on Sundays.