Chapman University Film School Removes 'The Birth of a Nation' Posters After Student Protests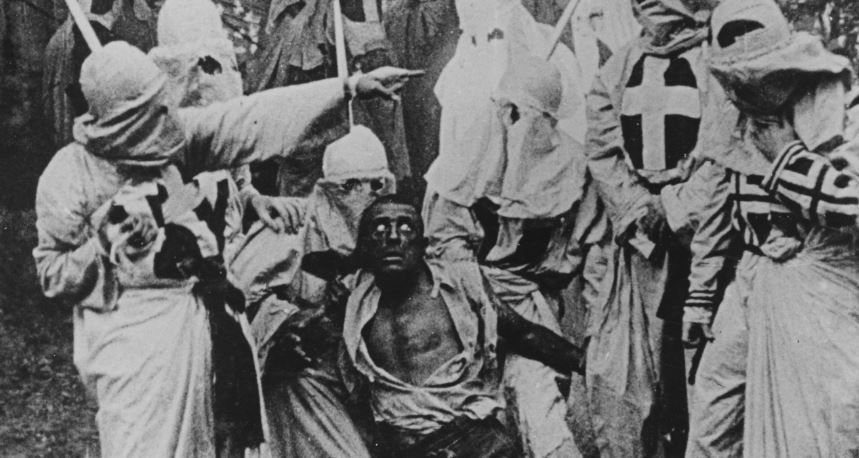 Chapman University's film school on Monday removed two posters of the film The Birth of a Nation following student protests.
Released in 1915, D.W. Griffith​'s The Birth of a Nation was a blockbuster about the Civil War and Reconstruction. The controversial movie has been widely criticized for its use of blackface, celebration of white supremacy and romanticizing the Ku Klux Klan. Despite its controversial nature, The Birth of a Nation is often taught at film schools because of the impact it had in the movie industry when it premiered.
No matter the accolades the film has garnered, it's a divisive reminder of racism and doesn't belong on display at Chapman University, in Orange, California, according to some students. "For you guys to just say, 'Yeah, this film is, oh great, oh it's bad, but it's racist,' that's white privilege," Jae Staten, a student at Dodge College, said during a rally on Friday. "I cannot talk about that film without being reminded how black I am. I cannot sit in that class and watch clips of it without being reminded of how black I am."
Staten likened talking about the merit of the film with the caveat that it's racist to "putting a Band-Aid over a broken window." During his rally speech, he repeatedly stated the push for the posters to be taken down came from a place of love for the school and asked faculty members to listen to the students.
Faculty members were given an online survey with two options: remove the posters and return them to the donor or keep them posted on the wall and add a plaque to contextualize the film. It's unclear how many faculty members voted, but on Monday, the school informed students and faculty the vote was in favor of removing the posters. The last votes were cast at 4:00 p.m. PDT, and the posters were removed by 4:30 p.m. PDT, Lara Wyss, director of public relations, told Newsweek.
"I was happy, pleased, and proud of all of the students and faculty that came together to make it happen," Staten told Newsweek. "It was a moment of satisfaction to see, that even on a university scale, fighting for what you believe in, works. It made me proud to not stay silent."
Chapman University President Daniele C. Struppa acknowledged that some were disappointed that he didn't act on his own to remove the posters, but he told Newsweek he hoped faculty and students "appreciate the importance of how the decision was made."
"I felt strongly that it could not be imposed by me as an act of authority, but rather requested by the faculty who best understand the impact of the decision on their school and on the students' educational experience," Struppa said.
Struppa also said he supported the students' resolution and hoped they were satisfied with the outcome.
However, this is just the beginning of changes students and faculty members hope to see at Chapman. Staten said he trusted that the university values students' opinions and hopes the school will shift toward a more diverse student body. It's a hope not only shared by students but also with faculty members.
"I hope this is the first step among many that can lead to greater inclusivity, equality, equity and civility at Chapman University and our country," Ron McCants, an adjunct professor who is black, told Newsweek. "I'm hopeful that in my lifetime we'll see the 1.4 percent and 1.6 percent black faculty and black student reach parity with our population which is 12.5 percent."
On August 20, 2018, graduate student Arri Caviness posted a photo of one of the posters on Facebook and said her "first order of business" was to get the poster removed. Months later, on April 3, she posted a second photo, this time of herself and several other students in front of it.
"Why does Dodge College of Film & Media Arts, The Hollywood Reporter's 6th best US film school, still condone the celebration of white supremacy?" Caviness asked in the Facebook post.
On Monday, she shared her August 20 Facebook post with the updated caption, "It's gone."
Cecilia DeMille Presley, the granddaughter of legendary filmmaker Cecil B. DeMille, gave the posters to the school as part of a larger gift. They were installed in the first-floor hallway of Marion Knott Studios in 2007 and will be returned to Presley.
"The faculty will continue to screen the film in appropriate classes, as well as explore ways outside of class to discuss race and other related issues," Chapman University's website said.
McCants taught The Birth of a Nation in his own class, which he credited to being a "life-changing" experience. He told Newsweek it gave him the ability to challenge students to "consider the propaganda they've been fed" and "the story behind the story." As their professor, he said The Birth of the Nation is an opportunity to show how narratives about black Americans differ depending on if the storyteller is part of the racially dominate class or a black American.
As some students expressed, The Birth of a Nation can be a difficult film to have to watch and if given the choice, Staten said he'd prefer not to have to learn about it in class. However, McCants called college the best place to expose yourself to the things that make you uncomfortable.
"Strive to be a part of the conversations that make you uncomfortable and scared because they will force you to grow in ways you never thought possible," McCants said. "College is the best place to encounter controversial or graphic subject matter because an institution provides a structure and environment to critique and formulate opinions that influence how you get along in the world."
This article has been updated to include the response from Jae Staten and Ron McCants.