The Most Controversial 'Chappelle's Show' Sketches—Now That the Show Is Coming to Netflix
Netflix delighted comedy fans this morning with the announcement that early 2000s comedy hit Chappelle's Show will be added to the streaming giant's lineup on November 1. This isn't quite earth-shattering news, given Dave Chappelle has already released half a dozen stand-up specials with Netflix, but this marks the first time his highly-successful sketch show will be available on a streaming service.
Although Chappelle found some degree of success doing stand-up and appearing in movies like Con Air and Half Baked, the arrival of Chappelle's Show on Comedy Central in 2003 launched the comedian into mega-stardom. The success from the show, and the long hours put into working on it, were cited by Chappelle for his abrupt departure from the show while still filming its third season.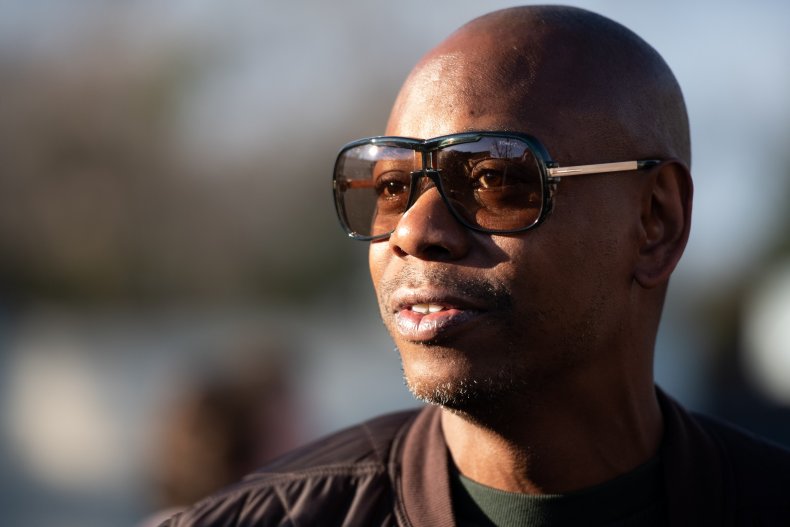 Now, he appears at least willing enough to share the show again with the world via Netflix. Newsweek marks the occasion by compiling this list of six of the more controversial sketches for the show. The easiest way to make a list of "controversial sketches" from the show would be to simply write down the name of every sketch from every episode. The show, as is the way of Chappelle, is not for the easily offended and is provocative by nature. It's also one of the funniest shows in television history. However, some sketches haven't aged as well as others, at least partially due to the way the world has changed it.
But first, as a warm-up, enjoy this video montage Netflix put together for the announcement. Sensitive viewers be warned: If it's Dave Chappelle, you will hear cursing and offensive language.
The Top 6 Controversial Chappelle's Show sketches, in no particular order:
Rick James Although hardly the most controversial of his work on the show, this makes this list for sheer notoriety, and for the fact that it resulted in a generation of young males yelling, "I'm Rick James, b**ch!" This bit was from one of the running Charlie Murphy's True Hollywood Stories, during which the now-deceased cast member and brother of Eddie Murphy recounts early brushes with celebrities. This hilarious sketch cuts between scenes of the real funk singer James, who has also since passed away, and Chappelle as Rick. "Cocaine's a hell of a drug" the actual James says when trying to explain his outlandish, erratic, and downright abusive behavior towards Murphy. Charlie also brought to the show a story of playing basketball with Prince, who surprisingly trounced the larger Murphy and his entourage, before serving them pancakes. An image from that sketch of Chappelle as Prince was later used by The Purple One as the cover for his single "Breakfast Can Wait."
Tyrone Biggums This isn't a sketch but a recurring character, but one that likely comes off as more controversial in 2020 than it did 15-plus years ago. This character was a homeless crack addict, who frequently declared in a high voice, without provocation, "I smoke rocks." In various sketches, he lectured school children about how dog poop tastes delicious, stole a CD player from a car, and appeared on the game show Fear Factor, which he handedly won because there was nothing he was afraid of due to being numbed by crack. (This is all funnier than it sounds here.)
Frontline "Blind Supremacy" This spoof of the PBS show Frontline featured a character named Clayton Bigsby, who was a blind, Black white supremacist. No explanation needed for why this one is controversial.
If the Internet Was a Real Place The title sort of explains this one. Dave goes to a shopping mall, where all around him online scenarios play out in front of him as real incidents, including scams, viruses, music pirating and weird porn. The sketch itself is pretty tame by Chappelle standards, but the reason it makes this list is because of a cameo by Ron Jeremy. At the time, the porn star was just a goofy presence, but today he's on trial for a vast array of sexual offenses that could put him behind bars for the rest of his life. This instance in particular makes one wonder if Netflix would excise any of the bits. That, and the next one:
Celebrity Trial Jury Selection Chappelle imagines himself during jury selections for famous stars, including Michael Jackson and R. Kelly. At the time, Kelly was on trial for a video reportedly showing him urinating on and copulating with an underage female. He was ultimately found innocent in that case, but now he's currently incarcerated and facing charges on 18 counts, including child pornography, kidnapping, and forced labor. Though it's played mostly for laughs on the R&B singer, at one point Chappelle states he can't believe everything he sees in the video because it could've been doctored. This also wasn't the first R. Kelly-themed bit on the show, and one well-known video spoof with an unprintable title can't even be shared here.
It's a Wonderful Chest This one honestly seemed a bit icky even back when it originally aired. The premise is a large-breasted woman considers a reduction due to all the unwanted attention she gets and the literal pain in her back. She is soon presented with a scenario of what her life would be like with a smaller chest, which, needless to say, is worse. She decides to not have the surgery, though the "magical" janitor who shows her the imagined life turns out to be high on PCP.
These are only six of many that could easily be on the list. The show, after all, featuring pimp bits, countless drug references, and a Racial Draft. You can get caught up on them all, or relive the memories, beginning Sunday.