Chappelle's Transgender Jokes Have Angered LGBTQ Community for Years With Earlier Specials
Comedian Dave Chappelle has been embroiled in controversy since the October 5 premiere of his latest Netflix stand-up special, The Closer.
Jokes perceived by many to be transphobic in the show have created a backlash, including Netflix employees planning a walkout for October 20, and a statement from GLAAD condemning Chappelle.
Making jokes at the expense of the LGBTQ+ community—especially transgender people—is hardly a new part of the comedian's routine, though. Chappelle has made offensive remarks about the community for years, including on prior specials still available on Netflix.
Among jokes that sparked anger in The Closer is this one: "Gender is a fact. Every human being in this room, every human being on Earth, had to pass through the legs of a woman to be on Earth. That is a fact."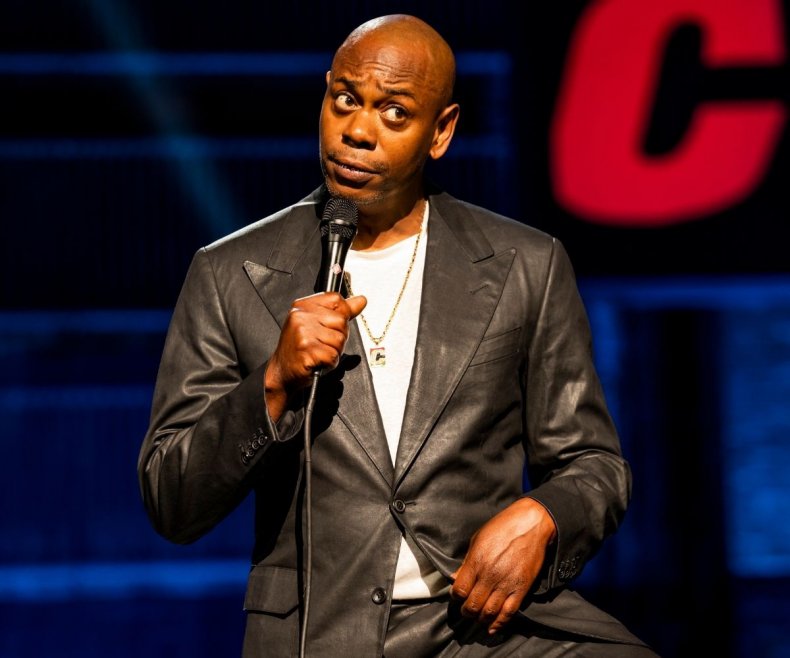 Elsewhere in the special, he also defended Harry Potter author J.K. Rowling, who has also made a string of comments in recent years that are regarded as anti-transgender. Chappelle proclaimed during the Netflix show that he, like Rowling, is on "team TERF," which stands for "trans-exclusionary radical feminist." The term and ideology deny that trans women are women.
In 2019, Netflix released Dave Chappelle: Sticks & Stones. The special, which won the Grammy Award for Best Comedy Album, was similarly derided for jokes directed at the LGBTQ+ community. One bit began with Chappelle saying how "[t]he alphabet people [LGBTQ]" didn't care for him, adding "[t]he T's hate my f***ing guts." He then launched into a scenario about a long car trip involving various people grouped together by letters.
During his residency at Radio City Music Hall in 2017, he joked that transgender troops could be used as "secret weapons" of the U.S. military.
"If I was in ISIS in the trenches fighting against the United States, and all of the sudden I see a man with a beard and big D-cups t****ies just rushing my foxhole and s**t, I'd be horrified," Chappelle said, according to Vulture.
In his 2017 Netflix special Equanimity, Chappelle complained about how Caitlyn Jenner transitioning into a woman had hurt his memories of the former Olympic athlete. Elsewhere, he described an imaged scenario of a trans woman "tricking" a man into having sex. Chappelle also used an offensive slur to refer to trans people during the set.
Some of Chappelle's critics have discussed their confusion and disappointment with him, citing his friendship with Daphne Dorman, a trans comedian who committed suicide in 2019. In The Closer, Chappelle says he set up a trust fund for Dorman's daughter, and said of his late friend: "He was a hell of a woman."