Charges Announced for 17 People After Illinois Protests Over Two Days
Police in Rockford, Illinois announced charges Saturday for 17 people arrested during protests over two straight days.
On Friday, 11 protesters were arrested after a small protest blocking East State Street, according to WTVO. Then Saturday, an additional six protesters were arrested during a counterprotest at a "Back the Blue" rally in support of police.
Rockford Police Chief Dan O'Shea, Winnebago County Sheriff Gary Caruana, and State's Attorney Marilyn Hite Ross held a press conference Saturday afternoon announcing the charges. Six of the protesters were charged with mob action alone, while three more were charged with mob action and resisting arrest. Other charges included aggravated battery to a police officer, disorderly conduct, obstruction of police officers, damage to property and resisting a police officer.
"The First Amendment is very clear. It does not give unbridled freedom to infringe on the rights of others," Ross said.
Former Democratic State Rep. Litesa Wallace shared a video in which she said she raised about $2,000 from her supporters to pay the bond for six of those arrested on Friday.
"I am exhausted—which doesn't say a lot because I didn't do a lot today. I can only imagine how tired and exhausted the individuals who were arrested are. And I can only imagine how tired and exhausted people who are older than me are, who have been in this fight and wanting justice and equality for decades upon decades," she said.
"It's an exhausting effort, but I know I am in no way as tired as those as those who have come before me, and certainly no where near as tired as those who have been in these streets for the last two months, making sure we keep the focus on the injustices that continue to occur in our nation, in our state, in our county and in our city," Wallace added.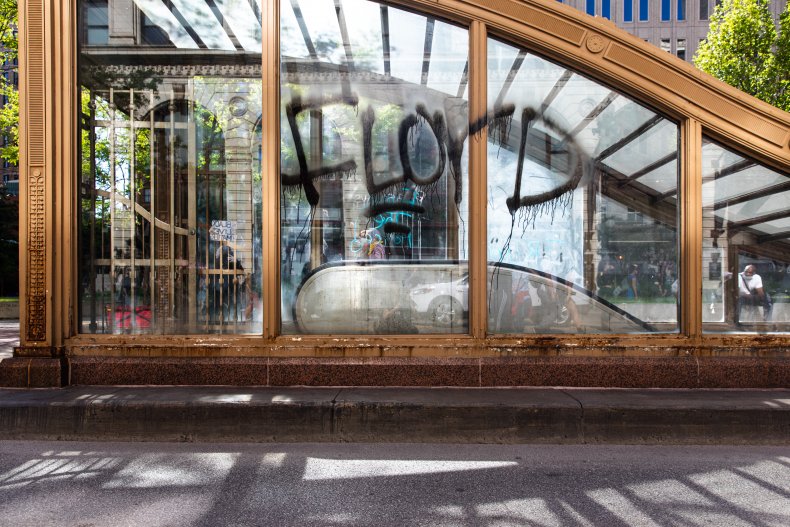 The Friday protest was over the treatment of protesters during a May 30 demonstration in Rockford responding to the police-involved death of George Floyd in Minneapolis. Protesters alleged that the Rockford Police used excessive force. An internal investigation by police announced Wednesday that it had found no evidence of wrongdoing by the officers.
About 20 protesters announced several demands on Friday, including that the city drop all charges against demonstrators involved in the May 30 protest, and that the police hire an outside investigator to determine whether excessive force was used.
"Since we have not received peace and we have not received justice, these protests will not be peaceful," protest spokesperson Leslie Rolfe told WIFR. "These gestapo Nazis with badges do not speak the language of peace."
Rolfe was one of those arrested on Friday and charged with mob action and obstruction of police officers; he also participated in the May 30 protests. Though he was not at the "Back the Blue" counterprotest, he announced that his group would be there.
Police used tear gas and pepper spray at the Saturday protest, according to the Rockford Register Star. The "Back the Blue" rally was organized by the Concerned Citizens of America of Northern Illinois and the Illinois Family Institute. Though the rally lasted about 45 minutes, the arrests were made about an hour afterward, according to the paper.