Charges Dropped Against Florida Man Who Groped Disney Employee Dressed as Princess Ariel
Battery charges have been dropped against a man who was accused of groping a Disney cast member who had been dressed as Princess Ariel during the alleged assault.
The incident took place at Walt Disney World in the Ariel's Grotto attraction. At this attraction, parkgoers pose for a souvenir photograph with cast members dressed up like the princess from Disney's 1989 film, or have meet and greets with the various cast members who perform as Ariel at the attraction.
On November 2, Brian Sherman, 51, had been asked to pose with the cast member acting as Ariel in the attraction.
"I love Ariel. Ariel is my favorite!" Sherman exclaimed as he entered the attraction with his wife, according to a Disney employee in the police report about the incident.
According to the employee, who says she was seated between Sherman and his wife for the photograph, as the picture was being taken Sherman wrapped his arm around the actress and "cupped and lifted" her breast for several seconds.
The Ariel costume—which includes a red wig, a purple clamshell bra, and a green tail—provided only a layer of "thin skin-tight fabric" between the victim's chest and the thumb and forefinger of Sherman's hand, which had slid beneath the clamshell bra, according to testimony in the police report.
A co-worker at the attraction noted that "the victim's body language as uncomfortable," and guided Sherman's arm from around the victim. The co-worker suggested Sherman adopt a pose similar to Ariel's husband from the movie, Prince Eric, which Sherman then did.
Once Sherman and his wife had left the attraction, the victim began crying and shaking, prompting her co-worker to close the ride and call the police.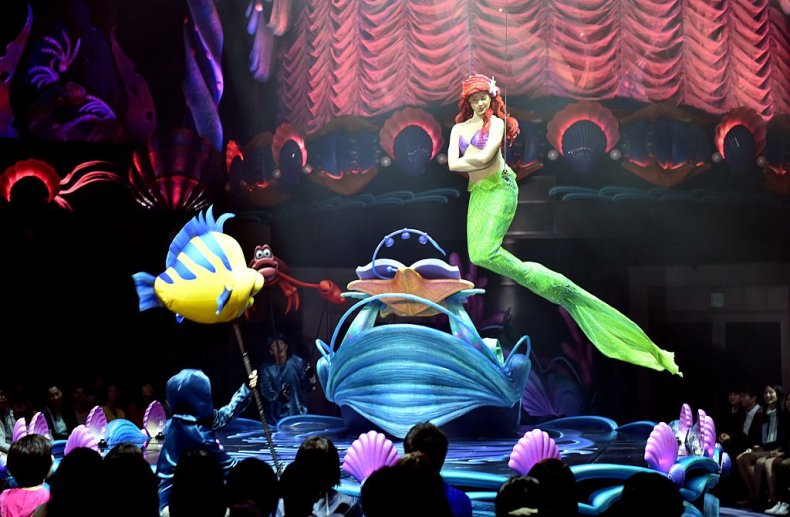 Interviewed by the police, Sherman was asked if he "remember[ed] feeling his hand go inside the victim's costume."
He replied that "I can see it in my mind that it happened."
The police report notes that Sherman had "repeatedly stated that he might have touched the victim's breast and that it was accidental."
He offered to apologize to the victim, saying that he had "hugged people in the past in a way that has been taken as sexual."
Sherman has been required to register as a sex offender due to a 1991 conviction on four felonies related to the sexual abuse of victims under the age of 12.
Florida prosecutors have found Sherman "is not suitable for prosecution," though the legal filing for dismissal does not say why they believe so.