ChargeUp Games Launches to Help Mobile Game Developers and Shake Up Current Business Model
The mobile game market continues to flourish, notably visible with the industry seeing an increase in revenue year after year. Despite all of this, more and more developers are going out of business.
As developers continue to fight to be noticed on platforms like Apple and Google, predatory publisher contracts have put these talented developers in bad spots.
"[Adam Flanders and I have] seen the formation of the industry back in its heyday and watching it explode in popularity, but we've always kind of been waiting for the other shoe to drop," Kevin Flynn, co-founder of Mobile Game Partners told Newsweek. "When are things going to equalize? It just seems like they keep getting worse and worse with the divide between the haves and the have nots."
Flynn and Flanders founded Mobile Game Partners (MGP), a top mobile game consulting agency focused on helping developers successfully launch and market their games, back in 2014.
Both men have teamed with Digital Development Management (DDM) the world's leading business and talent agency for video games and digital entertainment to launch ChargeUp Games, a division that is focused on helping developers launch and sustain their mobile games.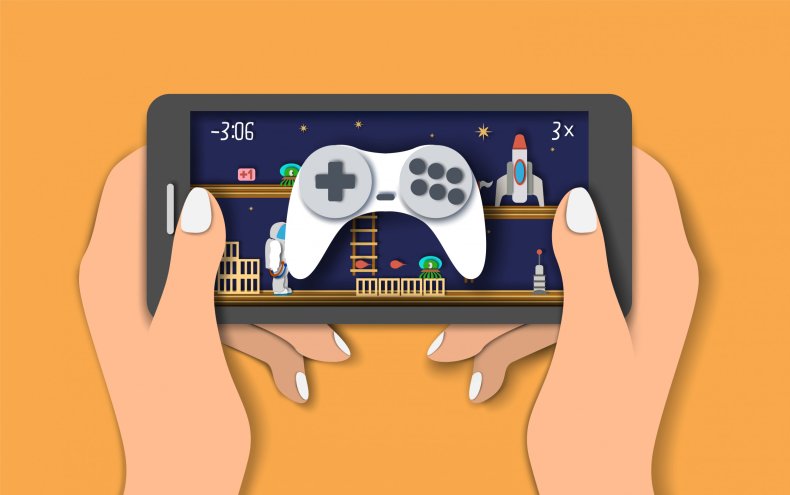 "[ChargeUp Games] is a bit of an evolution of what's been in the back of our thought process. We had a lot of developers coming to us saying that there's not a lot of options out there, we need more options in terms of publishing," Flanders said. "So that's when Kevin and I started MGP as a publishing services company and a little over six years later we talked to DDM and we were thinking of how we could help even more."
"For the fourth year in a row, 95 percent of mobile gaming revenue goes to one percent of publishers. If you're looking at the store charts, they're static, they don't change any more. I remember back in 2012-13 we would check the charts daily because they would change so much and now that the problem is once you get into this position where you're generating a lot of income and you can buy at economies of scale you can keep your place which is not ideally how the industry should go," Flynn explained. "Our end goal is trying to equalize [the mobile game industry] a little bit. Allowing the smaller companies to have some of the same advantages as the bigger guys."
Kevin and Adam have been in mobile game publishing for 11 and 17 years, respectively. Through MGP, they've successfully helped launch titles such as Hyper Heroes, Empire Z and more.
So their experiences in the field helps make them a tremendous asset for developers looking to make their mobile game the best it can be because launching a new game takes a lot more than getting it on the Apple or Google stores.
It takes launch strategies, live operations, user acquisition campaigns, open communication between developers and players and a lot more that ChargeUp Games wants to help supply.
"The most valuable part of us is to be able to help guide, which will let developers do what they're good at, building fun, interesting games," Flynn said.
Flynn and Flanders have dealt with all types of developers. Flynn likens developers to musicians in that some just want to display their music, but don't want to get involved with the business aspect of it, while others are involved and understand the business of the industry, but don't have the time to do everything that needs to be done. In both cases that's where ChargeUp Games can come into play.
So if you're a developer looking to make a splash in the mobile industry, ChargeUp Games launched its website Wednesday where submissions will be taken. Unlike other publishers, ChargeUp Games wants to make sure that publishing fees are low and that they give every game they represent the attention it needs to grow.
"We've always considered ourselves parts of the teams that we've worked with, with all the developers that we've worked with in the past on the MGP side," Flanders said. "We are very high touch so I think the expectation here is that we will be high touch and that's the whole reason for not signing up a ton of games, we want to make sure we can give everyone the attention that they need."
"Our goal is to get everyone a yes or no answer quickly," Flynn said. "I know there's nothing more frustrating than you sending something off and not hearing anything back."
The submission process isn't locked to any region, and Flynn and Flanders have worked with developers from Japan, China, Eastern Europe and Southeast Asia. If a game is of interest, then both parties will engage and hopefully come up with a standard agreement, but if a game isn't, Flynn wants to be able to give some helpful feedback to get them started.
In the end, ChargeUp Games, spearheaded by Flynn and Flanders, wants to prove that a collaborative publishing model can work in the mobile game industry and it starts today.
"I hope that we can really prove that a collaborative publishing model works and that a rising tide can lift those ships, that's been our operating theory from day one," Flynn said. "It's cyclical where we will be able to bring in motivated high quality games because we are a motivated team that has terms in their favor and that changes the terms that have been around the industry for a decade."
"I hope developers really find this a worthwhile option for them to consider and they're happy about it," Flanders added. "My entire career and Kevin's career has been built on our reputations and that's absolutely precious to us and we really want developers to find this to be helpful and that they feel they've made the right decision."