Charity Providing Refugees With Library-in-a-Box to Launch in UK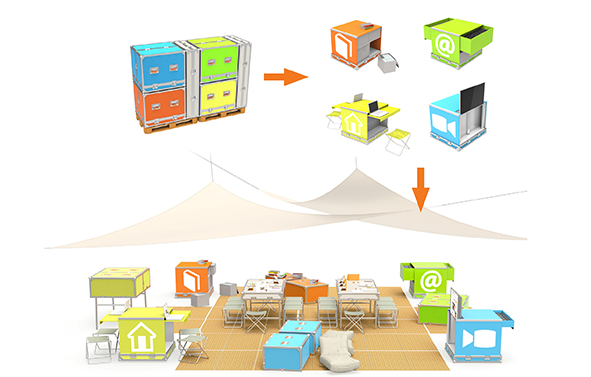 An international charity which promotes culture and knowledge-based development and provides pop-up, self-contained libraries for refugees is launching its UK branch on March 30.
Paris-based Bibliothèques Sans Frontières, or Libraries Without Borders, is a non-profit humanitarian organisation devoted to expanding access to knowledge in the developing world.
Founded in 2007 by French historian and University of Paris and Yale University Law School lecturer Patrick Weil, the organisation aims to respond to the need for books, culture and knowledge in developing and deprived regions. It provides support to libraries in France and is currently active in 20 countries.
Weil says his visits to Africa and experience as a professor and researcher of immigration revealed how people, particularly refugees, across the world are suffering from a lack of access to books or internet connection.
Following the devastating 2010 earthquake in Haiti, Libraries Without Borders (LWB) responded to requests from Haitian institutions and sent an emergency mission to the country. According to Weil, a number of individuals asked if giving Haitians the opportunity to read, write, and access information was as much of a priority as food and shelter.
"Naturally when a disaster happens, it is the priority to save lives and bring food, water, clothes. But after you get that, what do you do? People have to stay months, years, in places with no access to books, education or connection to the rest of the world," he says.
He argues that access to books, culture and information improves the outcomes for displaced people suffering from boredom, trauma or loss by sustaining intellectual stimulation and promoting self-worth, empowerment and a sense of normality.
He launched a call for action petition - The Urgency of Reading - which was signed by dozens of writers, academics and eight Nobel Prize winners.
"After we got all this, we said we shouldn't wait, we should act," he says. He contacted French designer Philippe Starck with a mind to produce a transportable device, containing tools to read, write, create and communicate, to take to refugee camps across the world.
Starck teamed up with the United Nations Refugee Agency and produced the Ideas Box, a portable multimedia toolkit with its own power source, containing culturally appropriate books, laptops and films as well as internet access. It fits on two pallets and can be unloaded and set up in less than 20 minutes by a team of four people to fill a space of 1,000 square foot.
The box was trialled in refugee camps in the African Great Lakes region in Burundi in February 2014.
"Here there were Congolese refugees in camps run by the UN who had been there, on average, for 17 years. Imagine yourself without books or education for 17 years!" says Weil.
LWB will soon deploy boxes to refugees in Jordan and Lebanon affected by the Syrian crisis. Weil says they also intend to deploy boxes to Aboriginal tribes in Australia, rural populations in Cambodia and underprivileged communities in Calais, Liverpool and other UK and U.S. cities.
​The LWB UK launch will be marked by an event at the Institut Francais in Kensington, London. There will be a discussion on the topic of access to information, education and culture for vulnerable populations, headed up by a panel of experts featuring authors Ian McEwan and Kenan Malik, former president of the English PEN group, Lisa Appignanesi, and Martyn Wade, chair of the Chartered Institute of Library and Information Professionals.
Appignanesi says the LBW is a vital group and advocates the Ideas Box as a "brilliant and necessary project".
"Children in refugee camps, as well as adults, need access to reading materials and knowledge as much as the rest of us, arguably more if they are to survive the terrible conditions in which they often live," she says.
"Regular schooling is often lacking, as is employment. Ways to fruitfully pass the hours without breaking down or giving up hope are thus essential. At a very basic level, reading and cultural material, help overcome and manage trauma. Ideas also provide matter for conversation and democratic sociability, rather than the top-down forms of religion.
"Books, information and ideas are essential tools for life in the contemporary world."