The Charity Helping Vulnerable Holocaust Survivors During the COVID-19 Pandemic
Newsweek's "Heroes of the Pandemic" series features everyday heroes showing service, sacrifice or kindness in the time of COVID-19.
A New York-based non-profit is helping vulnerable Holocaust survivors who are locked up at home during the COVID-19 lockdown.
333charity—set up by 34-year-old Evan Rosenberg last November—has been donating meals to some of the 36,000 Holocaust survivors living in New York; 40 percent of whom are living in poverty, according to the founder.
"We actually switched over our mission to help survivors that are being directly impacted by COVID," Rosenberg told Newsweek. "We're focusing on survivors that are living at or below the poverty line [who] really can't leave their homes, they can't go out to get groceries. They're very limited on movement outside of their house. So we're working with the [United Jewish Appeal-Federation of New York] to deliver meals right now to survivors in New York."
New York City has been one of the worst hit urban centers int the world amid the pandemic with more than 145,000 confirmed cases and over 11,000 recorded deaths. According to Rosenberg, several Holocaust survivors are among these fatalities, including the grandfather of a very close friend.
"Last November, when I started the charity, the number [of Holocaust survivors in the city] was actually at 40,000. And then about a month ago, it was at 36,000. So hopefully it doesn't go down too much because of COVID but I would expect another change once we get out of this thing."
Rosenberg says 333 is donating meals—which include everything from kosher meat, to vegetables and soup—to survivors throughout New York City, Brooklyn, The Bronx and Long Island.
"We are also working with a company called OWYN and they have a meal replacement shake that is 100 percent completely kosher. They have been kind enough to donate their product, which is basically a full meal in a bottle," Rosenberg said. "So if we're not able to get a meal to a specific person, they're able to ship their meal replacement directly someone's doorstep, which a great addition to getting meals to people who actually need them right now."
Rosenberg founded the charity after receiving a letter from his grandma—when he was living at 333 East 46th Street—recounting a family story from the Holocaust. The 34-year-old said she was moved to write the letter due to the special significance of the number 333 for the family.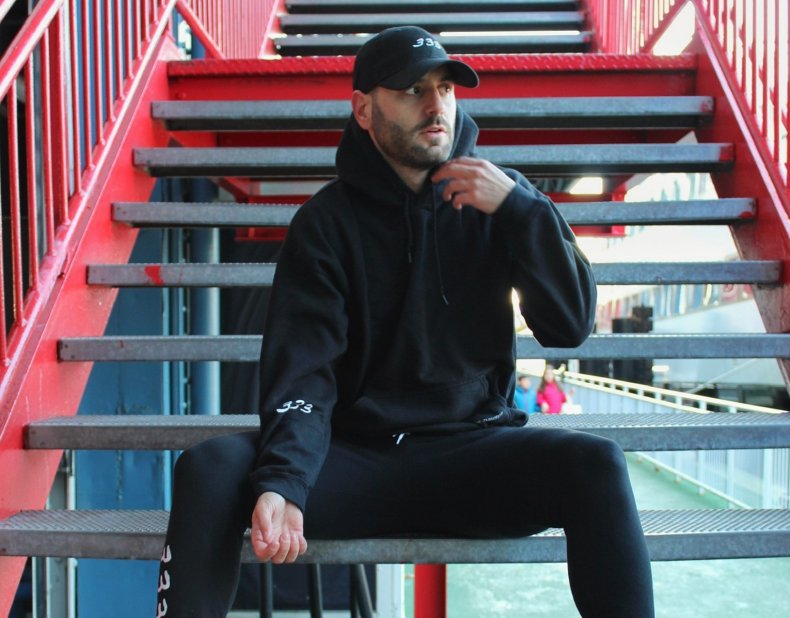 In the letter, Rosenberg learned of how his great aunt—who hailed from Czechoslovakia—repeatedly told her children at Auschwitz that if they were ever separated, as families frequently were, and somehow survived the Holocaust, they should seek out their uncle at 333 7th Avenue in New York City where his office was located. Even as she was being led to the gas chamber by the Nazis, she held up three fingers to instil the message in her children one final time.
"It was a simple but powerful gesture that gave strength and instilled hope," Rosenberg writes on the 333charity website. "Those three fingers served as a reminder to her children, that their salvation would be found at 333 7th Avenue, at my great grandfather's office. After the war had ended and much of my family lost, salvation and a new beginning was indeed found at 333 7th Avenue. When so much had been lost, family was reunited and born anew."
This story, in combination with a gift given to him by a friend, served as the inspiration for Rosenberg to set up the charity.
"I told a couple of friends about the letter that I received, and that I was really, really moved by it. And one of my friends, very shortly after, purchased me a hat that had the numbers 333. Then it just came to my mind [that] I should be doing something to help people in need. And I basically took that hat idea and turned it into what has now grown pretty exponentially over the past six months and raised a good amount of funds for Holocaust survivors in need during Passover and COVID," Rosenberg said.
The charity's mission, according to Rosenberg, is to "take a human tragedy and use what came out of it as an inspiration." The organisation raises money through direct donations or the sales of clothing and other items, with 100 percent of the profits going to the United Jewish Appeal-Federation of New York to help fund its meal delivery program.
If you would like to donate or view the merchandise, visit www.333.charity or @333charity on Instagram.
Know a hero you want to nominate to be featured in our series? Drop us a line at heroes@newsweek.com.