Charity Worker Who Trump Helped Free From Egyptian Prison Urges Americans to Vote for Biden
Aya Hijazi, an American-Egyptian charity worker and activist who was imprisoned in Egypt until President Donald Trump helped secure her freedom, urged her Twitter followers to support Democratic presidential nominee Joe Biden in a Monday post.
The former political prisoner was held in a Cairo jail from May 2014 till April 2017. The administration of former President Barack Obama had unsuccessfully called for her release, but the Trump administration managed to secure her freedom after several months of negotiations. Despite the president's efforts on her behalf, Hijazi wants people to vote for Biden.
"Trump leaned in & said, 'you know it's I who released you, don't you? I succeeded & Obama failed' in the most vulnerable moment of my life, 48 hrs after releasing me from prison[.] It was never about me like it was never about us. It's about his ego. We deserve better #VoteBiden," the 33-year-old activist tweeted, including a photo of herself with Trump at the White House during a meeting shortly after her release and return to the U.S.
"I felt torn after the meeting worried about not being a loyal person as Trump demands loyalty as a means of maintaining control. But the government should not help citizens to make them loyal; it should do help b/c its the right thing to do #VoteBidenHarrisToSaveAmerica," Hijazi wrote in a follow-up tweet.
Newsweek reached out to the Trump re-election campaign for comment, but it did not immediately respond.
During the White House meeting in 2017, Trump publicly welcomed Hijazi back to the U.S. She also met with the president's daughter and senior adviser Ivanka Trump, as well as her husband Jared Kushner, who is also a senior adviser to the president.
"We are very happy to have Aya back home," Trump said at the time. "It's a great honor to have her in the Oval Office with her brother."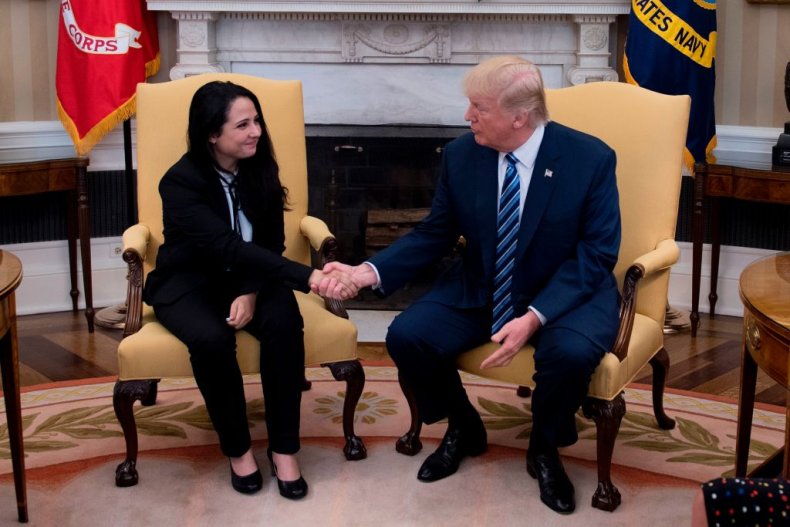 In an interview with PBS News, which was broadcast in May 2017, Hijazi spoke favorably of her meeting with the president.
"He was very hospitable. He made us feel very welcome, and he admired our strength and our work for the children, so I was glad," she said. However, Hijazi said it seemed like Trump was confused about the facts of her case, saying he appeared to think she was imprisoned during the brief period of time when the Muslim Brotherhood was in power in Egypt from 2012 to 2013.
Hijazi was imprisoned during a crackdown under current President Abdel Fattah el-Sisi—who has been strongly condemned by activists for disregarding human rights and civil liberties in Egypt. Trump has spoken favorably of el-Sisi and hosted him at the White House, which many activists and human rights experts have criticized.