Charles Barkley Blasted For Supporting Players Who Stand For National Anthem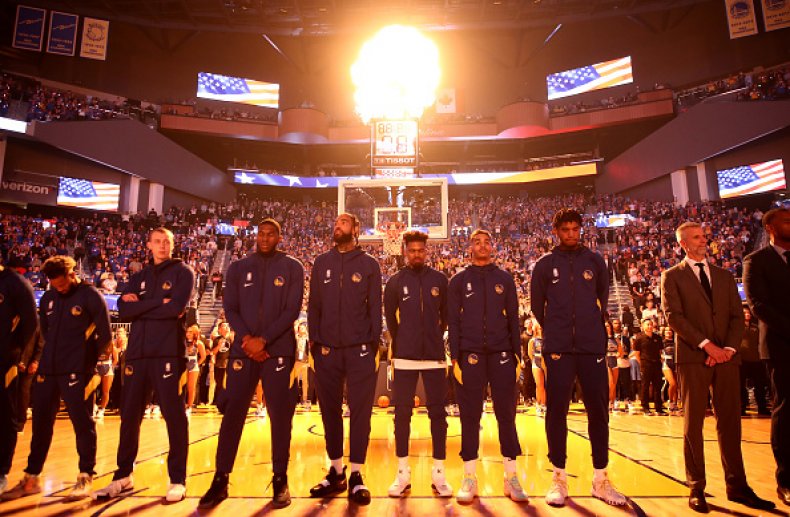 The NBA tipped off the restart of its season Thursday night, and players from both the Utah Jazz and New Orleans Pelicans kneeled during the national anthem of the first game back.
NBA analyst Charles Barkley, who was named one of the 50 greatest NBA players of all-time, caught flack on social media for supporting those who did not kneel during the "Star-Spangled Banner."
For a quick recap, the NBA postponed its season March 11 after Rudy Gobert of the Jazz tested positive for COVID-19. Gobert was the first NBA player to test positive, and others tested positive for the coronavirus soon after that. The NBA led a worldwide swath of postponements, and cancellations completely, because of the virus.
Immediately after the NBA went into hiatus, the NHL and Major League Baseball postponed their seasons. NASCAR held off racing for a couple of months, the major golf and tennis tournaments either postponed or canceled, and the NCAA canceled its March Madness basketball tournament in its entirety.
Furthermore, the 2020 Tokyo Olympics got postponed until 2021.
Meanwhile on May 25, Black Minnesota resident George Floyd died at the hands of a Minneapolis police officer Derek Chauvin, who was seen kneeling on Floyd's neck for nearly nine minutes. The last words from Floyd were "I can't breathe."
This set off a nationwide movement by Black Lives Matter that not only protested Floyd's death, but against police brutality against Blacks and for better social justice in the Black community.
Kneeling for the national anthem as a way to protest police brutality goes back to the NFL's 2016 preseason when former quarterback Colin Kaepernick did it. Now, it's become a way for athletes to support the movement.
During TNT's pregame show Thursday night, Barkley said he supports those who decide to stand for the anthem regardless.
"The national anthem means different things to different people," Barkley said. "I'm glad these guys are all unified, but if people don't kneel, they're not a bad person. I want to make that perfectly clear." Barkley also said no person should be "vilified" if they want to stand.
Barkley made his comments before the first of two NBA games on Thursday. During the second game, all members of the Los Angeles Clippers and Los Angeles Lakers also took a knee.
Social media had their relentless ways with Barkley once it became a trending topic. Here are some of the things said Thursday night.
One Twitter user said, "Charles Barkley does not speak for black people - he speaks for his white golf buddies who he doesn't want to disappoint. He's more worried about white men view him than how black women do. He spent years tap dancing on TV and now he's a black leader - says who?"
Another user wrote: "I don't know who needs to hear this but, CHARLES BARKLEY ISN'T A BLACK LEADER! He deserves no air time to talk about The BLM movement or any social movement, that f***** is a clown!"
Another wrote: "Charles Barkley is wrong. We should boycott his show. Let's get him fired for having a different opinion."
But it wasn't all about bashing Charles Barkley, as many spoke their admiration for him. Here are some of the things said from those supporting him:
One Twitter follower said, "If people don't kneel, they're not a bad person...If we have a guy that doesn't want to kneel because the anthem means something to him, he should not be villainized." - Charles Barkley
And he's getting draaaaagggged for saying this.
Still believe we have freedom of thought?"
And another user wrote: "Charles Barkley seems to be the only ex NBA player with somewhat some common sense."