'Really Sad' Charles Barkley Reveals Why Relationship with Michael Jordan May Never Recover
Former NBA great Charles Barkley has admitted being "really, really sad" at the breakdown of his friendship with Michael Jordan.
The duo entered the NBA in the 1984 Draft and if Jordan developed into a global icon over the next decade, Barkley established himself as one of the league's brightest star.
Jordan and Barkley were both part of the Dream Team that triumphed at the 1992 Olympic Games and shared a strong friendship. The relationship, however, turned sour eight years ago when Barkley criticized Jordan's handling of the Charlotte Bobcats.
"The guy was like a brother to me for, shoot, 20-something years," Barkley said on Tuesday's Waddle and Silvy Show on ESPN 1000 in Chicago.
"At least 20-something years. And I do, I feel sadness. But to me he's still the greatest basketball player ever. I wish him nothing but the best. But, there's nothing I can do about it, brother."
Jordan bought a minority stake in the Bobcats in 2006, before becoming the majority owner four years later. Under his ownership, the franchise—which changed its nickname to Hornets in 2014—has made the playoffs just twice, finishing with a losing record in six seasons.
"I think the biggest problem has been I don't know if he has hired enough people around him who he will listen to," Barkley said in March 2012, incidentally on the same show on which he appeared on Tuesday.
"I don't think Michael has hired enough people around him who will disagree. [...] I love Michael, but he just has not done a good job. Even though he is one of my great friends, I can't get on here and tell you he's done a great job. He has not done a great job, plain and simple."
Since he made the comments eight years ago, Barkley's relationship with Jordan has been non-existent. Much to his frustration, however, MJ retains a rapport with Phil Jackson, despite the fact the former Chicago Bulls head coach echoed Barkley's thoughts.
"The thing that bothered me the most about that whole thing, I don't think that I said anything that bad," Barkley explained.
"And the thing that really p****d me off about it [what he said] later is [former Chicago Bulls head coach] Phil Jackson said the exact same thing."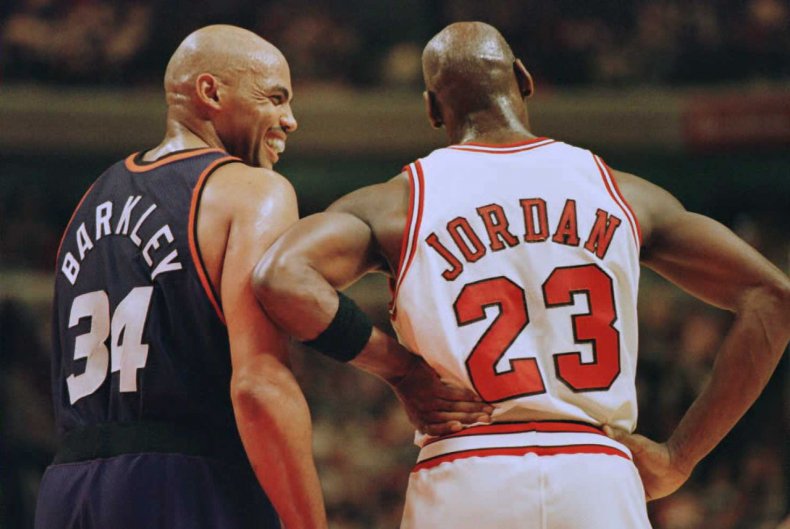 The 1993 MVP suggested he felt his friendship with Jordan was built on mutual honesty, which made the breakdown in relationship even harder to take.
He then doubled down on his stance, indicating speaking honestly and frankly were key requirements of his job as TV analyst, even if that occasionally meant criticizing his friends.
"I thought that was one of the reasons we were great friends. Like, 'I can ask Charles anything and I know he's going to give me a straight answer,'" he continued.
"But part of my job [as an analyst] is, because I can't go on TV and say 'Another general manager sucks' and then just because Michael's like a brother to me say 'He's doing a fantastic job.' That would be disingenuous."
On Sunday, Barkley featured in Episode 6 of The Last Dance, ESPN's 10-part series chronicling Jordan's final season with the Bulls.
The documentary delved into the relationship between the two, illustrating how an intense rivalry was underlined by mutual respect and genuine friendship. Jordan, who was selected two spots ahead of Barkley with the third overall pick in the 1984 NBA Draft, admitted being annoyed by the latter being named regular season MVP in 1993.
The Bulls star, however, exacted his revenge when Chicago met Barkley and the Phoenix Suns in the NBA Finals, winning the series 4-2 to clinch a third consecutive title.
Barkley averaged a staggering 27.3 points, 13.0 rebounds and 5.5 assists in the Finals but his efforts proved to be in vain, as Jordan claimed a third straight NBA Finals MVP crown.
Asked whether the airing of the documentary may offer a perfect opportunity to mend his relationship with Jordan, Barkley did not sound particularly hopeful.
"Oh, he [Jordan] has got my number," he said. "He can call me."
'Really Sad' Charles Barkley Reveals Why Relationship with Michael Jordan May Never Recover | Sports