Libertarian billionaire and noted President Donald Trump critic Charles Koch may be coming around to the president because of his potential decision to pull troops out of Afghanistan.
Koch, a political wheeler and dealer who has exerted a strong influence over the Republican party both financially and through his various think tanks and policy groups for many years, has been a longstanding critic of the Trump administration, but a new statement from his namesake institute may indicate a change of heart.
Last summer, Koch took his frustrations with the president's trade and economic policy public when he called the president's trade policies "detrimental" and said that his leadership skills were lacking. In response, the president then said the Koch brothers were "totally overrated" and "a total joke in real Republican circles."
David Koch, who passed away last month after a long battle with prostate cancer, had a different approach to the president. He attended a 2016 Donald Trump victory party and was spotted at the president's Mar-a-Lago resort, but still kept his distance from the politics of the president.
That didn't stop Trump, however, from bashing the Koch brothers on Twitter and using them as a way to demonstrate the differences between his own firebrand politics and those of the old Republican establishment. "The globalist Koch Brothers, who have become a total joke in real Republican circles, are against Strong Borders and Powerful Trade," he wrote on Twitter last summer, using a phrase oft-repeated by former adviser Steve Bannon. "I never sought their support because I don't need their money or bad ideas...I have beaten them at every turn."
Bannon told The New York Times that the Koch's were "the latest to succumb to 'Trump derangement syndrome,'" and that "they are trying to weaponize the 'Never Trump' movement against Republicans by saying they'll work with Democrats. And what they're doing has to be condemned, including by Vice President Pence." Pence has received backing and support from the Kochs over the years.
The gulf between Koch republicanism and Trump's politics became so large in 2018 that the brothers appeared to lend their support to some Democrats during the midterm elections, or at least withheld their support from their Republican opponents. The brothers opted out of lending their heft to Republican Kevin Cramer, who defeated incumbent Democrat Heidi Heitkamp for a North Dakota Senate seat.
But on Wednesday, Charles Koch's namesake think tank appeared to have had a change of heart about Trump. The Charles Koch Institute has long pushed for a withdrawal from Afghanistan. Charles Koch chairs the organization and various family members including his children Chase Koch and Elizabeth Koch are listed as directors in the organization's official tax forms.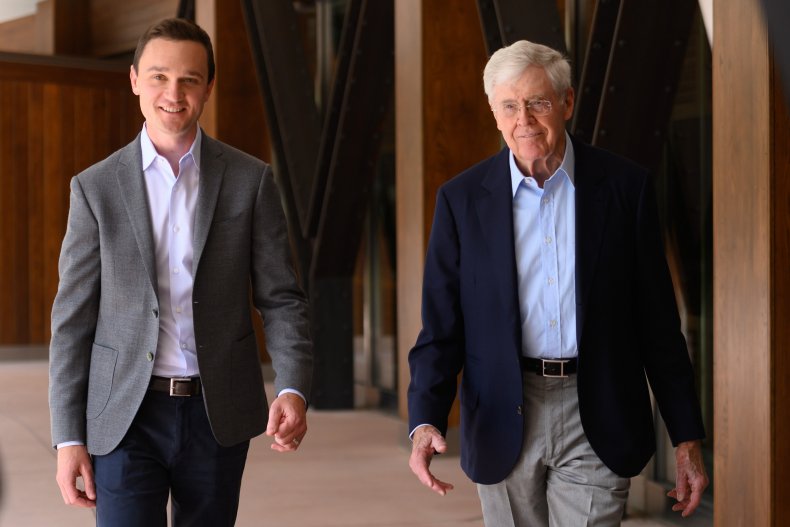 "We commend the Trump administration for its continued work in the best interests of our nation. There are those who would like to see us remain at war in Afghanistan long into the future," wrote William Ruger, vice president of research and policy at the Charles Koch Institute in response to reports that the president is expected to sign off on a deal with the Taliban in Afghanistan that will bring 5,000 U.S. troops home in the next five months.
"We are quite encouraged to see a deal emerging that would lead to a full and speedy withdrawal of American military forces from Afghanistan. We long ago accomplished what we originally set out to do in the country, and after almost two decades, it is time to bring our brave troops home and for Afghans to take ownership of their country's future," wrote Ruger in an emailed statement.
Ruger did, however, issue a warning to the Trump administration, telling them to get the deal done. "The president should not allow a withdrawal deal to be bogged down by conditions that aren't necessary for America's safety," he wrote. "Along with the American public, we hope this deal can set a precedent to fully satisfy President Trump's wish to end our 'endless wars' in the Middle East."
This will they or won't they between President Donald Trump and support from established Republican donors will likely continue well into 2020, and just goes to show that nearly three years into his presidency, Trump is still toying with the long-standing power dynamics of his party.