Charles Manson's Murders Haunted the Music World for Decades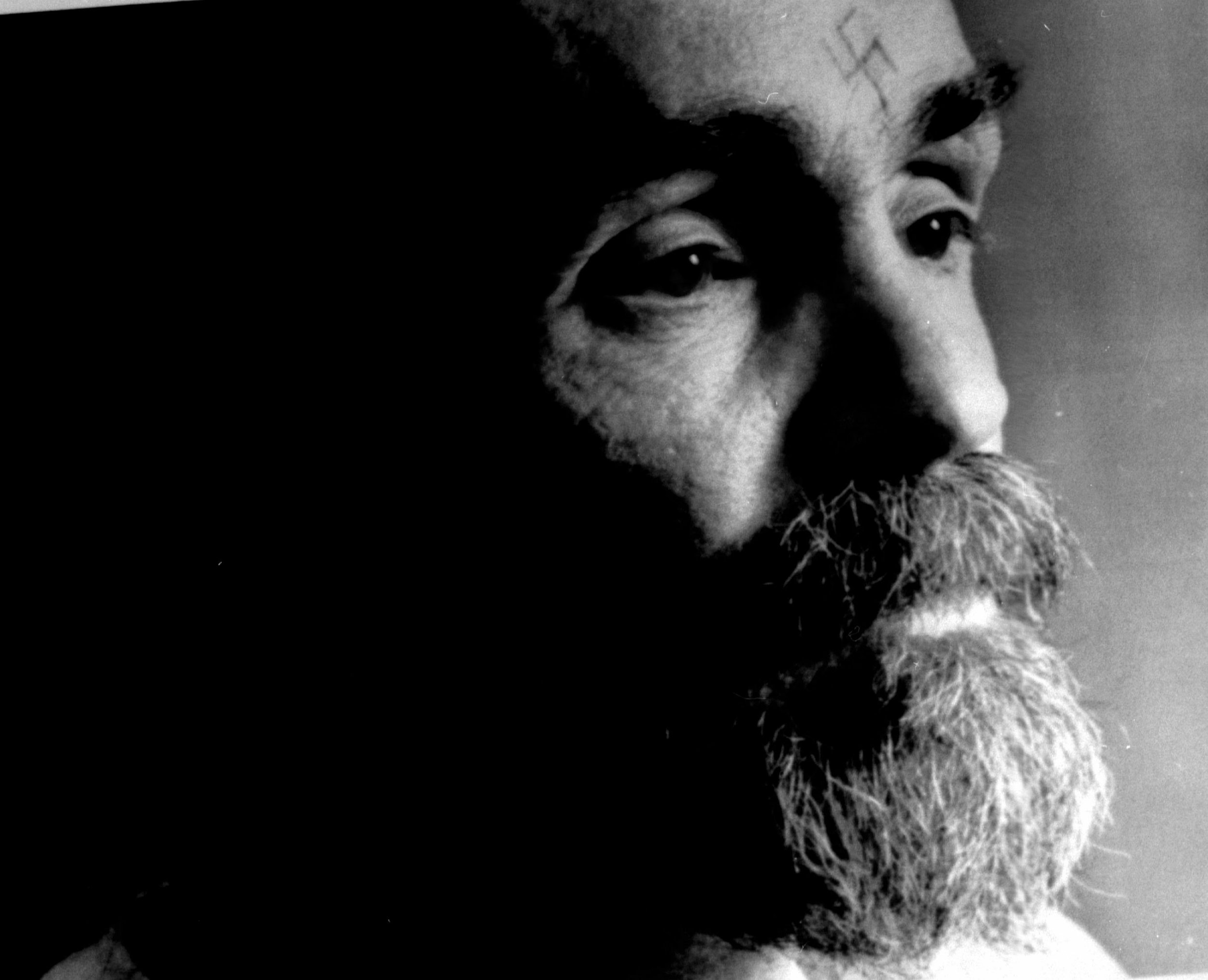 Before he became infamous for a gruesome series of murders in 1969, Charles Manson was an aspiring singer-songwriter who hoped to land a record deal and make a splash in the California music scene. Manson, the cult leader who died Sunday at age 83, failed in this endeavor. But he succeeded in having an enormous impact on rock music—just not in the way anybody would have hoped.
The cultural impact of his crimes, often regarded as a brutal end to the peace and love fantasies of the '60s, lingered for decades in the music industry, referenced frequently in rock lyrics and imagery. And Manson's own music found a wider audience after his arrest. His debut album, Lie: The Love and Terror Cult, was issued in 1970, and some of the songs were later covered by Marilyn Manson and the Brian Jonestown Massacre.
Related: Charles Manson dead: Why wasn't cult leader executed?
When historians talk about Manson's association with the rock world, they usually focus on his connection to Beach Boy Dennis Wilson—the two were briefly friends, and Wilson introduced Manson to some music industry pals—and his notorious Beatles obsession.
But Manson remained a dark sort of cultural icon long after he was locked up, and his unseemly legacy has continued to fascinate rockers and songwriters well into the modern era. You could say that before he murdered, Manson was obsessed with music—and after, the world of music was obsessed with him.
Here's a timeline of Manson's influence on the music world. It is by no means an exhaustive list.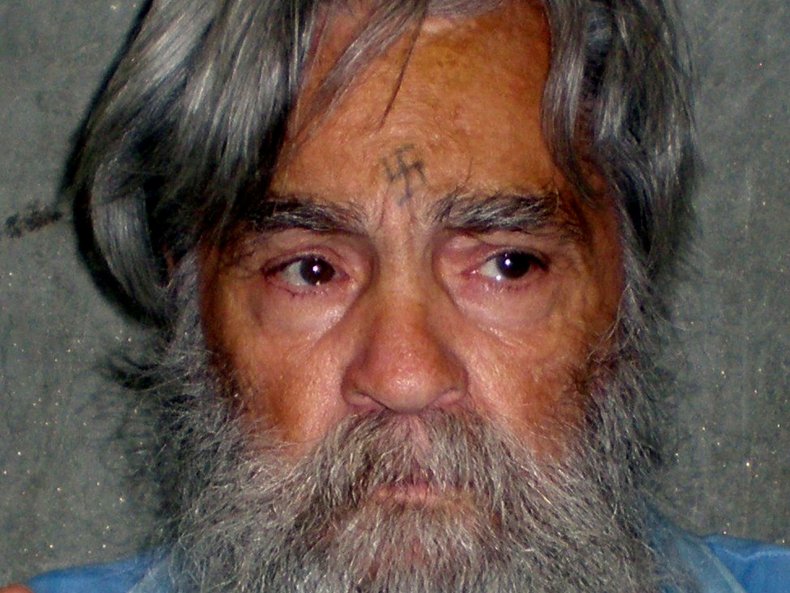 1969: Manson taints several beloved Beatles songs with murder and violence
Manson believed in an apocalyptic race war which he termed "Helter Skelter"—named after the 1968 Beatles song of the same name. When Manson and his followers murdered Sharon Tate and five others in August, 1969, one of them scrawled the words "Healter [sic] Skelter" on the fridge. They also scrawled the word "PIG" in blood, referring to the Beatles song "Piggies." Both songs were on The White Album, an album Manson was obsessed with because he believed many of its tracks contained prophetic messages regarding a race war. For nearly 50 years, these Beatles tracks have been tainted by this gruesome association.
1974: Neil Young writes "Revolution Blues"
Neil Young sank into darkness and doom during his mid-'70s "ditch trilogy" period. On the Beach—arguably the singer's most depressing album ever—contains this harrowing ode to the Manson Family, written while Young was living in Laurel Canyon just five years after the 1969 murders. You'd be hard pressed to find a classic rock song with a more disturbing closing couplet: "I see bloody fountains / And 10 million dune buggies coming down the mountains / Well, I hear that Laurel Canyon is full of famous stars / But I hate them worse than lepers and I'll kill them in their cars."
1977: The Ramones reference Manson in "Glad to See You Go"
The punk band's second album, Leave Home, opens with a song about an abusive relationship in which the narrator fantasizes about causing a "blood bath" and enjoying the guaranteed infamy: "In a moment of passion get the glory like Charles Manson." Maybe not the healthiest lesson to take from the Tate murders...
1985: Sonic Youth releases "Death Valley '69"
Sonic Youth's second album, Bad Moon Rising (1985), obsesses over horror, satan and the All-American macabre—so of course there is a song about the Manson cult. "Death Valley '69" is a chilling punk classic whose lyrics mount in intensity as Thurston Moore describes a murderous encounter: "She started to holler! She started to holler!" The lyrical reference to "Sadie" likely refers to Manson Family murderer Susan "Sexy Sadie" Atkins. The song's music video features gruesome imagery in which the band members appear to be murdered.
1986: The Flaming Lips record "Charlie Manson Blues"
This deranged punk tune is from the very early days of the Flaming Lips, long before the Oklahoma weirdos were winning Grammys and hobnobbing with Miley Cyrus. In fact, the 1986 track was released before Miley Cyrus was even born. The reckless tempo and bizarre backing chants contribute to the sense of mounting insanity, and Wayne Coyne's lyrics evoke a murderous cult: "The seance has just been told / The slaughter has just been sold." (If it wasn't already clear that the Lips were obsessed with the cult leader, they included a cover of "Death Valley '69" on their 1998 compilation.)
1988: Ozzy Osbourne recreates the Tate murders
Considering he was writing songs and fronting Black Sabbath since the late 1960s, it's a little surprising that it took Ozzy Osbourne this long to write a song about Charles Manson. The song "Bloodbath in Paradise" appeared on Osbourne's 1988 album No Rest for the Wicked, and it's a disturbing ode to the nightmarish murders perpetrated by Manson's cult: "They'll summon you / To wake from the dead / As you lie bleeding, murdered in your bed."
1988: U2 covers "Helter Skelter"
U2's 1988 soundtrack album Rattle and Hum opens with a cover of "Helter Skelter"—and an explicit acknowledgment of how Manson poisoned the track's legacy. At the very start of the album, Bono declares: "This is a song Charles Manson stole from The Beatles. We're stealing it back!"
1989-present: Marilyn Manson borrows Charles Manson's name
Marilyn Manson has made a career out of bringing violent and disturbing imagery to hard rock, and these obsessions extend to his moniker. The shock-rocker's stage name, Marilyn Manson, is a mash-up of Marilyn Monroe and Charles Manson. (Manson's bandmates' names also combine a famous woman's first name with a famous murderer's last name: Daisy Berkowitz, Olivia Newton Bundy and so on.) Manson's first album, Portrait of an American Family, reflects his interest in the Manson cult: The album's working title was The Manson Family Album, and the song "My Monkey" contains disturbing audio clips of Charles Manson in interviews.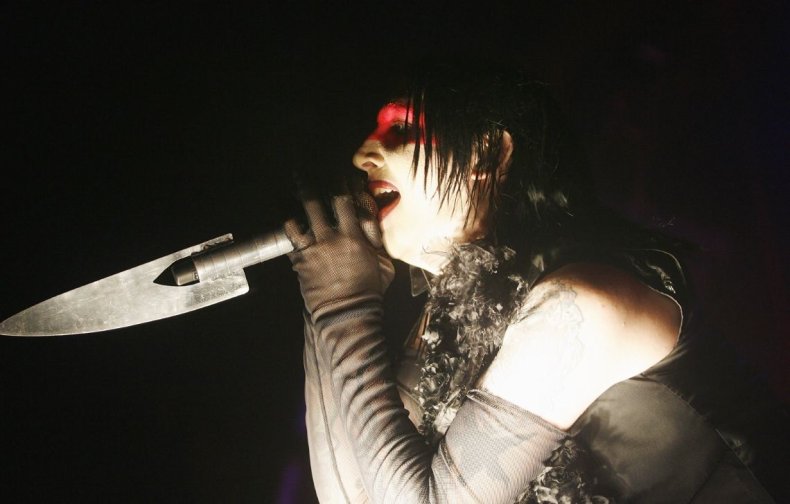 1992: Nine Inch Nails turn a murder scene into a recording studio
Trent Reznor turned the Tate house into a studio (and temporary home) and recorded much of 1992's Broken and 1994's The Downward Spiral there. (The song titles "Piggy" and "March of the Pigs" were likely inspired by the word "PIG" scrawled in Tate's blood.) Reznor eventually moved out, saying "there was too much history in that house for me to handle."
2001: System of a Down explores Manson's environmental beliefs in "ATWA"
The song "ATWA," from System of a Down's triple-platinum Toxicity, takes its name from Manson's ecological mandate, an acronym for "Air, Trees, Water, Animals." In the early 2000s, System of a Down introduced a new generation of punks to the Manson horrors, and the band's guitarist, Daron Malakian, was quoted defending Manson in an interview. (Today, Malakian posted on Instagram that he was "very sad to hear the news" of Manson's death, which—really? OK.)