Gun Range Ad Appears in Charleston Paper With Church Shooting Report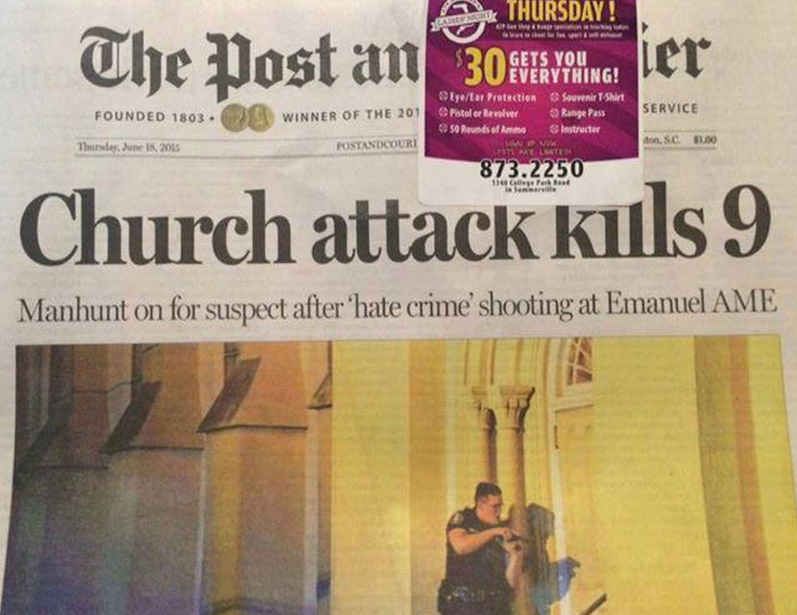 As one would expect, The Post and Courier, a Charleston newspaper, devoted its Thursday front page to the shooting that killed nine people at Emanuel African Methodist Episcopal Church on Wednesday night.
Less predictably, the print cover story is accompanied by a prominent sticker ad promoting a local gun range—a visual emblem of the gun culture that likely played a part in this shooting. Reid Wilson, a correspondent with the online publication Morning Consult, noted the unfortunate juxtaposition on Twitter:
If you look closely, you can see that the ad offers a $30 gun range package that includes choice of "pistol or revolver" and "50 rounds of ammo."
Jim Romenesko reports that the newspaper has apologized for the timing of the ad with this statement: "The front-page sticky note that was attached to some home delivery newspapers on the same day as this tragedy is a deeply regrettable coincidence. We apologize to those who were offended."
The shooting suspect, Dylann Roof, has reportedly been arrested at a traffic stop in North Carolina.