Of all the gifts Charley Pride has surely been given, maybe the one that has mattered most is his seeming ease.
Not his legendary voice, though it's earned him 52 top-10 Billboard country hits,
including 29 No. 1's. Not the arm that got him a spot on the Negro American League's Memphis Red Sox as a teenage pitcher, something he'd aimed for from the moment he first heard about Jackie Robinson and realized that baseball could be his way out of the Sledge, Mississippi, cotton fields. Not even his father, a sharecropper who never failed to tune the family's Philco radio to the Grand Ole Opry so young Charley was surrounded by the traditional sound of country.
You just get the sense, listening to Pride talk in that smiling baritone of his, that there isn't a thing in the world he'd let faze him. I reached that epiphany in the midst of a long chat with Pride on a recent autumn afternoon. It'd started off strange: Just as Pride picked up the phone, with a "hello" so unmistakably him it seemed for a second like a recording, a howling wind gave way to a torrential downpour outside my Brooklyn window.
But the drama felt appropriate because Pride has loomed so large in my family history—I have vivid childhood memories of my rice-farming Guyanese grandfather and uncles belting out his songs in heartfelt cowboy kinship. And his massive 1971 hit single "Kiss An Angel Good Mornin'" was one of the first songs to play at my 2017 wedding.
It was hard to believe he could still be walking among us, let alone talking to me. Yet more than that, Pride, at 85, is rocking as we speak.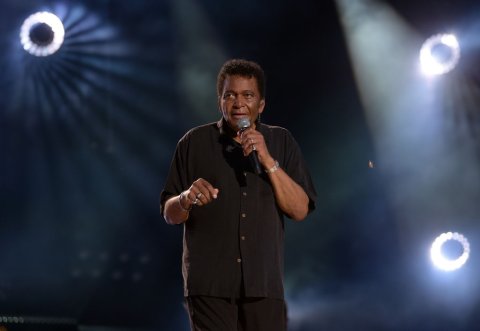 In fact, it's been quite a year for him—2019 has seen the release of Ken Burns' Country Music, which features Pride, and the PBS American Masters film Charley Pride: I'm Just Me, never mind a recent Grammy Lifetime Achievement Award and Pride's steady tour schedule. There's even renewed talk of a biopic following the fizzling out of major efforts over the last decade or so that've included serious conversations with Terrence Howard, Dwayne Johnson, and Tyler Perry.
"My plan this year is to go out to California…and do it myself," Pride says. "I'm going to find the producers and directors and all out there, best I can, and go try to look 'em in the eye." Then he told a story that epitomizes who he is and why, perhaps, he has endured.
It was early days in Pride's career, and despite being signed to RCA Records, he was struggling to get bookings—no great surprise considering the state of American race relations in the mid-1960s. Knowing an appearance on Johnny Carson's Tonight Show could change all that, Pride and manager Jack D. Johnson headed out to California to try their luck. But the conversations went nowhere.
"Johnson says that's it, I'm going back to Nashville—and I say, well, I'm going
to stay out here!" Pride recalls, laughing. And he didn't just stay in LA; he sat right outside the door to the Tonight Show talent coordinator's office, figuring someone worth talking to would have to go in or out eventually.
"Pretty soon one of the bigwigs came out to go to the bathroom, so I jump right up and I introduce myself and went to the bathroom with him. I said I'm kind of unique, but I'd like to do your show…I think I told him something like, 'I'm the Jackie Robinson of country music.'" Pride chuckled; he's said many times that he never thought of himself this way until media gave him the label. But he didn't mind deploying it here. "He said, 'Well, wait a minute'—so we both did our business."
There are big laughs now, as he savors bringing the story home. "And he says, 'Well come on and go into my office.' I say, 'okay.' And pretty soon one guy came in, and pretty soon another guy came in. Next week I was on the Johnny Carson show."
People have asked Pride his whole career what it's like to be black (or Negro, or "colored") in country music; how he managed not just to stick around but to succeed spectacularly; why he thought this art form that was by the time of his adolescence so dominated, commercially, by white performers could be for him in the first place—but somehow the question never really takes.
Pride undoubtedly broke barriers—he was the first black artist with a No. 1 country record once "country music" entered the American lexicon in the late 1940s, the first black performer at the Grand Ole Opry since pioneering harmonica player DeFord Bailey's departure in 1941, and country's first (and some would still say only) black superstar, outselling everyone at RCA besides one Elvis Presley through at least the 1980s.
But, in the words of Pride's Country Music Hall of Fame member biography, "He would be a country legend even without the racial anomaly." And he talks about his race as though it were some sort of outlying issue, rather than the central narrative thread that onlookers so obviously expect (or want) it to be. He's an American, he says, and he sang so well that by the time he was done audiences didn't care if he was green.
"I didn't dwell on it," he tells me, then shares another favorite anecdote, versions of which one can find recounted throughout Pride's career.
He was in a huge package show in Detroit, performing alongside the likes of Merle Haggard, Red Foley, and Buck Owens. He'd driven from Montana, where until recently he'd worked as a smelter for the Anaconda Mining Company and played for the semi-pro baseball team, the East Helena Smelterites. And when he arrived, minutes before the first show, everyone from the nervous promoter to Ralph Emery—the show's MC and "the biggest DJ in the business at that time"—seemed worried that simply bringing Pride out would not be enough; "I need to say something to make 'em love you 'fore you get out there!" Pride remembers Emery saying.
Because, of course, Pride's early records identified him only as "Country" Charley Pride, sans photograph, which meant that whether the 10,000 concertgoers had heard his three singles or not, they had no idea what he actually looked like.
But Pride told Emery just to say his name. That was greeted with cheers. Then, at the sight of the man himself, the room fell silent. And Pride, without missing a beat, said, "Ladies and gentlemen, I realize it's kind of unique, me coming out here on a country music show wearing this permanent tan." Fifty-something years later, Pride sounds as giddy mimicking the raucous applause that erupted as he must've been the night it happened.
There are a lot of words for a moment like this, from sweet to savvy to pure stagecraft. But the part of the story that doesn't get told nearly as much is that Pride and Johnson had worked it out ahead of time.
"What happened, Nadira, is that Johnson says, you know, we've got to come up
with something—when you come up there and shock 'em, then you try to go into a song, they're shocked before they hear half of the song!" What Pride said in Detroit was what he and Johnson scripted—a line that got white country audiences laughing with the black man on stage and comfortable enough to let his singing do the rest.
That's the kind of effort it takes to make things feel effortless. In the myth-making that happens over a career more than half a century long, maybe it's inevitable that some of the crucial yet complicated storylines fade while others—arguably, the most facile—are slowly etched in stone.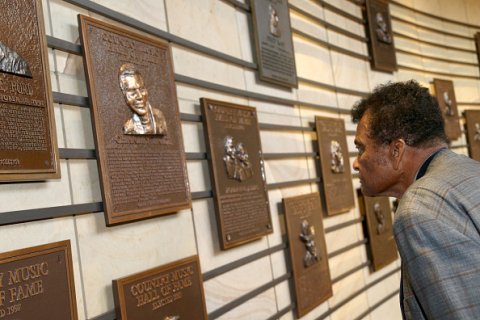 When the Grand Ole Opry website recounts that night in Detroit in its bio of Pride, the vignette ends, "Race, however, ultimately didn't matter to the country music audience"; it's the stuff voiceovers are made of, but one can't help but think that if it were true—beyond Pride's own remarkable career—today's country music would be full of black and brown artists just as today's baseball teems with black and brown players.
When most of us hear about Pride, wherever we do, it's often as the great black country artist, like it's the color that really counted. But when Pride talks about himself, it's as a "traditionalist," a guy who came up with Ernest Tubb, Tammy Wynette, Johnny Cash and the like and draws the line for their kind of country after George Strait. He mentions, wistfully, that he and Conway Twitty were born just miles apart, and it reminds him of something else people say—that rather than sing country, he was supposed to sound like B.B. King, because they were born about 65 miles apart. "So they say you're supposed to be singing blues, and I say no—I'm supposed to be singing what I want to sing!"
When I ask Pride to reflect on the younger generation of artists and the challenges they face, shamelessly angling toward country-rap star Lil Nas X, he simply riffs—passionately—on work: "['Cowboy' Jack] Clement"—Pride's longtime producer—"he said to me, 'Charley, come at the song as the greatest song that has been sung; if it's a B song, make it an A song; if it's an A song, make it a double-A, make it a triple-A—make it a single.'…I never forgot that, and I believe that's why I sold so many albums."
We're so conditioned these days to think in terms of identities, little bits of data that seem to dictate everything from who'll follow us on Instagram to what we think we're capable of. Which makes chatting for hours with someone who just relentlessly resists that as strange as feeling like a resonant, remembered voice on the phone in Dallas has somehow summoned New York City's first storm of the fall.
Of course race did matter—in the sense that Pride's willingness to set it
aside from his music made it possible, perhaps, for him and his music to reach heights they might never have been able to otherwise, however deserving they were.
But listening to Pride, that decision sounds authentic, not like one he made to sell records. I suppose that's why, looking back, I'm not even sure that I knew Pride was black when I was a child; it's like something I found out and forgot over and over, a discovery that would slip quickly away because it didn't seem all that material to this music that I loved. I don't know how to feel about that now, honestly, when it's so clear that transcending identity is a luxury most people don't have.
There is, though, something kinetic about knowing it's possible—and something so
magical in recognizing how, even today, Pride never doubts it. In fact, he's set to kick off 2020 charming yet another audience at the Nugget Casino Resort in Sparks, Nev., on Jan. 10.
Sometimes, maybe, you do just have to decide who you want to be. For Charley Pride, being black, or male, or Southern haven't defined him in his own mind, though he is all of those.
He's into star signs, he says, and he's a word person. He's been married to his wife Rozene for "12 years and a half-century"—and still calls her his "bride." An Army man who's met seven U.S. presidents, from Gerald Ford to Barack Obama, he holds firm to the idea that, "of all the years from our Founders to now…we ain't about to let no one something throw everything out of kilter."
Someone he considered a second father, a black man who owned 120 acres or so in Sledge—119 of which Pride ultimately bought when he'd made his way in the world and found out the land was mortgaged to the hilt—called him "Old Mockingbird" because he could mimic any sound he heard, from animals to accents, and asked him once, as he struggled to get to the majors, if he mightn't actually be on this planet to sing.
In a country music scene set decidedly against him, Pride not only "sang it so much better than many of the good country artists were at the time," as Dolly Parton puts it in the American Masters film, he was obviously handsome and casually charming—determined, always, to be just too good to ignore.
These are the things—sweet and surprising and disparate—that shine through when Charley Pride tells the story of his life. "I'm not arrogant or nothing like that," he says, "but I believe—I'm just a believer."
Correction: (11/4 10:00 a.m.) An earlier version of this story incorrectly identified Ernest Tubb as Ernest Stubbs. Newsweek regrets the error.