Charli and Dixie D'Amelio Added to Streamy Awards 2020 Lineup
Two of TikTok's biggest breakout stars of the year, Charli and Dixie D'Amelio, will appear at the 2020 YouTube Streamy Awards.
The sisters were both previously announced as nominees for the coveted "Creator of the Year" award at the ceremony's upcoming 10th installment, which will premiere on Saturday, December 12. Charli is also nominated for the "Breakout Creator" award and "Social Good Campaign," for her #DistanceDance.
Aside from the D'Amelios, YouTubers James Charles, Bretman Rock, David Dobrik, MrBeast and TikTokker Tabitha Brown are all expected to make appearances at the Streamys. Dobrik, Charles, and MrBeast are all also nominated for "Creator of the Year." Charles and Dobrik are both tied (along with YouTuber Emma Chamberlain) for the most nominations this year, with five each.
In case you haven't heard, the D'Amelios rose to massive success in 2020. Charli has received more than 8 billion likes on TikTok, and Dixie has received more than 1.6 billion likes. They each also have their own YouTube channels with millions of subscribers.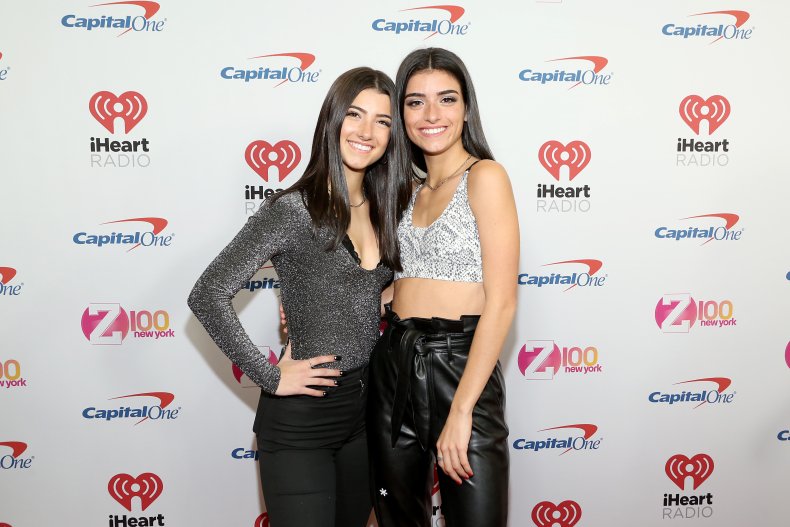 Charli's has 8.6 million subscribers and features a number of vlog-style videos on a variety of subjects. Dixie has over 6.8 million subscribers and has used her channel to both promote her music and post interviews with YouTubers and musicians on The Dixie D'Amelio Show, as well as vlog-style clips of her own.
According to a press release received by Newsweek, the award show will also feature the first "Streamy Creator Honors," which will have past award winners giving "unique tributes to creators whose work has personally resonated with them in 2020."
The presenters for that feature include Lilly Singh (who won "Best First Person" in 2017); Juanpa Zurita (who won "Best International Channel" in 2017); Kyle Exum (who took home the "Writing" award last year); Liza Koshy (who has received four Streamys in the past); NikkieTutorials (who received the "Best Branded Content" award for her video with Snoop Dogg in 2019); Marques Brownlee (who won the "Technology" award last year); and Patrick Starrr (who won the "Fashion" award in 2019).
Others making appearances include YouTubers Camila Loures, Shalom Blac, MatPat and Stephanie Patrick (whose The Game Theorists is nominated for the "Creator" award in the "Social Good" category), Dream (who's nominated for two awards), Casey Neistat (nominated for the "Editing" award), LaurDIY (nominated for "Fashion and Style"), Mark Rober (nominated for "Education and Learning"), Rebecca Zamolo (nominated for "Show of the Year" for Game Master Network), and ZHC (nominated for "Breakout Creator").
As previously reported, the Streamys will air on YouTube on December 12 at 9 p.m. ET (6 p.m. PT). The show will be hosted by RuPaul's Drag Race alums Trixie Mattel and Katya. The pair will be hosting the ceremony from a party bus dubbed "The Glamtram," which the press release says will be traveling around Los Angeles and making stops at creators' homes for surprise visits.
Previously announced musical performers include Tones and I, Doja Cat, and Lewis Capaldi.