GOP Governor Charlie Baker's exit from the 2022 race is officially opening the door for Democrats to seize control of the top position in Massachusetts.
Baker and Lieutenant Governor Karyn Polito announced Wednesday they made the "extremely difficult decision" to not seek reelection in next November's midterms.
"This next year needs to be about recovery, not about politics," they wrote. "We are grateful for the chance we have been given to serve the people of this great state and will give it our all between now and the end of 2022."
Baker is one of the last prominent Republican officials remaining in an otherwise blue state. Democrats control the offices of attorney general and secretary of state, as well as both chambers of the Legislature. Registered Democrats outnumber Republican voters more than 2-to-1 in Massachusetts.
"Democrats have a remarkable chance in this upcoming cycle," Jesse Rhodes, a professor of political science at the University of Massachusetts, Amherst, told Newsweek. "Democrats do have a natural advantage in gubernatorial elections."
Three Democrats have already thrown their hat into the ring in the race for the governor's job: state Senator Sonia Chang-Díaz, former state Senator Benjamin Downing and Harvard professor Danielle Allen.
Another possible contender is Massachusetts Attorney General Maura Healey. She hasn't launched a campaign but previously said she was seriously considering running.
On the Republican side, the only candidate who has announced a gubernatorial run so far is former Massachusetts state Representative Geoff Diehl.
Baker's decision not to seek reelection was shocking, Rhodes said, but even more of a blow to the state GOP was Polito deciding she wouldn't try to take his place.
"It's pretty surprising because there's not an obvious Republican with statewide prominence who could step up and fill those shoes at this time," the professor said.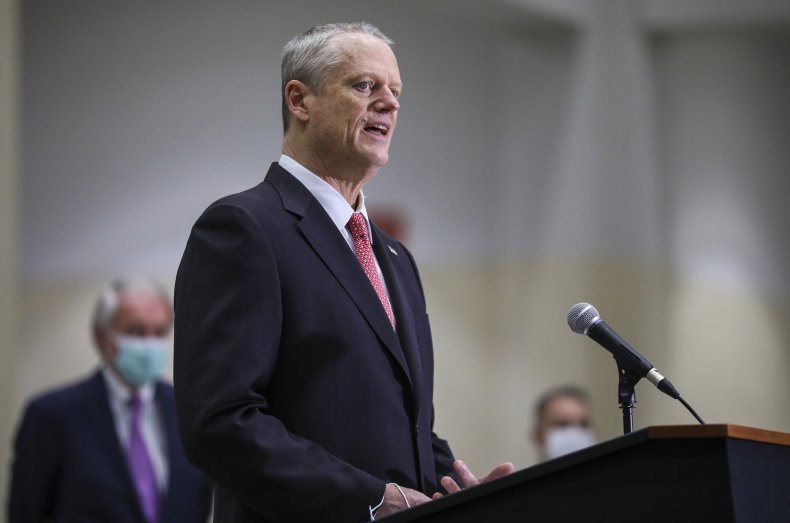 Surveys have shown Baker to be widely popular in Massachusetts, thanks largely to the fact that he's well liked by Democrats.
In fact, Baker has repeatedly seen a higher approval rating among Massachusetts Democrats than among registered Republicans. In the latest UMass Amherst survey, his lowest level of support came from his own party: Just 41 percent of GOP voters approved of him, compared with 65 percent of Democrats.
Baker cemented his position as a moderate Republican during his eight years in office. The governor was frequently at odds with former President Donald Trump, revealing he blanked his ballot for president in 2016 and 2020 in order to not back Trump.
"He represents a species of Republicanism that is pretty rare in our politics today," Rhodes said of the governor. "That has been pretty critical to his success given how liberal the state is, and he has been able to survive and thrive because of that. So I think you would need to find someone who had a similar stature and a similar style of politics."