#NeverTrump: Massachusetts Governor Joins Growing Anti-Trump Chorus Among Republicans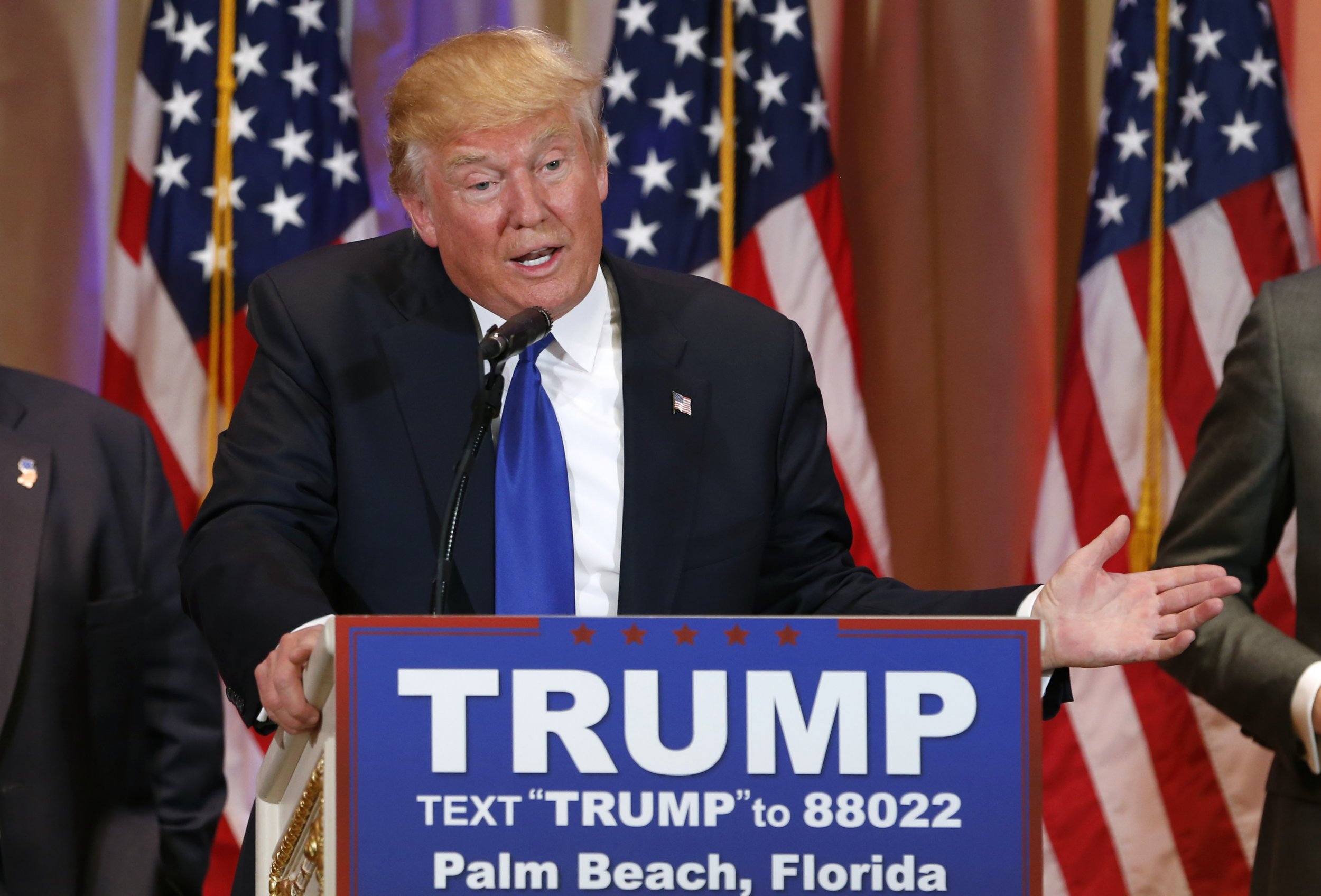 Massachusetts's Republican governor says he didn't vote for Donald Trump on Super Tuesday and he won't vote for Trump in November if he becomes the party's nominee. Governor Charlie Baker's statement makes him the second prominent elected Republican to jump aboard the #NeverTrump train.
"I'm not willing to concede that the Republican nomination is over, and frankly, you guys shouldn't either," Baker told The Boston Globe. "You've got 35 states left to play here, more than half the delegates."
On Tuesday, Trump won the Massachusetts Republican primary with 49.3 percent of the vote, picking up 22 delegates. He also won Alabama, Arkansas, Georgia, Tennessee, Vermont and Virginia, grabbing an additional 215 delegates, for a total of 237 Super Tuesday delegates and 319 overall delegates. He needs 1,237 delegates to win his party's nomination outright and prevent a brokered convention in July. There are 1,777 delegates still to be awarded.
Baker joins Senator Ben Sasse of Nebraska on the anti-Trump bandwagon. "I don't think [Trump] has any more core principles than a Kardashian marriage," Sasse told MSNBC's Joe Scarborough and Mika Brzezinski Tuesday. "I think that the American people are angry," Sasse said. "I get that. But they're going to want more choices than two fundamentally dishonest New York liberals," he said of Trump and the Democratic front-runner, Hillary Clinton.
"If the Republican party becomes the party of David Duke, Donald Trump, I'm out," he added.
In addition to Baker and Sasse, a number of Republicans in state-level offices and conservative thought leaders have come out against Trump. On Twitter Monday, former Republican presidential hopeful Mitt Romney called Trump's refusal to publicly reject the support of David Duke, a former leader of the Ku Klux Klan, "disqualifying" and "disgusting" and said Trump's "coddling of repugnant bigotry is not in the character of America." Romney has announced a press conference for Thursday in which he is expected to continue his attacks against Trump.
Congressman Carlos Curbelo of Florida also told The Wall Street Journal he wouldn't support Trump. "This man does things and says things that I teach my 6- and 3-year-olds not to say," Curbelo told the Journal. "I could never look them in the eye and tell them that I support someone so crass and insulting and offensive to lead the greatest nation in the world."
Fellow Republican Congressman Scott Rigell also said he won't back Trump on conservative political blog Hot Air. "I reject Trump as our nominee based on his judgment, temperament and character, all of which point to a reckless, embarrassing and ultimately dangerous presidency," Rigell wrote.
Joining Curbelo and Rigell was former Republican National Committee Chairman and one-term Florida Senator Mel Martinez. "I would not vote for Trump, clearly," Martinez told The Wall Street Journal. "If there is any, any, any other choice, a living, breathing person with a pulse, I would be there."
Former Oklahoma Congressman J.C. Watts and former New Jersey Governor Christie Todd Whitman also turned their backs on their party's front-runner.
The backlash against its front-runner is unprecedented in the Republican party's modern history. Whether the party will line up behind Trump come November, or whether we are witnessing the demise of the modern GOP, remains to be seen.