7 Facts You Didn't Know About 'A Charlie Brown Thanksgiving'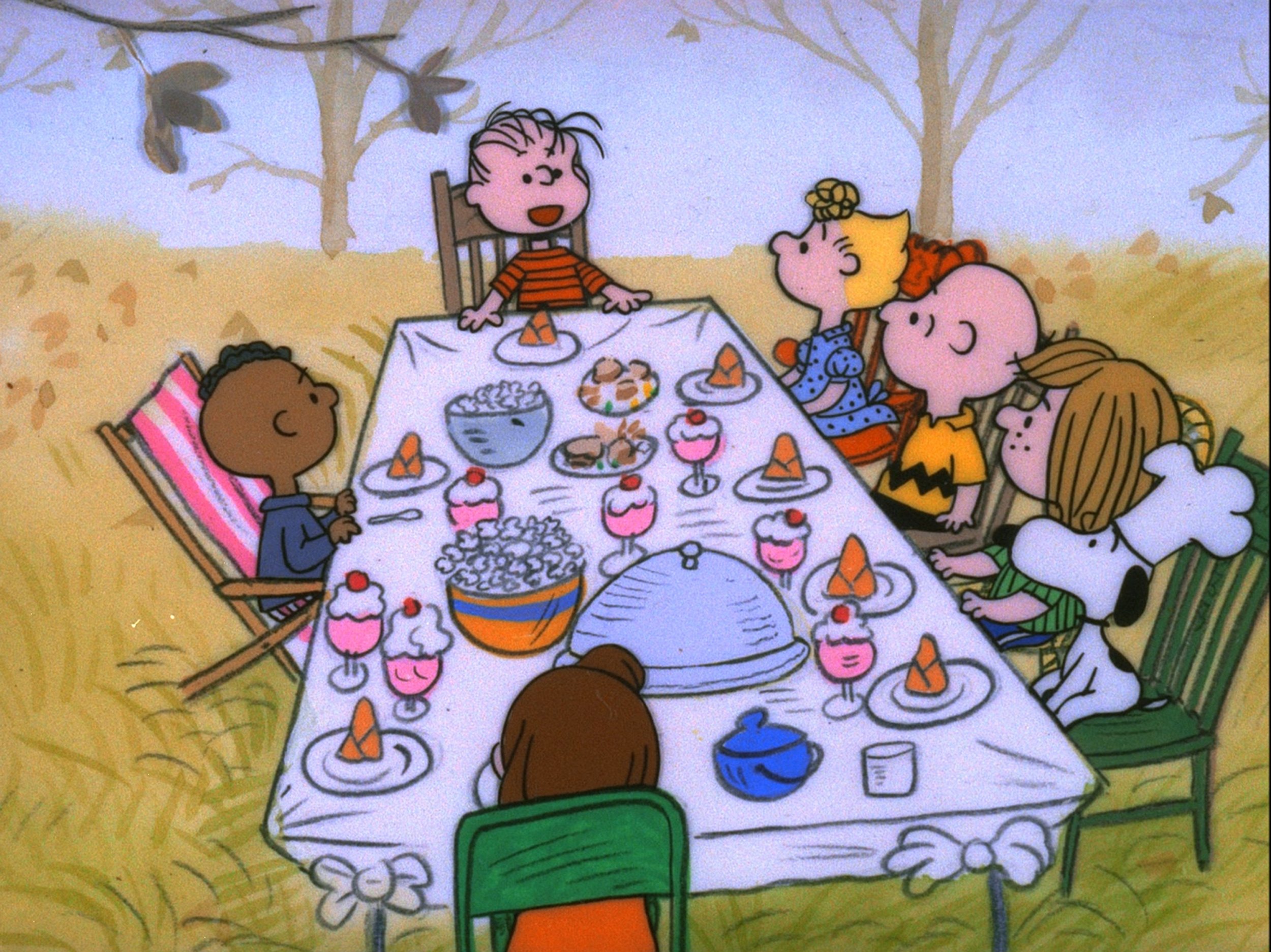 Good grief! Can it possibly be that time of year again? Yes! A Charlie Brown Thanksgiving airs Wednesday night on ABC.
The 1973 half-hour special from Peanuts creator Charles M. Schulz has never been as popular as 1965's A Charlie Brown Christmas (or even 1966's It's the Great Pumpkin, Charlie Brown), but it's undeniably a classic. For one thing, it opens on the most famous Charlie Brown move: Lucy yanking the football just before Charlie can kick it, leaving him flat on his back. Again. (Think of it as the "Kenny's Dead" of your parent's—(grandparent's?—generation.)
Here, some little-known facts about A Charlie Brown Thanksgiving.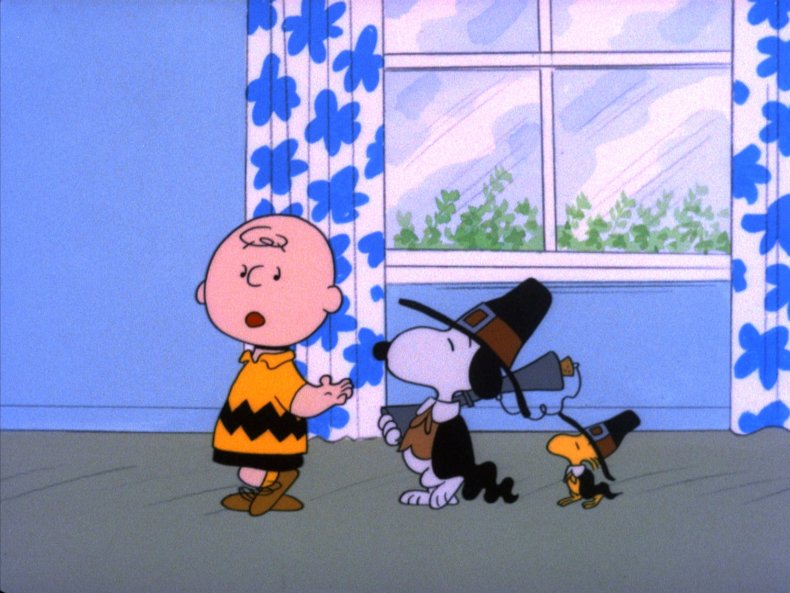 1. It's actually getting more popular.
In 2012, ABC saw a sharp spike in ratings for A Charlie Brown Thanksgiving, with about 8 million viewers tuning in. Last year the numbers were slightly lower, at 7.15 million viewers, but the special still nabbed the top spot of the night for ABC, with a 1.9 rating in adults 18-49.
2. Charlie Brown's "AAUGH" wasn't voiced by the Charlie Brown actor.
You can probably tell that the Charlie in the Thanksgiving special isn't the same Charlie in the Christmas special. For one thing, it was made eight years later. But on top of that, the new voice, Todd Barbee (just 10 years old at the time), didn't even get to say the most famous line.
"They wanted me to voice that "AAAAAAARRRRRGGGGG" when Charlie Brown goes to kick the football and Lucy yanks it away," Barbee said in a 2014 interview with Noblemania. "Try as I might, I just couldn't generate [it as] long [as] they were looking for. After something like 25 takes, we moved on. I think they eventually got an adult or a kid with an older voice to do that one take." And that makes Barbee Charlie Brown of all.
3. No, those child actors aren't still making money off the special.
Barbee said that while he was paid "a significant amount of money" up front, it came with the caveat that the kids give up any residuals or royalties. "I've always felt that wasn't the fairest way to handle that," he said. It's a rip-off, Charlie Brown!
4. There's a reason "Over the River and Through the Woods" sounds, well, bad.
Don't judge the kids' singing abilities too harshly based on that song. Voice actor Robin Kohn Glazer, who played Lucy, told Noblemania the reason was that the producers had the kids record the song separately, then overlaid the voices. The result, she said, is "a bit more off-key than I think your average children would sing if they sang together."
5. Mexican-American animator Bill Melendez was the only one Schulz trusted with his characters.
Schulz, who died at 77 in 2000, wasn't totally on board with TV adaptations; executive producer Lee Mendelson talked him into it, beginning with A Charlie Brown Christmas. But Schulz had some caveats: One, Bill Melendez, a former Disney animator, had to direct. Menendez had already worked on Peanuts animations for a Ford commercial, and Schulz felt he captured the spirit of the strip. Melendez, who died in 2008, produced, directed and animated more than 70 Peanuts television specials over his career.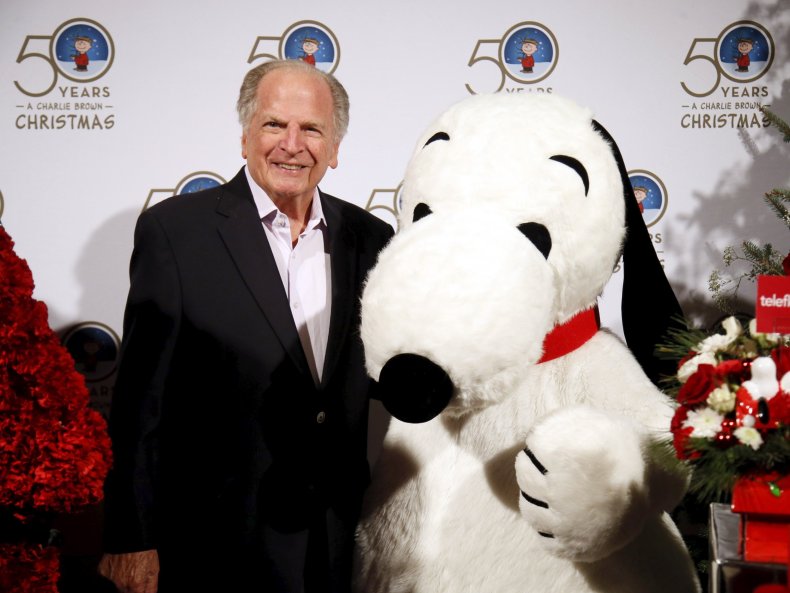 6. The Thanksgiving special exists thanks to A Charlie Brown Christmas, but that success wasn't evident at first.
According to a 2015 Los Angles Times interview with Mendelson, CBS didn't initially like A Charlie Brown Christmas. Executives told the producer, "Well, you gave it a good try." The network quickly changed its mind when the 1965 premiere was a smash hit; they promptly ordered more Peanuts specials.
7. Peanut's specials aired on CBS for 27 years, until ABC, like Lucy, snatched the rights away.
Somehow, CBS let the rights slip through its fingers, landing in the lap of ABC, who acquired the rights to all Charlie Brown specials in 2001. In 2013, ABC extended its deal with Peanuts Worldwide LLC and Lee Mendelson Film Productions though 2020—meaning at least three more years of cashing in on the blockhead.
A Charlie Brown Thanksgiving airs Wednesday night on ABC at 8 p.m. ET, followed by "The Mayflower Voyagers," a 1988 episode from the eight-part animated miniseries, This Is America, Charlie Brown.