Charlie Hebdo Cartoon Depicts Drowned Toddler Aylan Kurdi as Future Sexual Harasser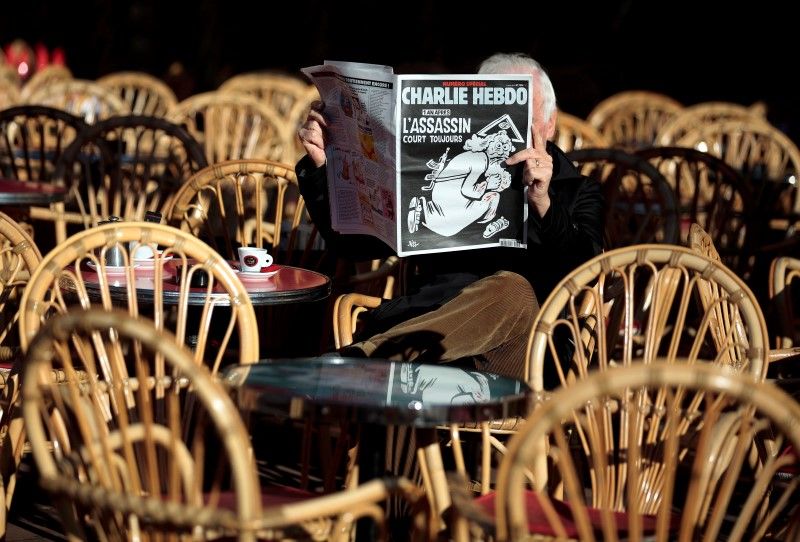 Charlie Hebdo has come under fire—again. A new cartoon in the French satirical magazine depicts Aylan Kurdi—the drowned Syrian toddler who late in 2015 became the tragic human face of Europe's migrant crisis—growing up to become an adult who sexually harasses women.
The cartoon, tweeted by French journalist Faïza Zerouala on Wednesday, shows a small illustration of the famous image of Aylan Kurdi lying facedown on a Turkish beach with the words "What would little Aylan have grown up to be? A groper in Germany."
The cartoon also shows two women being chased by two men with their hands outstretched, presumably in anticipation of groping them. The men's faces closely resemble those of an animal rather than a human being.
The cartoon quickly lit up Twitter, where users called it "despicable." One said it made him " viscerally enraged."
The controversial image comes several days after hundreds of women reported being sexually assaulted, harassed and mugged by as many as 1,000 men—the majority of whom were described as being of Arab or North African descent—outside the German city of Cologne's train station on New Year's Eve. Cologne police said more than 500 attacks have been reported, 40 percent of which were related to sexual assault. A report from the German Interior Ministry said some of the men had consumed alcohol and drugs before carrying out "fantasies of sexual power."
The New Year's Eve crimes have called into question Germany's generous attitude toward refugees and asylum seekers, after more than 1 million migrants arrived in the country last year. Cologne Police Chief Wolfgang Albers resigned in the wake of the New Year's Eve attacks, while German Chancellor Angela Merkel said her government would deport migrants who commit crimes.
Earlier this week, 11 foreigners, including migrants from Pakistan, Syria and Guinea, were injured in attacks carried out in Germany in retaliation for the New Year's Eve assaults.
The Charlie Hebdo cartoon comes less than one week after the first anniversary of the attacks on the magazine's Paris offices, in which gunmen killed eight cartoonists. The magazine marked the occasion last week with a cover depicting a bloodied drawing of God and the words "One year on, the killer is still out there." That cover and the new Aylan Kurdi cartoon were both drawn by Laurent Sourisseau, also known as Riss.
Wednesday's cartoon is not the first time Charlie Hebdo has used the likeness of Aylan as the basis for one of its cartoons. In September, the magazine was threatened with legal action over a cartoon of the boy's dead body on a beach. A McDonald's sign behind him read, "Promotion: Two children for the price of one."
The cover said, "Welcome Migrants" and, in reference to the toddler, "So Close to His Goal."