Charlie Hebdo's Mighty PEN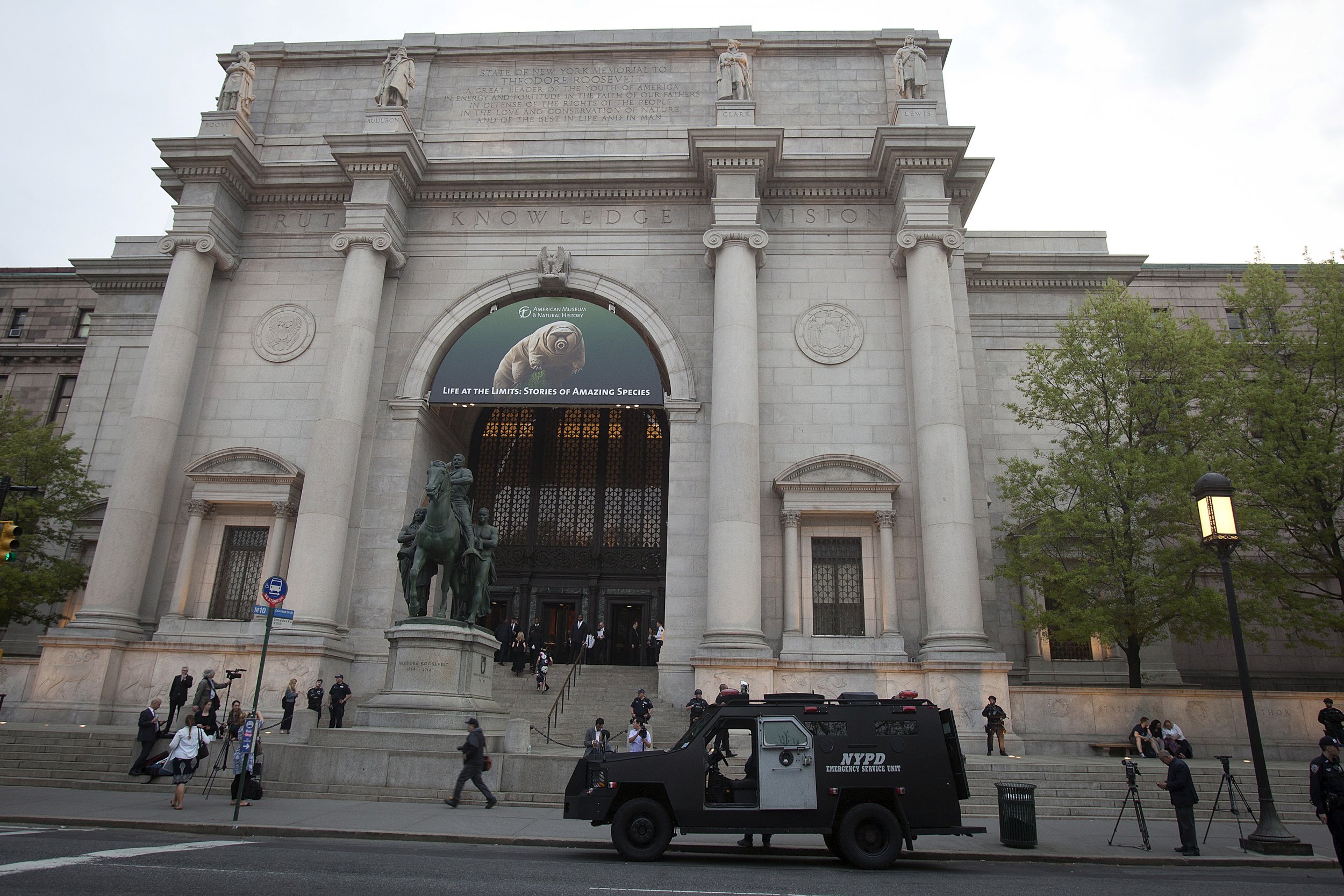 Gérard Biard, editor for the French satirical magazine Charlie Hebdo, walked onto the podium Tuesday evening in the Milstein Hall of Ocean Life at the American Museum of Natural History and accepted the Freedom of Expression Courage Award from the PEN American Center. High above the several hundred members of the audience hung the gallery's famous blue whale, a fiberglass leviathan of 21,000 pounds suspended threateningly from the ceiling, seemingly ready to devour those gathered below.
Biard is lucky to be among the living, for reasons that have nothing to do with the huge hanging cetacean. Twelve of his colleagues are not, having been killed in a bloodbath at theCharlie Hebdo offices on January 7 by two French-Algerian jihadis who took issue with the magazine's blithely crude depictions of Muhammad. Biard wasn't there. Nor was Jean-Baptiste Thoret, who is the magazine's film critic, also in Manhattan to receive the PEN award. Never has a masthead been so bloodily reconfigured.
Biard had not been to New York before. He is not especially fluent in English. And yet nobody missed his words. Speaking in a thick Gallic accent, Biard defended his magazine against those who charged it with picking on Muslims while hiding under the banner of political satire.
"It is the function of satire, being provocative and offensive, is it not?" he asked. As many have pointed out in recent days, Islam was rarely subject of these provocations: Of the 523 Charlie Hebdo covers throughout the last decade, only seven mocked that faith. To continue to insist that Charlie Hebdo harbored an anti-Islamic bias is to simply claim an immunity to fact.
At the same time, Biard seemed almost to bristle at his magazine having become what he called "a global symbol," with the #JeSuisCharlie hashtag and its implied, if distant, solidarity. "It's pretty hard to deal with this," he admitted. He is clearly tired of the eulogies that are too often self-serving and uninformed. He wants only to publish his beloved magazine.
Biard was well-aware that not all were thrilled at the prospect of Charlie Hebdo being honored by PEN. In the days leading up to the gala, which is usually a fairly standard affair involving plenty of self-congratulation and alcohol, more than 200 writers signed a protest letter condemning Charlie Hebdo for maligning French Muslims, who are "already marginalized, embattled, and victimized," according to the widely circulated document. Six table hosts declared that they would not attend the PEN gala.
Compounding the gravity of the situation was the fact that the PEN gala was taking place just days after two men attacked an event in Garland, Texas, sponsored by a New York-based hate group, during which contestants were asked to draw images of Muhammad—a cheap act of religious baiting. As such, security was especially tight Tuesday around the American Museum of Natural History. There were cops with dogs and cops with machine guns, cops at every step, more visible than waiters bearing champagne. Never has a literary party been this secure.
As darkness fell, a lone protester stood outside the museum, a gray-haired woman in a gray T-shirt. "Free speech does not deserve death," her sign said. "Abusive speech does not deserve an award."
Biard answered her and other critics with eloquence at the conclusion of his speech. "Being shocked is part of democratic debate," he said. "Being shot is not." If any dissenters remained in the audience, they were lost in the din of the standing ovation.
Certainly, most of those to whom I spoke at the gala were in full support of Charlie Hebdo. Those who weren't stayed home. They did not appear to be missed.
"There are no two sides to this issue," said Art Spiegelman, the cartoonist whose work recently ran afoul of Russian authorities, who objected to the display of a swastika on the cover of Maus, his famous work about the Holocaust.
"This was an uninformed protest," said Salman Rushdie, who lived under a fatwa for years after the publication of The Satanic Verses. On Twitter, he called the PEN protesters "pussies," voicing what many thought but feared to say.
PEN's new president, author Andrew Solomon, defended Charlie Hebdo with eloquence and feeling, noting that the "suppression of controversial ideas does not result in social justice." He recalled the famous slogan of the AIDS era: "Silence = Death." Those were fighting words.
(PEN also lavished awards on British playwright Tom Stoppard, publishing executive Markus Dohle of Penguin Random House and jailed Azeri journalist Khadija Ismayilova, whose own unfortunate plight has been overshadowed by the Charlie Hebdo incident.)
The PEN gala, which I have attended for several years now (I am moderating a panel this year, but I am not a member of the organization), commences in the Theodore Roosevelt Rotunda, its giant Brontosaurus skeleton dwarfing the human beings milling beneath with their hors d'oeuvres and drinks. Roosevelt is closely associated with the museum's founding mythology, and four sets of his quotations adorn the rotunda's marble walls. One of these says, "If I must choose between righteousness and peace, I choose righteousness." A somewhat severe injunction to consider when going with the family to see a bunch of stuffed animal dioramas, the quote seemed especially germane in the wake of the gala.
At the evening's conclusion, everyone filed back into the rotunda for desert.
"I don't see food or booze," someone behind me said. I turned around to Salman Rushdie, who has lived under enough threats and denouncements for several lifetimes.
As if on command, waiters with champagne bottles invaded the vast marble chamber, looking for glasses to fill. This was a party, after all.
Charlie Hebdo's Mighty PEN | Culture