'Charlie Hebdo' Cover to Show Muhammad Saying 'Je Suis Charlie'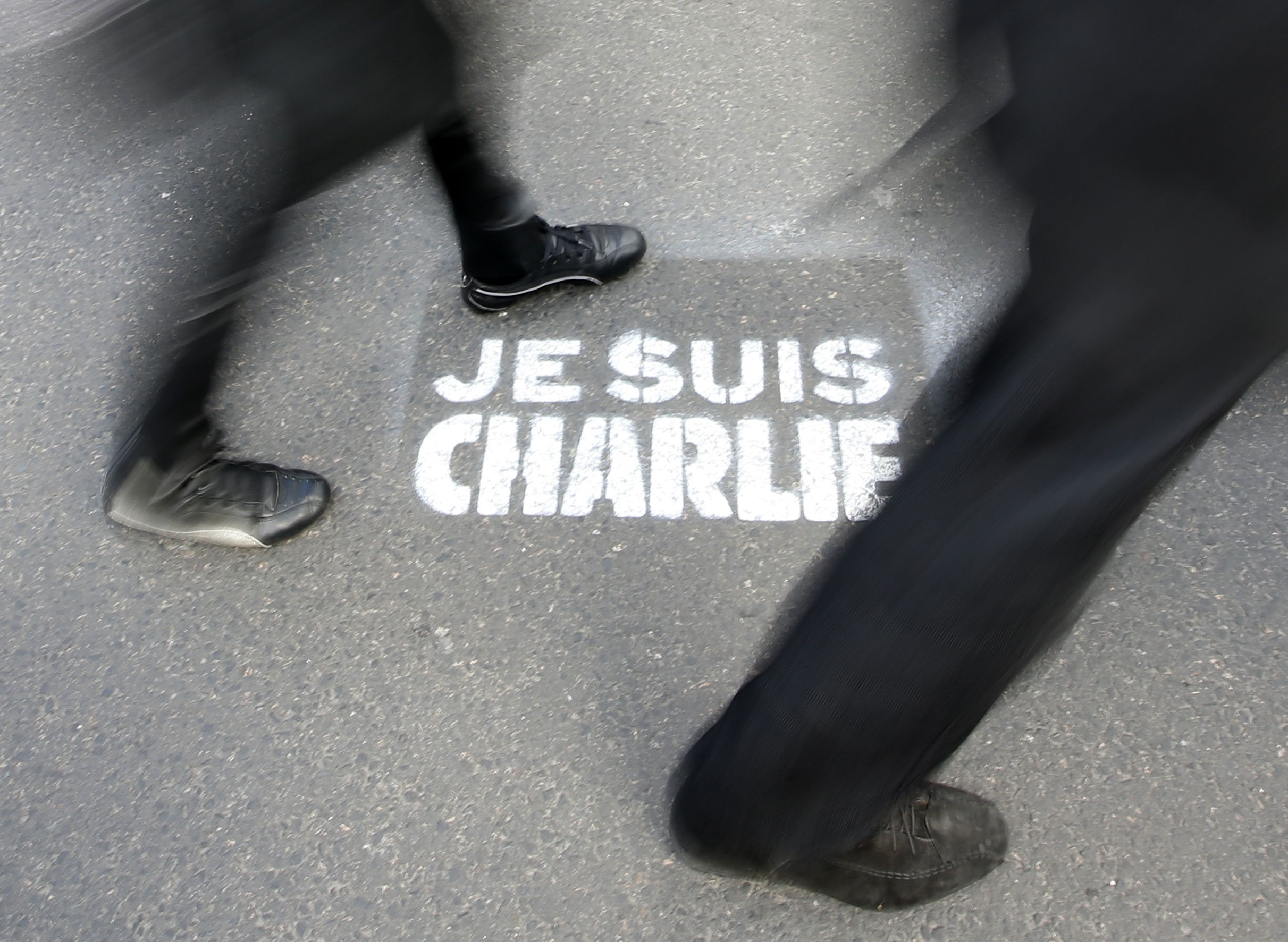 A preview of French satirical magazine Charlie Hebdo's next magazine cover has been released, featuring a cartoon depiction of the Prophet Muhammad holding a placard reading "Je Suis Charlie" with the heading "Tout est pardonne"—all is forgiven.
"Je Suis Charlie" has become a rallying cry for peaceful demonstrators and people across the world showing their support following the shooting last week of 10 Charlie Hebdo staff members and two policemen guarding the weekly's headquarters.
The magazine's remaining journalists have put together a full length, 16-page issue, set to publish 1 million copies this upcoming Wednesday. The magazine's print run could hit up to 3 million, compared to its regular run of 60,000, Reuters reports.
A handful of staff, including the editor-in-chief, survived an attack believed to have been perpetrated by Cherif and Said Kouachi, brothers who reportedly claimed an Al-Qaeda affiliation before opening fire during an editorial meeting. The brothers said they were avenging the Prophet Muhammad, who the magazine had depicted several times. Depictions of the prophet are considered blasphemous by some in Islam. Four political cartoonists were among those killed, and the brothers were later killed after an extensive manhunt and standoff with French police.
The attack, however, appears to have done nothing to hinder Charlie Hedbo's cutting comedic style, risky cartoons and skewering of public figures. The cover of this week's issue was tweeted by French daily newspaper Liberation late on Monday. Liberation has supplied Charlie Hebdo with computers and employees in order to get the magazine out.
In an interview with France Info radio, as reported by Reuters, Richard Malka, the magazine's attorney, said, "We will not give in. The spirit of 'I am Charlie' means the right to blaspheme."
The magazine will also question the motives of politicians who led a million man march in Paris over the weekend, all in support of the magazine and in defiance of terrorism. "All those dictators at a march celebrating liberty. We of course are going to continue the mockery. We'll see if it makes them jump," Lauren Leger, a reporter who survived the attack, told The Wall Street Journal.
Global support for the magazine came as a surprise to Leger. "It's been extremely moving. And also hypocritical. All of a sudden, we are supported by the entire world. Whereas for years we were completely alone," she told the Journal. Even the president, François Hollande, has come to visit the writers along with his staff, a trip broadcast on live television and accompanied with a fitting dash of humor when a pigeon pooped on the president's shoulder.
"We would work a little. Then stop, and cry. Then work again," Leger told the Journal. "But we also managed to laugh. There were some very funny drawings." On Wednesday, the million Muhammad cover copies will be shipped to distributors for free, as the French postal service has offered free delivery of the magazine for the next year.