Charlie Hunnam on 'Triple Frontier's Take on Post-Military Life and Not Regretting 'Fifty Shades' Exit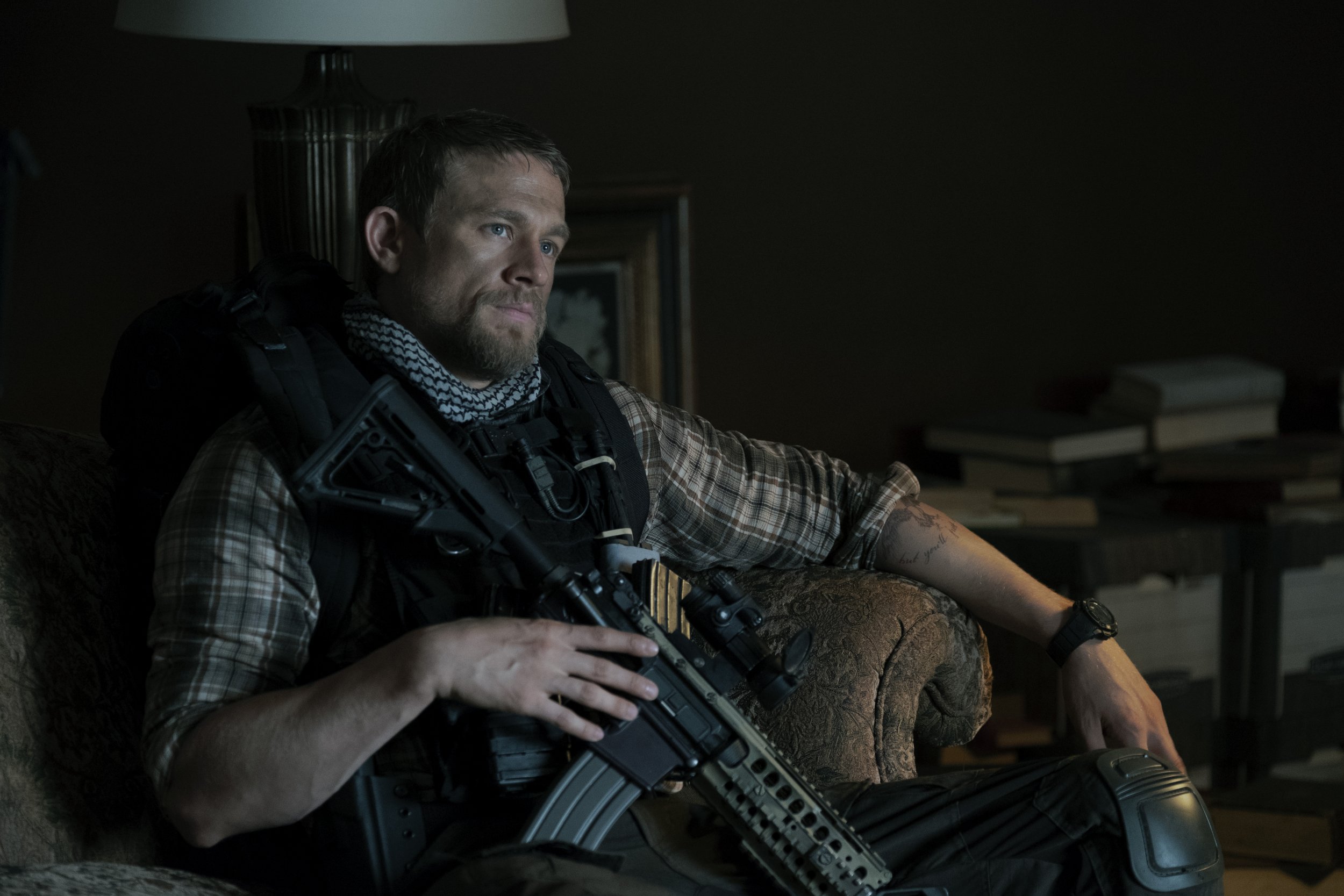 Whether you're an action movie fan or not, it's hard not to enjoy the J.C. Chandor-directed Netflix feature Triple Frontier. The movie features Charlie Hunnam; an actor who learned the downside to post-military life through his involvement in the film.
Triple Frontier, out Wednesday, follows a group of five former Special Forces operatives who come together to carry out a heist that involves the men stealing money from a South American drug lord. What results is the group relying upon their training and skills to survive. Hunnam stars as William "Ironhead" Miller alongside Ben Affleck, Oscar Isaac, Garrett Hedlund and Pedro Pascal.
Triple Frontier is very much a heist, action thriller. Chandor's film, however, also presents an intriguing take on the misconceptions of post-military life. The film's five leading men have all been impacted by their time in service in varied ways and have subsequently recuperated differently. This is an issue that's relevant to many veterans. Hunnam, therefore, recognizes the problems and hardships that follow such experiences.
"What we really focus on in this film is more about the self-determination aspect of it, that you are still in your prime and yet your primary skill set is no longer valuable," Hunnam, 38, told Newsweek. "These soldiers spent a lot of time developing these extraordinary skill set through their early 20s and then have 10 or so years of service. Then, what do you do when you come back and that skill set is not applicable to regular life. How do you then feel vital, important and valuable in your life and exacerbated by the sense of real interdependence within the unit that you belong to and the deep sense of brotherhood and community?"
"You come [back] to a society that, for the most part, is fairly segregated and uncaring. It's those two things, I thought, were really interesting aspects of military life to explore outside of the context of PTSD," he added.
To properly train for the part, Hunnam said he was required to learn "a lot" of weapon work, which is something he claimed to not have "a lot of experience with" because he's English. The cast worked with SEAL team members and one Delta Force operative as well. However, the men were also required to partake in bonding activities.
"We spent about three weeks together in preparation just hanging out [and] doing all manner of like military training, physical training—like mule riding, swimming lessons for insurance policy or whatever you know. A bunch of absurd stuff," he explained. "We got to know each other a little bit, which is good."
While Sons of Anarchy is largely what fans associate Hunnam with, he's appeared in several high-profile movies like King Arthur: Legend of the Sword, Crimson Peak and Pacific Rim. However, Hunnam notably dropped out of the Fifty Shades trilogy in 2013.
The Fifty Shades series, now a blockbuster franchise, was originally supposed to star Hunnam as the mysteriously dark Christian Grey—a part that was later given to Jamie Dornan. Hunnam dropped the project weeks after his casting was announced. He, however, doesn't regret doing so. He also still hasn't seen a single installment because he didn't "want to have an opinion on it."
"I don't see myself in that role at all because it would have been totally different," he explained. "I think what acting is, is trying to create a character and you put half of yourself into it, [a] bit more than half. So that's Jamie Dornan's character, you know? I haven't seen them but I'm sure he did an excellent job."
Hunnam added: "I started to realize that my, my vision of who that guy was, was not everybody else's vision. You can't get into a film, let alone three films, totally at odds with the rest of the filmmaking community or the creative community involved in something because it's just going to be [a] miserable experience...It was better for me just to extract myself from the process, but no regrets."
Triple Frontier is now streaming on Netflix.