Charlie Kirk Twitter Account Locked for Spreading 'Misleading Information About Voting' To His 1.8 Million Followers
The Twitter account of conservative activist and author Charlie Kirk was locked over the weekend for "spreading misinformation." Spokesperson Andrew Kolvet said Kirk did not intentionally spread misinformation and was repeating media reports which were later corrected, unbeknowst to Kirk who only found out when his account was locked.
Kirk, founder of Turning Point USA, a student-focused right-wing activism organization, confirmed on Sunday that he did not have access to his profile, telling Fox News he was in a "hostage situation" with the social networking platform.
Twitter said in a lock notification to Kirk that one of his posts had violated rules "against posting misleading information about voting." Elaborating, Twitter warned: "You may not post content providing false information about voting or registering to vote."
The rule-breaking tweet that was flagged included apparently false information about a ProPublica report published October 16 concerning applications for mail-in ballots in Pennsylvania. The outlet reported 372,000 ballot requests had been rejected by state officials. The ProPublica story was co-published with The Philadelphia Inquirer.
According to ProPublica, more than 90 percent of the applications were duplicates as users who made requests did not realize they had checked a box indicating they also wanted ballots for the general election. In confusion, application requests were sent in multiple times, including one person who submitted 11 duplicate requests.
Kirk's Twitter account was locked after he posted that it was 370,000 mail-in ballots that were rejected by Pennsylvania state officials, not ballot applications.
He posted: "Pennsylvania has just rejected 372,000 mail-in ballots. One voter was said to have submitted 11 duplicate ballots. Pennsylvania might be the key to winning the White House. What's going on?" (Punctuation added by Newsweek.)
Kirk currently has more than 1.8 million followers on the social media site.
Andrew Kolvet, a spokesperson for Turning Point USA, told Newsweek: "Charlie makes every effort to tweet accurate information and to share stories he thinks his followers should know about. Far from spreading misinformation, he was sharing widely reported information at the time, information that was only later updated by certain outlets hours later. In this instance the original reporting by some outlets referenced 372k ballots had been rejected in Pennsylvania. This was later updated to 372k "applications" for ballots. Charlie was only made aware of the change when his account was locked out.
"When a situation like this arises, Twitter doesn't let users edit a tweet to ensure it reflects the most up-to-date reporting. They instead offer a false choice: 1) Obey and delete the tweet, after which the platform algorithms throttle your account and limit the number of new followers you can add for many months or 2) You can appeal the ruling and accept that the account will be inactive for potentially weeks, in this case, right before the presidential election. Both of which are unacceptable outcomes and reveal exactly why Twitter and Big Tech should not be in the speech censoring business at all. Blocking prominent conservative accounts this close to an election is election interference."
Twitter's civic integrity policy, updated this month, explains that the platform cannot be used "for the purpose of manipulating or interfering in elections," which includes "posting or sharing content that may suppress participation or mislead people about when, where, or how to participate in a civic process." Twitter says any user who breaks the policy for the first time will have their profile temporarily locked until the post is removed.
That appears to be the case with Kirk, a columnist for Newsweek, whose account is viewable, although it has not been updated for 21 hours at the time of writing. In place of the misleading post about Pennsylvania mail-in ballots, a notice now reads: "This tweet is no longer available."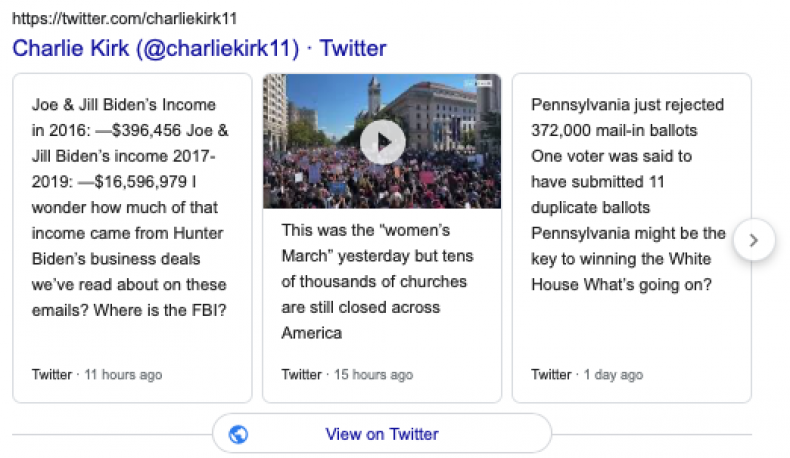 Mail-in ballots is a hot topic this election, with President Donald Trump repeatedly claiming—without evidence—that the mail-in ballot process is open to fraud or manipulation.
Twitter became embroiled in another election controversy last week after aggressively stopping the spread of a New York Post story that made unverified claims about Joe Biden and his son. CEO Jack Dorsey said in a tweet his site's response was "unacceptable."
As the 2020 U.S. presidential election approaches, Twitter's policies have tightened to reduce attempts to "undermine the integrity" of its platform.
"We believe we have a responsibility to protect the integrity of... conversations from interference and manipulation," the website rules state.
"We prohibit attempts to use our services to manipulate or disrupt civic processes, including through the distribution of false or misleading information about the procedures or circumstances around participation in a civic process. In instances where misleading information does not seek to directly manipulate or disrupt civic processes, but leads to confusion on our service, we may label the tweets to give context."
This article has been updated with a statement from Andrew Kolvet, a spokesperson for Charlie Kirk and Turning Point USA.