Charlie Kirk: Don't Panic Over Coronavirus. That's Just What the President's Enemies Want You to Do | Opinion
Asking people not to panic when there is a coronavirus of Chinese origin crisscrossing continents, taking lives and leading governments to quarantine whole communities can be a tricky proposition. Add to that a plunging stock market and President Donald Trump closing all air travel from China and Europe, as well as legitimate questions surrounding the accessibility of testing kits, and it's fair to ask: How can I possibly, with a straight face, tell Americans not to panic?
Well, that's exactly what I'm going to do.
There's no getting around it, the sense of anxiety amongst Americans today is palpable. This emerging pandemic has led to everything from the nation of Italy completely shuttering itself and the cancellation of Austin's SXSW, to the end of March Madness and the NBA, NHL and MLB suspending or postponing their regular seasons. Many members of Congress have self-quarantined themselves, Tom Hanks and his wife, Rita Wilson, along with two Utah Jazz players, have all tested positive for the virus. And as if all that weren't enough, Justin Bieber himself has announced he will downsize his concert performances.
Could this possibly be the end times? Of course it isn't. However, I do think the mainstream media and the Democrats are hoping it means the end of the Trump presidency.
Having failed to remove Trump by other means, they hope the "Chinese Coronavirus" or "Wuhan Virus," as I like to call it (not racist! Accurate!), a pandemic from China, our greatest geopolitical foe, will show the American people that only a vote for the razor-sharp mind of former Vice President Joe Biden can save the republic.
They are channeling their inner Rahm Emanuel by not letting any "serious crisis go to waste." Whether it's on Good Morning America or in the pages of The New York Times, House Speaker Nancy Pelosi (who wants to use this as an excuse to expand programs such as food stamps), Democratic front runner Joe Biden (who is trying to make people feel like their death, and the death or their portfolios, is imminent) or Senator Elizabeth Warren (who wants to divert border wall funding to fight the virus), their complicity in fueling the panic is shameful. So is their political weaponization of a public health crisis.
I ask every American to take a deep breath and recognize two different things at the same time. The first is that we have a new strain of a disease circulating, and you should use some good sense to try to protect yourself and others: wash your hands often, avoid close contact with people who are sick, stay home if you have symptoms similar to a cold or flu, cover coughs and so on.
The second is to make sure you pay attention to what the mainstream media and the Democrats are doing to try to scare you and control you. Don't let them. We all have a common enemy in a virus that originated in China, not the Oval Office. Americans must find a way to come together in the weeks and months ahead.
The good news is that most of us are at a very low risk of contracting and then dying from the "Chinese Coronavirus." But we are all at risk of suffering financially from its fallout. Some Democrats are advocating for a stimulus program filled with a wish list of ideological "goodies" including the funding of abortions—as if this has anything remotely to do with resolving our current crisis. Nevertheless, Wall Street wants it, but they want everything. Refer to the Obama-Biden administration's over $800 billion stimulus program, where "shovel-ready" projects quickly wasted tax dollars in one of the most anemic economic recoveries in American history. Let's take a breath before we simply throw more borrowed-from-China-money on the problem.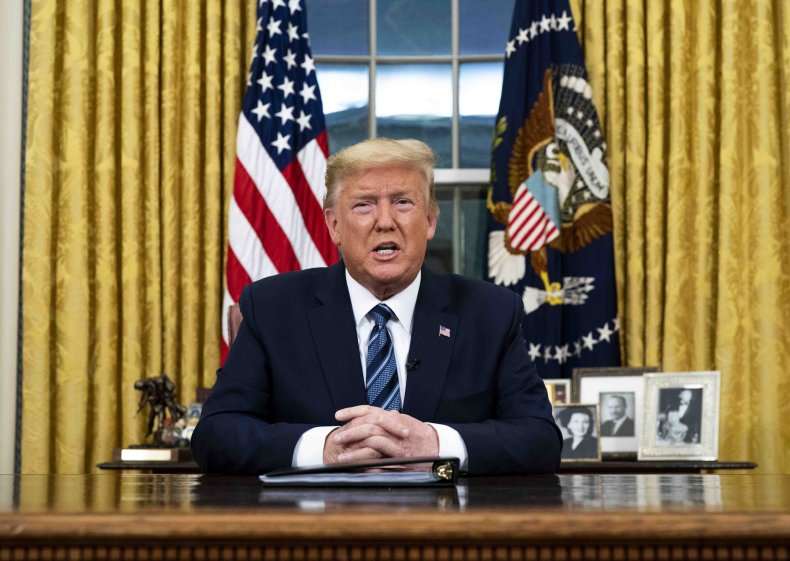 This is not, after all, a financial crisis. The fundamentals of our banks and balance sheets remain strong. In fact, we should all be thankful that this is happening at a time of economic strength and prosperity so we are able to properly withstand the looming economic impact. As experts have stated, a mix of debt payment grace periods for those underemployed or unemployed due to the virus, small business loans along with fiscal stimuli, including a payroll tax holiday, could be the best approach to assist Americans living paycheck to paycheck.
It's true, we don't yet know where the top of the pandemic will be (as many more cases are sure to be reported) or where the bottom of the market will be (expect lower), but it's also true that most of the buying and selling on Wall Street is done by computers. The "sell" algorithms driving the market's downward trajectory will soon be sending "buy" signals, and your investments will rebound. Investors who keep calm and remain poised to buy the discounts will be richly rewarded. This is a matter of if, not when. Remember, a loss is only a loss if you realize it.
So, don't panic.
People will get off cruise ships. Italy will reopen. The baseball season will start, and Bieber's tour will be back in full force (I know you were worried). Above all else, the prosperity that America has enjoyed for the past three years will return.
Charlie Kirk is the author of The New York Times best seller The MAGA Doctrine: The Only Ideas That Will Win the Future and host of The Charlie Kirk Show.
The views expressed in this article are the writer's own.
Charlie Kirk: Don't Panic Over Coronavirus. That's Just What the President's Enemies Want You to Do | Opinion | Opinion