Charlie Kirk: In the Face of Media Attacks, Pence Is the Model Stoic | Opinion
"The object of life is not to be on the side of the majority, but to escape finding oneself in the ranks of the insane." —Marcus Aurelius
Last Tuesday, Vice President Mike Pence found himself again under attack from the near-insane mainstream news media, this time for not wearing a mask while visiting the Mayo Clinic. The purpose of his trip was to highlight the research being done there to combat the "Chinese coronavirus."
The attacks on Pence are the typical combination of hateful, petty and just plain foolish. He has faced this kind of vitriol ever since agreeing to run alongside then-candidate Trump, and the hits only became more intense since taking office and, most recently, when he was appointed the head of the president's coronavirus task force.
Newsweek subscription offers >
At every stage, Pence has arguably been more duty-bound and good-natured in performing his job than any vice president in recent memory. He has been the "good soldier," exuding both virtue and loyalty while carrying out his tasks.
In short, Vice President Pence has been the model stoic.
Stoicism is a school of Hellenistic philosophy that dates back to Ancient Greece. It is a complete philosophy in that it contains an ethical component centered on a unification of nature, logic and duty. In its simplest sense, stoicism places virtue above all other attributes, instructing adherents not to be controlled by fear or the pursuit of pleasure.
While the Greeks may have invented it, stoic ethics owe their contemporary understanding to the Romans, primarily Cicero, Seneca and, most famously, the Emperor Marcus Aurelius. Aurelius' Meditations, published after his death, forms the true foundation of our modern perception of stoicism.
Newsweek subscription offers >
"A noble man compares and estimates himself by an idea which is higher than himself; and a mean man, by one lower than himself. The one produces aspiration; the other ambition, which is the way in which a vulgar man aspires."
What is inspiring to me in watching the vice president carry out his stoic duty to support the commander in chief is that he does it not as an apologist, but as an advocate. Many of the president's adversaries suggest that Pence defends the president out of fear. As if to paint him as a compliant stooge attempting to merely survive in the shadow of an unpredictable strongman. The problem with this construct is that it implies that Pence is an inconsequential man, owing his political existence only to the whims of the president. That couldn't be further from the truth.
Before becoming vice president, Pence served as a congressman and as governor of Indiana. Long before 2016, Pence was considered a presidential candidate in his own right, and everything he has done over the past three-plus years has only strengthened that possibility in 2024 and beyond.
"We are too much accustomed to attribute to a single cause that which is the product of several, and the majority of our controversies come from that."
In taking on the role as the head of the coronavirus task force—a role some conspiracy theorists thought the president placed him in to make him a fall guy—the vice president has taken a multifaceted approach to getting the crisis under control, coordinating the largest federal response since World War II. He's simultaneously been working to get America back to work safely and responsibly as quickly as possible. And still, his critics attack him endlessly.
"To live happily is an inward power of the soul."
Doubtless, much of the vice president's demeanor and nature owes to his devout Christian faith. As I have gotten to know him over time, I have come to enjoy our conversations of spirituality. Despite his reputation for being serious (a characteristic often labeled as "stoic"), I have found him to be a joyful, happy person (a true characteristic of a stoic) who is very comfortable in his own skin.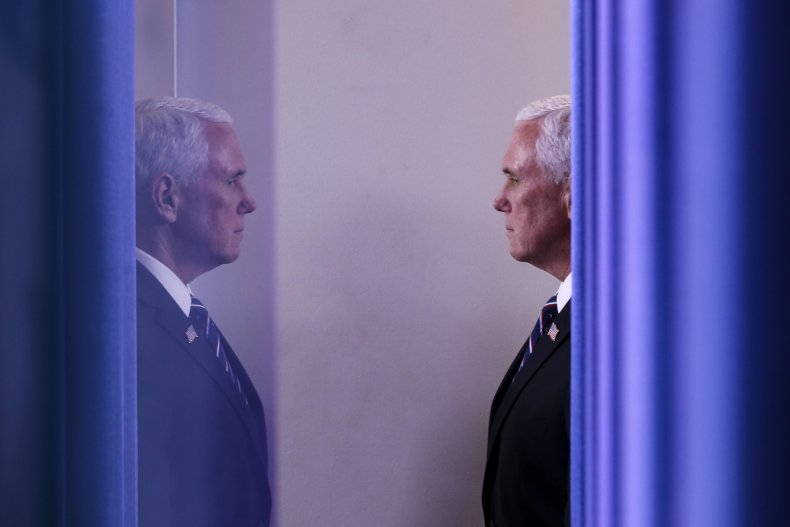 "Be content to seem what you really are."
Perhaps to the frustration of his critics, Pence simply refuses to crack under their scrutiny or the pressures of his office. He has found the virtue in living a life that is focused on duty and service to the American people. Once a person is able to step into that mindset and fully embrace that ethic, they become all but indestructible to outside forces. They are especially resilient against attacks from those who have no sense of duty and hold no virtue. If you need more proof, watch how he peacefully responds to the typical slew of "gotcha questions" at the next press conference.
As for what comes next for the vice president, I have no way of knowing. I have to believe that after what will plausibly be eight exemplary years in office as vice president, he will be in a position to make a successful run at the White House. What I do know is that any decision will be made after a full accounting of his duty to both God and country. As I've known him, the virtue of Mike Pence knows no other personal calculus.
Charlie Kirk is founder and president of Turning Point USA, the author of the New York Times bestseller The MAGA Doctrine: The Only Ideas That Will Win the Future and host of The Charlie Kirk Show.
The views expressed in this article are the writer's own.
Charlie Kirk: In the Face of Media Attacks, Pence Is the Model Stoic | Opinion | Opinion