Charlie Kirk: Impeachment Copycats Are Coming | Opinion
It is said that imitation is the greatest form of flattery. But when we want to give what is essentially the same act a derogatory tone, we use its synonym instead: "copycat."
Nobody likes a copycat. We even use the term to describe terrorists and serial killers. Sadly for our country, Democrats in the U.S. House of Representatives have given birth to a new category of copycat—the impeachment copycat.
This past month at the University of Florida, the Student Senate, alumni and other students sought to impeach Student Body President Michael Murphy for the high crime of having paid Donald Trump Jr. to speak on campus using funds fully allotted to Murphy in his official role. While their effort has been rightly rejected by the Student Government judiciary committee, it's easy to predict this is going to become a trend on campuses and elsewhere as "woke" student mobs across the country seek new and creative ways to destroy those with whom they disagree.
Murphy was the point person in bringing Don Jr. and Kimberly Guilfoyle to speak at the campus in October and was therefore the main target of this particular mob's rage. The fee for the engagement was $50,000, and while this might seem high, I assure you a fee of that size is not uncommon in the collegiate world, nor is it anywhere close to the $300,000 UCLA paid to Hillary Clinton in 2014.
Here's the kicker: The charge against Murphy wasn't simply for paying too much money or even booking a conservative speaker. They actually accused him of "laundering" a campaign contribution to President Donald Trump.
Not only is this silly. It's pure invention—not unlike the allegations behind the Democrats' most recent impeachment effort. Are we really supposed to buy that, as the Trump campaign reports record amounts of cash on hand, tens upon tens of millions of dollars (and as the Democratic National Committee struggles to stay out of debt), Don Jr. went out of his way to launder a comparatively small speaking fee to his father's campaign?
The leader of the UF impeachment mob was seemingly Student Body Senator Zachariah Chou. While one of five student senators to submit the impeachment resolution, he was the one who penned an op-ed published in The New York Times. Therein, he makes a case for "collusion" (one of the left's favorite new buzzwords) and cites a series of inferences he and others made to conclude that Murphy paid Don Jr. to speak as a way to filter campaign contributions. Murphy allegedly did this because his father, lobbyist Dan Murphy, had already "maxed out" what he could donate to the Trump campaign. Absolutely none of this has any factual foundation.
Chou concluded his Times fable with this:
"Just as they are doing with the hearings in Washington, Republicans will try to pass this off as another day of partisan politics, but it's not. This is about right and wrong, and just like our counterparts in Congress, we are taking a stand for ethical behavior in politics. We demand accountability."
Chou is openly admitting that he's taken a page straight out of the Democrats' impeachment playbook. If you doubt me, read Article 1 from the impeachment resolution filed by Chou and the gang of five:
"In the Fall Session of 2019, in his position of trust as President of the Student Body, as reflected by emails obtained by The Independent Florida Alligator, Mr. Murphy colluded with Trump Victory National Financial Consultant Caroline Wren to expend $50,000 of mandatory student fees.... Mr. Murphy not only endangered students marginalized by the speakers' white nationalist supporters, but also abused his power to advance a particular political party at the expense of the students he should represent."
This garbage is so Pelosi- and Schiff-inspired, these copycats should have run acknowledgements at the end.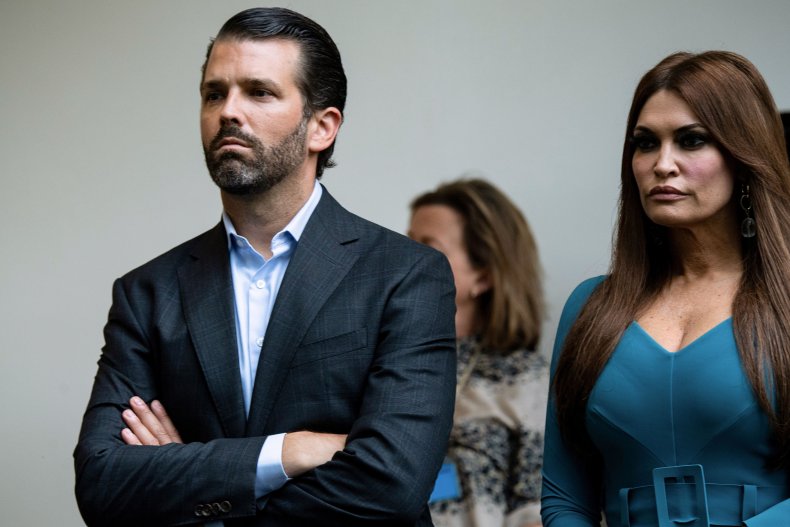 The emails to which they refer include Caroline Wren, a Trump political activist, writing Murphy and saying how she would like to bring Don Jr. and Kimberly to UF. That this is a "smoking gun," as Chou has characterized it, is so absurd it is not worth dignifying. Further, the "white nationalists" Chou says students fear have actually been attempting to disrupt events featuring Don Jr., myself, Ben Shapiro and other conservatives on college campuses throughout this semester.
Murphy was just doing his job by creating a high-profile event and giving students the opportunity to hear from a man who is not only a member of the first family and not only a New York Times best-selling author, but someone who might himself someday set his sights on elected office—perhaps even, as some have speculated, the Oval Office. I commend Murphy for his choice, and I applaud him for how he has handled himself in the wake of the impeachment controversy.
Sadly, this is the new normal. Just like the Brett Kavanaugh lunacy was predictable following the start of #MeToo, it doesn't take a conservative to see that "impeachment" is about to become the liberal solution to every inconvenient truth.
Charlie Kirk is the founder and executive director of Turning Point USA, the nation's largest and fastest growing conservative youth organization with a presence on over 1,400 college and high school campuses; he is also host of The Charlie Kirk Show.
The views expressed in this article are the writer's own.